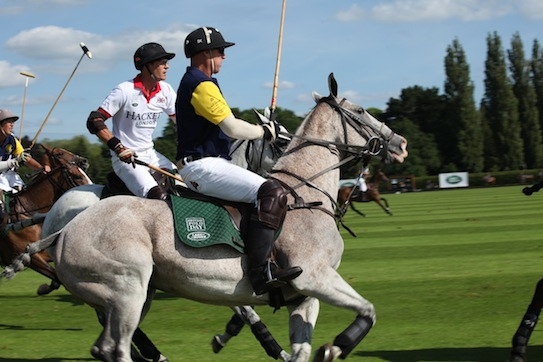 British Polo Day, presented by Land Rover and Charles & Company, will launch  – for the first time – in the USA on Saturday 31 May. Taking place at the world-famous Will Rogers Polo Club, British Polo Day USA will be hosted by Lord Frederick Windsor and his wife, actress and writer Sophie Winkleman.
As British Representatives for British Polo Day USA and members of the British Royal Family, Lord Frederick and his wife will be joined by some of the world's most influential society figures and business moguls in this celebration of British luxury heritage. Guests invited to this coveted event will enjoy a day of fast-paced polo, fine dining and fashion, courtesy of the extraordinary and unique designer, Zaeem Jamal.
Attendees will be treated to a Taittinger Champagne reception on arrival, before sitting down to a lunch expertly paired with wines from Royal Warrant Holders, Justerini & Brooks. Following this, will be two highly-anticipated polo matches. Andrew Bossom, president of the famously-picturesque Will Rogers Polo Club, and keen polo amateur, will hope to lead Eton to a victory against Will Rogers for the sought-after Land Rover Trophy. Rounding-off the afternoon will be the fierce competition between Oxbridge and Southern Californian Universities for the desirable Hackett Cup. Spectators will then join Royal Salute Brand Ambassador, The Duke of Argyll in a Royal Salute Scotch Whisky toast to the victorious teams, as part of the day's final prize-giving.
Between the three-course lunch and the classic pitch-side afternoon tea (produced by Charles & Company) there will be the Loud Auction, for the benefit of Great Ormond Street Hospital and Homeboy Industries – an organisation that provides hope, training and support to gang-involved and previously incarcerated men and women, operating social enterprises that serve as job-training sites (including an extremely-popular bakery, grocery store, diner and farmers market).
Lord Frederick Windsor comments: "Having attended British Polo Day Mexico last November, my wife Sophie and I are very pleased to be supporting the inaugural event in the USA.
British Polo Day's endeavours to champion luxury heritage around the globe are increasingly well known and the charitable beneficiaries – The Prince's Foundation and Homeboy Industries – resonate well with the British-American ties that are to be celebrated on the day.
We greatly look forward to introducing Los Angeles, our home city, to this extraordinary international success story.
Andrew Bossom, President of the Will Rogers Polo Club adds: "The Will Rogers Polo Club looks forward to hosting British Polo Day to its historic field in Los Angeles where polo was played by such Hollywood greats as David Niven, Spencer Tracy and Clark Gable to name but a few."
British Polo Day USA takes place on Saturday 31 May 2014 at the Will Rogers State Park Polo Club
The event is partnered with Land Rover, Charles & Company, Hackett London, Justerini & Brooks, Ettinger London, Abercrombie & Kent, Charles Russell, Royal Salute, Billionaire.com, 3rd Home, Taittinger, Oxford Group Holdings, Nihiwatu, The Grosvenor Stationary Company, Malibu Farm, One Gun Ranch, Homeboy Industries, The Cavalry & Guards Club, Pendragon Productions, Global Partnership Family Offices, Walpole and Holland & Holland.