Andaz Liverpool Street hotel has announce da partnership with British architectural foodsmiths Bompas & Parr. The Cultural Insider of the East End boutique hotel will be premiering its forward-thinking culinary creation and exhibition, the British Menu Archive, at a grand banquet in the hotel's 1901 Restaurant on the evening of 28May, followed by an installation in 1901 Wine Bar from 28 May until 30 June.
Known for amazing audiences by creating the unthinkable, Bompas & Parr's new project, the British Menu Archive, will be collating the most spectacular collection of British menus that celebrates the ever-changing landscape of British culinary culture and history. The British Menu Archive is a fitting initiative for Andaz's Cultural Insider programme, which brings the creative spirit of Andaz to guests through evocative content and inspiring events. As Andaz Liverpool Street's Cultural Insider since 2013, Bompas & Parr delivers this celebration of local culture to an unparalleled degree with their unique field of expertise and strong attention to food design.
Bompas & Parr has already received hundreds of menus from across the nation to be considered for inclusion in the British Menu Archive – from a menu, signed by Winston Churchill, of a grand banquet held on board HMS Victory, to a menu created by British prisoners of war for their Christmas dinner in 1944, to the delights on offer in the First Class cabin of British Airways, even the menu from your local takeaway. Once Bompas & Parr has assessed all submitted menus, they will choose a selection of British Menu Archive dishes to be served in the hotel's Grade 2 listed 1901 Restaurant on the evening of May 28. The grand banquet will illustrate the diversity of Britain's food and drink culture on an extraordinary scale. With a magnificent stained glass dome centrepiece, 1901 makes a stunning and historical setting to launch Bompas & Parr's most ambitious public project yet.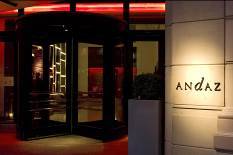 Following the grand banquet in 1901 Restaurant, menus from the British Menu Archive will be on display in 1901 Wine Bar from 28 May -30 June so that the public can see what people ate and drank on Concorde, how we toasted the King at official banquets, or what the delicacy du jour was on a cruise at sea in the 1950s.
Harry Parr comments: "Creating the British Menu Archive is an epic endeavour, one that Sam and I have dreamed of for more than a decade. We want to build a picture of how the nation's eating and drinking habits have changed and will continue to evolve. The beauty is that we're essentially crowd-sourcing the content, maximising the huge number of people that can contribute. We are delighted to be launching at the inspirational Andaz Liverpool Street hotel."
Andaz Liverpool Street's General Manager, Tim Flodin said, "We are thrilled to be working again with Bompas & Parr, our Andaz Cultural Insider, on this ambitious project. It is a delight to collaborate with such a young talented and inspiring British duo whose new culinary creation highlights Andaz's sense of individuality, originality, and a high-quality creative initiative that celebrates our local culture. "
Subscribe to discover the best kept secrets in your city