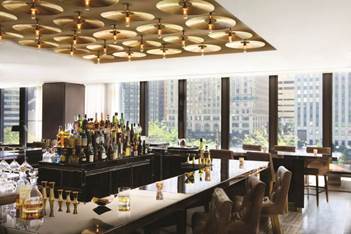 Artesian Bar at The Langham, London has received a record number of accolades under the direction of award-winning mixologist, Alex Kratena. Beginning March 27 through 28, Kratena's talents as an established expert and rising industry star make their way to the windy city as he serves as "Bartender in Residence" at Travelle in The Langham, Chicago.
This premiere visit marks the beginning of Kratena's U.S. tour, during which he will also be visiting: The Langham Huntington, Pasadena; The Langham, Boston; and Langham Place, Fifth Avenue (New York City) to introduce a specially curated menu of cocktails, only made available at U.S.-based Langham hotel properties.
In addition to the specialty menu, Kratena is also hosting a mixology class from 5:00 – 6:30 p.m. on Thursday, March 27. Entitled "Anything and Everything," Kratena will speak to the various elements that inspire his cocktail creations and his ability to translate those ideas into a listed drink. The cost of the mixology class is $50 per person and space is limited. For reservations, please call 312-923-7632.
Throughout his two-day appearance, Kratena boasts a line-up of specialty drinks partnered with personal notes of inspiration including:
Social Club – Pasadena
Celebrating the blooming roses of Pasadena and the hot summer climate
Vodka, Lillet, Vetiver, Rose Water, Citrus
Back To the Future – Chicago
Inspired by the Chicago fire and the spirit of this amazing city, always looking to future
Talisker, Port, Sherry, Citrus, Cacao, Raspberry
Skylines – Boston
Inspired by London's sister city, Boston, and the flavors associated with it that are as eclectic as the city's magnificent skyline
Aquavit, Fino, Citrus, Cedarwood, Bitters
Lady Pink – New York City
Inspired by a famous New York City street artist known for her distinct murals featuring funny imagery
Fino, Rhubarb, Citrus, Agave, Bitter Orange
Alex Kratena is known as one of the leading mixologists in Europe, having emerged from the London cocktail scene as the head bartender at Artesian Bar at The Langham, London. Originally from Czechoslovakia, Alex has worked all over the world  –  from New York to Tokyo – in a wide variety of establishments. His hallmark is a luxurious attention to detail, which, combined with his warmth and flair, have made him a celebrity in the cocktail world.
In addition to his work behind the bar, Alex writes for beverage and lifestyle magazines on the topic of cocktails, while also training bartenders around the world. Past appearances include a guest bartending gig on board Virgin Atlantic flights. In 2011, he won "The World's Best Cocktail Menu" at Tales of the Cocktail, while in 2012 winning "World's Best Hotel Bar" and "International Bartender of the Year" at the same event. In 2012 he also helped Artesian win "Best European Bar" at the Cocktails & Spirits Awards in Paris and "The World's Best Bar," an award sponsored by Drinks International Magazine that was awarded at The World's 50 Best Bars Awards in London.
Via Travelle/Wagstaff
Subscribe to discover the best kept secrets in your city