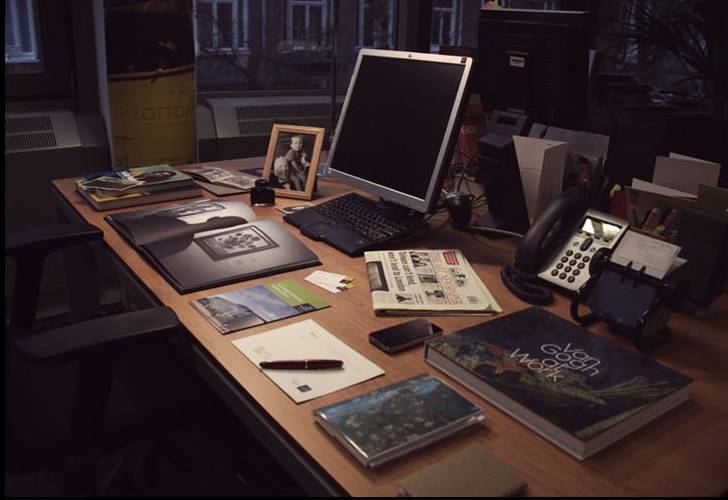 Ever wonder what the most powerful leaders, business execs and celebrities keep on their desks? Well, we're about to tell you. Our biweekly "What's on My Desk" feature will take a look inside the offices and at the desks of the world's most influential power players.
This week we've featured the desk of Vincent Willem van Gogh,  the great, great grandson of Theo van Gogh (the famous artist's brother) and advisor to the Van Gogh Museum board. Here is a look at the items on the art heir's desk.
'This fountain pen, a Parker Duofold (1946) made from celluloid, is one of my dearest possessions, because my father left it to me after his death. I always carry it with me, because it makes me feel close to my father, who died in 1999. My family is important to me, something that obviously shows from everything I do. My grandfather (see photo) founded the museum. He is the connection between my work as ambassador for the Van Gogh Museum and Vincent van Gogh's oeuvre. From early childhood onwards I felt that we had a special relationship and I spent a great deal of time in his company. He was also very proud that I, his eldest grandson, was named after him.'
Van Gogh Museum Global Circle
'The museum keeps renewing itself. Right now, we are trying hard to realize the financing of our new entrance at the side of the Museum Square, so that we can start with the renovation in 2014. I help increasing our international network club The Global Circle and invite ambassadors to financially support the realization of this new entrance that is designed by Kisho Kurokawa Architect and Associates.'
Relievo Van Gogh Museum Edition
'I'm very proud of the collaboration between Fujifilm Belgium and our museum, which has resulted in the Relievo Van Gogh Museum Edition. These are technologically top-quality 3D reproductions of masterpieces by Vincent van Gogh that resemble the original paintings very closely. It is important for me as a member of the Van Gogh family to make his work even more accessible to an even larger audience. This will now also be possible for the American public that has for many years been enthusiastic admirers of Vincent and his work.
Like Haute Living Los Angeles? Join our Facebook page or follow us on Twitter @HauteLivingMag.
Subscribe to discover the best kept secrets in your city