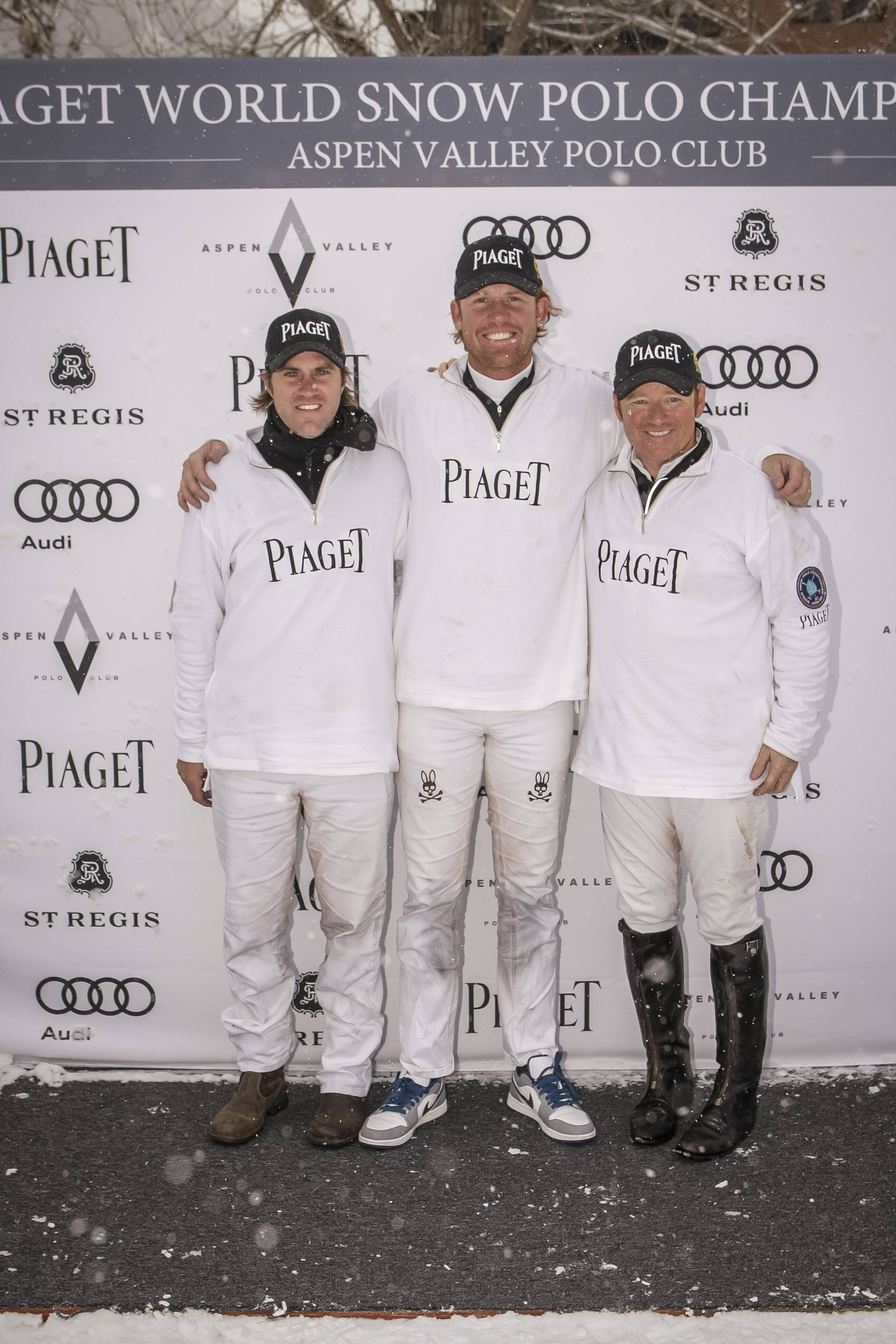 GONZALITO PIERES, KRIS KAMPSEN, MARC GANZI
Gonzalito Pieres, Kris Hampsen and Marc Ganzi.
Piaget v Audi
Piaget vs. Audi
FACUNDO PIERES
Facundo Pieres
Piaget vs St Regis (1)
Piaget vs. St. Regis
GONZALITO PIERES, LARRY BOLAND, FACUNDO PIERES
Gonzalito Pieres, Larry Boland, Facundo Pieres
LARRY BOLAND, NIC ROLDAN, NACHO FIGUERAS
Larry Boland, Nic Roldan and Nacho Figueras
FACUNDO AND GONZALITO PIERES
Facundo Pieres and Gonzalito Pieres
Piaget World Snow Polo Championship, held on the snow-packed field of Wagner Park. Top-ranked Argentine polo players Facundo Pieres and Gonzalito Pieres of the Piaget Ellerstina Polo team, and polo's most famous face, Nacho Figueras, joined America's top-ranked player, Nic Roldan, along with hosts and co-founders of the Aspen Valley Polo Club, Marc and Melissa Ganzi and Larry Boland, President of Piaget North America, to host the round robin tournament. Piaget was also the official timekeeper of the tournament.
At the foot of Aspen Mountain with the snow falling, the Piaget team, featuring Gonazlito Pieres, Marc Ganzi and Kris Kampsen, competed against the St. Regis team featuring Nacho Figueras, Nic Roldan and Brandon Phillips. The two teams battled it out, with Phillips and Figueras each scoring a goal to deliver a 2-0 win for St. Regis.
Following their defeat, Piaget re-entered the field determined to beat the Audi team consisting of Facundo Pieres, Melissa Ganzi and Juan Bollini. Melissa Ganzi bolted into action, quickly scoring for Audi in the first thirty seconds putting the team ahead 1-0 in the first chukker. In the second chukker, Marc Ganzi scored for Piaget to even the score at 1-1. The crowd was silent as they watched brother vs. brother and husband vs. wife. Ultimately, Melissa Ganzi brought Audi to a 2-1 victory, as she scored the final goal through a penalty shot in the end of the second chukker.
The final match saw St. Regis and Audi locked in a stalemate with neither team scoring in the first chukker. Facundo Pieres took a penalty shot in the second chukker that was blocked by a confident Figueras, standing in the saddle, as the crowd cheered. Figueras then went on to score the final goal, bringing the black St. Regis team to victory.
Inside the VIP tent, Piaget hosted a lounge so onlookers could enjoy the polo action, along with a display of Piaget Polo FortyFive timepieces.
"We are proud to be presenting the Piaget World Snow Polo Championship here in Aspen and thrilled to have both Gonzalito and Facundo Pieres with us. It was an exciting day of polo in one of the most picturesque settings in America," said Boland.
Marc Ganzi, added "It has always been a dream of mine and my wife Melissa's to create a polo club in Aspen. We are honored to have Piaget as the official timekeeper and to help us kick off a new era in snow polo."