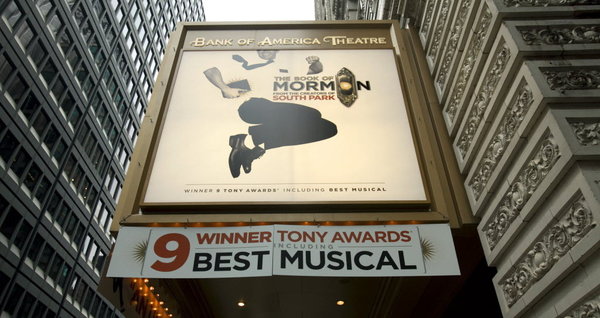 Update: Due to incredible demand, The Book of Mormon has been extended through September 8th. The show was supposed to be ending in June, but there is an extremely high demand for tickets so thankfully they added these new dates. They also added tips to get the hard-to-get tickets, such as buying as early as possible, using an American Express, which gets you access to preferred seating, and Wednesday matinees being available. If you didn't get a chance to read the original post, you can read it below.
After all the rumors, rave reviews, and anxious anticipation The Book of Mormon musical is finally hitting Chicago. If you are not familiar with this musical you need to read, get out or watch television more, it's without exaggeration the hottest ticket in town. With a total of nine Tony awards last year this has been deemed the "best musical of the last 25 years" by Vogue and "the best musical of this century" by The New York Times. In a very rare occurrence with musicals, The Book of Mormon is almost universally well received.
Coming from the minds of Trey Parker, Matt Stone and Robert Lopez this comical musical is definitely not for the sensitive or easily offended. According to the Associated Press review of the production it "manages to offend, provoke laughter, trigger eye-rolling, satirize conventions and warm hearts." Above all, it's promised to be a great show. The show begins its Chicago run on December 11th at the Bank of America Theatre with best availability Tuesdays and Wednesdays. For more information or tickets to the show click here.
Quotes: Vogue/New York Times/AP
Image Courtesy of Michael Zajakowski