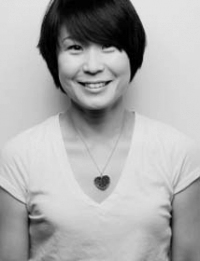 In person, Ky can only be described as kind, gracious and never without her sparkling sense of humor. These qualities translate organically into her unique and inspiring handcrafted jewelry. A native to Korea, Ky has always found comfort in the aesthetic of nature. She studied at The School of the Museum of Fine Arts in Boston, and has a fashion merchandising background with Giorgio Armani, Tod's, and Calypso.
She began making jewelry only as a hobby, when her designs quickly became a favorite of friends and admired by all who encountered them. Her artistic talent, combined with the healing process of chromo therapy is what makes her collection of stones and crystals so captivating. Ky uses only the best pieces, collected from exotic locations around the world, including Argentina, Korea, Japan and Colombia.
Her collection is a harmonious blend of stones such as Amethyst, Tiger's Eye, Jasper, Citrine and Crystal, all which have a unique design that cannot be duplicated due to the natural development in each rock selected.  These pieces are then set into sterling silver or gold vermeil, ready to be embraced by anyone who adorns them.
Ky's name translates to mean "to succeed in any profession", which could not prove to be more accurate for such a talented artist. She believes that the energy provided by each stone will instantly enhance the mood and emotions of the person wearing them. Her signature heart shaped stones symbolize her love for natural beauty and her passion for creating such distinct jewelry that will be cherished by anyone who owns these remarkable semiprecious adornments.
Ky's Jewelry is available at the Plaza Beauty in the Plaza Hotel NYC, Mandarin Oriental Spa Store NYC, Mandarin Oriental Spa Store Miami, I on the District in the Miami Design District, and the Twister Center Spa in Marrakesh, Morocco.
Subscribe to discover the best kept secrets in your city