1.  Your influences range from Pollock to Arman and before being a sculptor you were a painter. What did you learned from those artists and how did they influence you?
I am self-taught and when I started to visit museums, I was literally impressed by the impressionists. I was impressed by the sheer joy of their paint, their innovations, the motion of the colors by small stroke. I used to love the Musee d'Orsay for its unequalled collection of paintings by Monet, Cezanne, Van Gogh, Renoir, Sisley, Degas… What I basically retained from those early experiences is that one must free oneself, go out to the cancans, invent one's own color palette, in the same way as one invents ones own life and innovate without fear of what people might say. I was then and am still fascinated by Picasso whom people think they know because they have seen several of his works, only to discover new works and especially in these works, an intelligence which can only serve as reference.
2.  Your work is henceforth recognized by your huge "sculptures-candy". Why did you choose this emblem as a reference?
An artist must find his own language. Impose his/her style. As far as I am concerned, the subject of Candy imposed itself on me because, as a child, I was not allowed any sweets and I suffered not being able to eat candies like my friends did. A childhood frustration is today my revenge since Candy has now become my predilection which I continue ad infinitum. The first Candy works were composed on canvas with real candies which I heated in the kitchen oven, then I continue with abstracts compositions on canvas treated with resin or epoxy.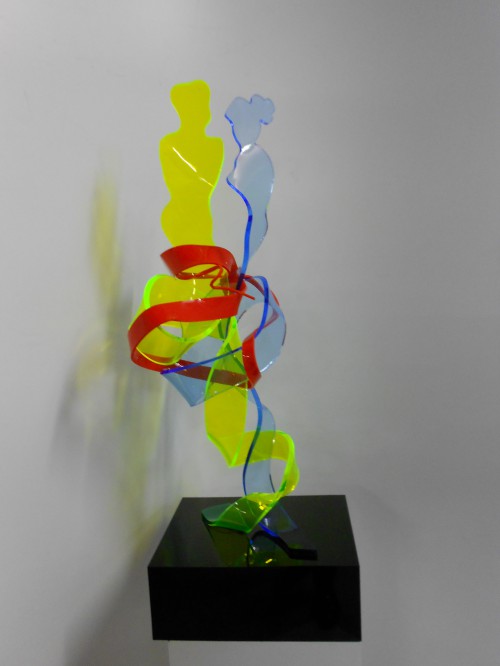 3.  Your "candies" are multicolored, acidulous, sometimes transparent but with various elements has encrusted the interior. Tell us about their realization!
Each Candy sculpture in plexiglas is unique, only one twist, draped once.
The work with plexiglas is very delicate because each color has a cooking temperature which one must respect. After cutting the plexiglas I prepare the sheet in order to be able to put it in the oven along with the interior "shape" of my sculpture around which I will roll my sheet. Once the plexiglas is soft, then the work of making the sculpture starts, the twist, the opening of the paper and the folds which I work with a blowtorch.
4.  One could say that you've been definitely influenced by Pop Art, art movement through which everyday objects were turned away by artists in order to focus on the consumer society and the problems it causes?
There is unquestionably a Pop Art side and a new realism side to my work. A simple every day object, a candy, has become an icon, loaded with so many childhood memories for each one of us no matter what our age or nationality.
5.  Please could you tell us about your new series DNA ?
The DNA works come from the issues around the twist in the Candy. I wanted a work which came from my Candy but which did not look like a Candy.  By isolating different parts of my Candy, the paper, the twist, the center, I wanted to work around the notion of the twist because, in my view, it is what gives each work its uniqueness and my brand. So by superimposing two twists, I have arrived at the DNA double helix. From a playful and universal subject like the Candy, I have arrived at the essence, a most serious and intellectual subject.. especially the basis of life in the universe, the genome of all living being and the genetic information which is transmitted from generation to generation.
Like Haute Living New York? Join our Facebook page or follow us on Twitter @HauteLivingNY. Want Haute Living New York delivered to your inbox once a week? Sign up for our newsletter.
Born and raised in Paris, Delphine De Causans decided to move to NY after graduating from the Sorbonne where she got a master degree in social sciences and history of art mention contemporary art. Once in New York she went to the Christies School and she got a certificate degree. She used to work as an intern during all her studies for an auction house, several galleries and art dealers in both Paris and New York. She's now working on her first book which is dedicated to contemporary art in general
http://delphinedecausans.blogspot.com/
Subscribe to discover the best kept secrets in your city