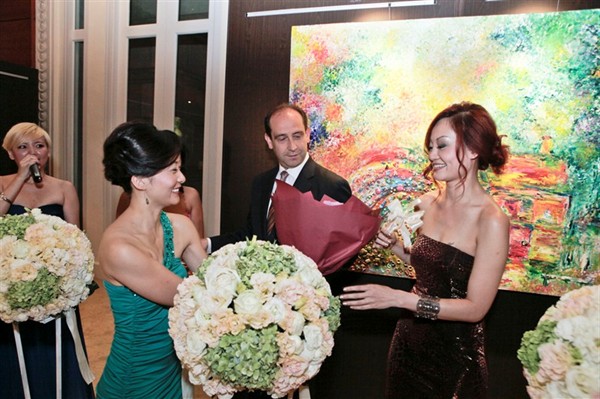 Image: Luxury Insider
Local Singaporean artist Adeline Yeo had an exhibit at the Fullerton Hotel as part of the Fullerton's Arts in the City Programme. The exhibit was titled  "Beautiful Love 2012: A Love Story by Adeline Yeo" and showcased a collection of fifteen elaborately finger-painted pieces to celebrate a month of love and philanthropy.
Adeline Yeo is a self-taught Singaporean artist. During her recent exhibition at the Fullerton Hotel in Singapore, Yeo auctioned off one of her paintings, "Bedtime Stories" for charity, pledging all proceeds to the Duke-NUS Pediatric Research Fund. She also pledged half of all the proceeds made from the sale of the remaining fourteen paintings to the cause. Duke-NUS Pediatric Research Fund is an organization that furthers scientific study of numerous childhood medical conditions.
Joined by friends and art lovers who gathered at the Fullerton Hotel, Yeo said, "Art doesn't always have to be dark and somber. I simply believe that the power to change the world through art is a beautiful thing, and this collection is really a celebration of life, growth and resurrection through my use of colors and nature."
Source: Luxury Insider