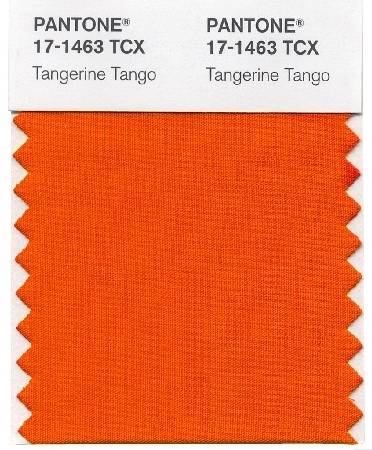 Anyone in the design world whether it be fashion, interior design or graphics, knows that Pantone is the leading authority on color. So when they wanted to announce their annual color of the year, they turned to the Las Vegas Design Center at World Market Center Las Vegas to share the news. On Monday, the Pantone Color Institute teamed up with the design center to put together a holiday display with Tangerine Tango as the guest of honor.
A sexy name for an approachable color. Tangerine Tango brings together the excitement of red with the friendliness of yellow to create this convivial color.
Pantone Executive Director Leatrice Eiseman says she traveled the world to get a feel for the direction of 2012. "Many of us travel extensively," she said before the gala Monday night. "We really try to zone in on what's representational, not just high visibility. Also because we tune into what people are saying."
And 2012 felt like a year when people needed a color to life their spirits. In the interior design world, Eiseman expects to see the color in accent pieces such as pillows, lamps or even a wall. Fashion tends to lag behind somewhat when embracing the color of the year even though Pantone's search generally begins with textiles.
Years past have seen honeysuckle, turquoise and mimosa take center stage for one year.
The Monday event marked the first time any Design Center has partnered with Pantone to execute a celebration of the highly anticipated Color of the Year with a large-scale event. The annual gala included tango dancers, aerialists draped from the ceiling and dancers all dressed fittingly in the Tangerine Tango. The event even featured signature cocktails and appetizers in the shade of the evening.
Subscribe to discover the best kept secrets in your city