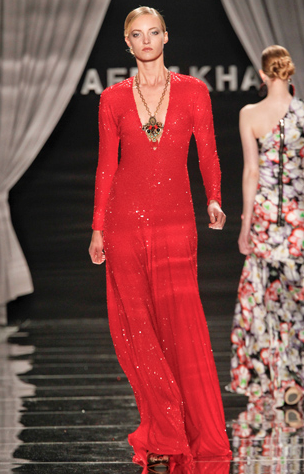 Known for his breathtaking evening-wear are luxurious details, Indian born designer Naaem Khan closed New York Fashion Week with an aw-inspiring show of evening wear fit for red carpets and royalty.
"Colorful, racy glamour" was the inspiration for Khan's spring 2012 collection. Not sticking to a single one palette, the collection ranged in color from vibrate oranges to soft metallic pewter, mixing in powerful magentas and burgundies. He also played with patterns as well as solids. Luxurious 70s inspired caftans seemed to pair seamlessly on the runway with hand crafted gowns and stunning beaded frocks that oozed glitz and glamour. With Khan's ornate attention to detail and art-like craftsmanship it's no wonder Michelle Obama, Alicia Keys and Eva Longoria are all fans of his work.
While all of his gowns were gorgeous, the show stopper that put everyone on their feet was a champagne ballgown complete with fringed bodice and an extravagantly full skirt. Khan the recvieved the ultra-rare standing ovation that most designers at New Yrok Fashion Week only dream about. Well deserved.
Backstage, the beauty buzz was all about the manicures  in a heightened state of bliss – in lucite, gold foiling, high shine gray, and glam styles:
Wanda Ruiz crafted "Hematite Nails" for manicures and pedicures using saturated concrete gray CND Colour in Asphalt finished with Super Shiney Top Coat for a lustrous look. This sophisticated almond shape accentuated elaborately twisted buns and gorgeous red carpet-ready gowns on the runway.
Screen shot 2011-09-19 at 5.28.10 PM
Screen shot 2011-09-19 at 5.21.11 PM
Screen shot 2011-09-19 at 5.21.40 PM
Screen shot 2011-09-19 at 5.22.05 PM
Screen shot 2011-09-19 at 5.22.20 PM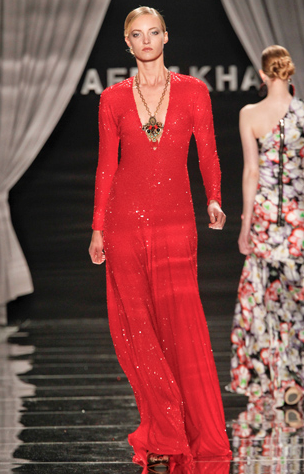 Screen shot 2011-09-19 at 5.22.26 PM
Screen shot 2011-09-19 at 5.22.40 PM
Screen shot 2011-09-19 at 5.23.05 PM
Screen shot 2011-09-19 at 5.23.24 PM
Screen shot 2011-09-19 at 5.23.39 PM