Hello My Beautiful Haute Living Readers!
Today I am here to share with you some photos and a brief description of one of the most transformational and wonderful experiences I have ever had. I just returned from being with H.H. the Dalai Lama from July 6-16th in Washington D.C. at the Kalachakra for World Peace Event and what a journey!
"The ancient ritual of the Kalachakra is practiced and honored by highly accomplished spiritual masters from many traditions. With its special relevance to achieving inner and outer peace, the Kalachakra is most suited for those devoted to achieving wisdom and compassion," said Kalden Lodoe, President of The Capital Area Tibetan Association and Lobsang Nyandak, U.S. Representative of H.H. the Dalai Lama in their exquisite program book for this one of a kind historical event. Throughout the trip there was great emphasis on religious harmony and as H.H. the Dalai Lama put forth, peace in the world starts with inner peace, then family and relationship peace, then community peace, then world peace.
As I say in my book SONIA'S RING: 11 WAYS TO HEAL YOUR HEART, this is my ring, a song from my soul that we all have a heart and the ability to heal. Remember, my global Haute Living readers, even in the worst possible tragedy, though we experience indescribable chaos, pain, and suffering, there is always a witness, something that reminds us that something- call it God, spirit, divine intelligence…or call it nothing at all- is right there in the middle of the mess along with us, that we are not alone, and it will not only bring us through it all, but will somehow—even miraculously—bring good out of it. Sonia's ring is a symbol of human strength in the face of crisis, a gracious sign that again, love lasts forever. Indeed, love not only survives, but helps us thrive.
The Kalachakra for World Peace event not only benefited those who participated, but should bring blessings and help spread bliss and joy to the world, but we each have to do our part. Have you done a kind act today? Have you told your family and friends that you love them? Have you showed compassion to someone you care for? What have you done today to help bring more peace to your life? Life is precious, embrace. Life is now, live it!!
With Gratitude and Love, Love, Love, Sonia
Dalai Lama Portrait by: Abhishek Madhukar
dali sonam zoksang phot dalai lama
dalaius capitol peace
dalai lama surrounded by pink
dalai lama kalachakra photo by abhishek madhukar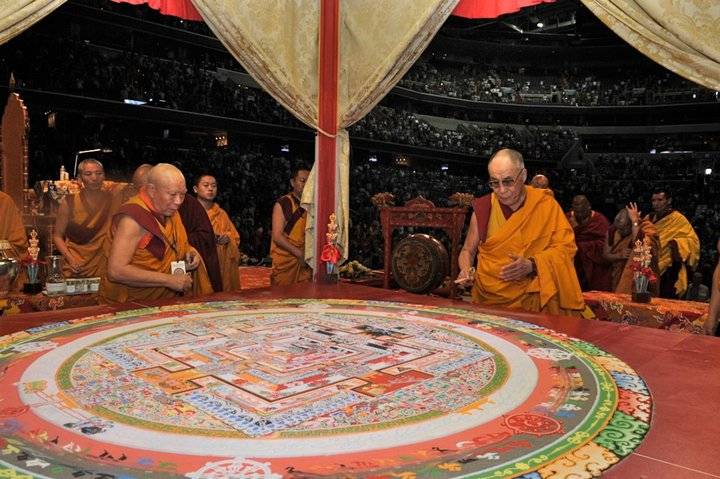 dalai lama and kalachakra mandala washington d-1.c.
dalai lama and fabu hat kalachakra washington dc
dalai lama praying
dalikalachakra for world peace