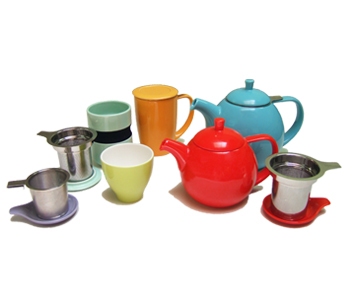 I always thought tea was so old-fashioned, something you only see in classic movies or the rare chick flick. I had this image in my head of a lovely group of older ladies in delicate floral fabrics wearing fabulous golden earrings chatting around a table, waiting for the teapot to whistle.
And, while I always really liked this image, I hoped to get there one day. I thought, "Who has the time nowadays, especially in New York, to stay at home and wait for a pot of tea to warm? And, once it warms, why do I always seem to make a mess, getting the warm water dripping from the tea bag all over my clean counter tops?"
ForLife Curve Teaware helped me solve that problem. The products are super sleek and smooth and come in a variety of modern colors. My favorite is turquoise. And, what's better yet, you can microwave it. You don't have to boil water in a pan or wait for the teapot to whistle. You just fill it up with water — the teapot I bought can hold up to about four to six cups of tea — and put it in the microwave. Once you're done, you place the tea infuser, filled with your favorite tea leaves, into the pot and cover it with the lid. You let it sit for a minute or two, and you're done!
It's perfect for the girl on the go who loves to sit and relax with a cup of tea but doesn't always have the time or the patience. The company also offers tea cup sets and tea mugs with built-in infusers to make tea easier, cleaner and more modern than it has ever been before. Now, I can be like one of those ladies I imagined before, but without the hassle.
Find ForLife Curve Teaware at The Tea & Honey Store located at 7 Grand Central Terminal, Lexington Passage, 212.661.0805.
Like Haute Living New York? Join our Facebook page. Want Haute Living New York delivered to your in box once a week? Sign up for our newsletter.