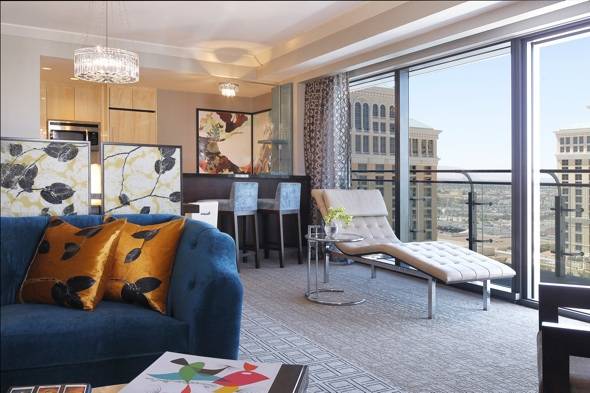 Here's something you probably won't see any time in the near future — a new casino opening in Las Vegas. The Cosmopolitan of Las Vegas opens its doors at 8 p.m. tonight with a poolside concert with Brandon Flowers of The Killers and new venues meant to be explored. Haute Living got a sneak peak of the new casino and resort while the finishing touches were put on. It's artsy. It's New York and Los Angeles at the same time. It's full of unexpected surprises. Here's a look at what you need to check out on opening night.

The Size
Cosmopolitan sits on 8.7 acres of land with 355 feet of Las Vegas Strip frontage between the Bellagio and CityCenter. That means it's a long and narrow property that makes creative use of the space it has. Instead of a sprawling casino, restaurant and retail area, you'll find a stacked approach with a cozy neighborhood feel. The casino takes up the first floor, retail the second and restaurants the third.
The Chandelier
Right off the Strip, The Chandelier is a three-story breathtaking piece of work designed by David Rockwell with more than 2 million crystals. But nestled inside is seating for 500 and three distinct bars, each with it's own vibe.
On the first floor, look for a live deejay and specialty drinks. Sneak up to the second floor for molecular concoctions made table side. On the third floor, find modern takes on classic drinks. And just in case you don't get the chandelier vibe from the inside, 10 more bedeck the ceilings from within.
The Gambling
I always tell my friends that gambling is gambling, it just depends on how much you want to spend. At Cosmopolitan, gambling reaches the next level with private cabanas for slots and table games that are open to the public and can be reserved in advance. You can even order bottle service. Play with friends or complete strangers in these intimate settings.
The Shopping
While neighbors Crystals and Bellagio boast the big names in fashion, Cosmopolitan goes for a more L.A. approach to shopping. Nine first-to-market boutiques can now call Las Vegas home. Look for AllSaints Spitalfields with its vintage-inspired duds for everyone; Stitched, a men's store with custom suits and clothing with an irreverent twist; Jason of Beverly Hills, the jeweler responsible for designing the Lakers' championship rings; Molly Brown's Swimwear, hot suits out of Newport Beach, Calif.; DNA 2050, a denim bar with more than 30 brands behind its walls; Skins 62 Beauty, an Amsterdam original with hard-to-find beauty brands; and CRSVR, a premium sneaker store from DJ Vice. We're looking forward to exploring these fun stores.
The Dining
We waited to tempt you with the outstanding dining at Cosmopolitan. If you need just one reason to go, it's the food. Jose Andres brings Mexican and Chinese street foods together in one happy marriage at China Poblano. One restaurant wasn't enough for Andres; the godfather of tapas brings his single-serving treats and divine paella from a wood-fired grilled at Jaleo, a replica of his Washington, D.C., outpost. Brothers Bruce and Eric Bromberg venture outside of New York City to bring their Blue Ribbon Sushi Bar & Grill with sushi and sashimi as well as bistro favorites, American comfort foods, chops and fillets. We're excited that Greek food finally finds a home on the Strip with Estiatorio Milos by restaurateur Costas Spiliadis. David Myers makes a move to Las Vegas with Comme Ca, the cheeky French bistro with some of the best views of the Strip. Want Italian? Scott Conant opens Scarpetta and its divine pastas. Next door, you can find D.O.C.G., a more relaxed approach to Italian cuisine from Conant with more than 400 bottles of Italian wine. STK, the stylish steakhouse, finds a home here, as well as Holsteins, a gastropub with burgers and shakes. And when you need something 24 hours a day, try The Henry with its chicken pot pie and truffled deviled eggs.

The Rooms
You might think of a hotel room as a place to crash after a heavy night in Vegas. But at Cosmopolitan, look for 2,995 oversized residential-style living space, each with private terraces. Kitchenettes give you a chance to dine in room (and you can buy your ingredients downstairs). Go for the wraparound suites with views of the Strip or the Terrace Suites with soaking tubs with a views. We love the coffee table books of art in each room and the cool bar ware and glasses along with the artsy wallpaper in the closets. Some rooms even feature a washer and dryer.
The Pool
When spring comes, you can don your swimwear while overlooking the Strip. The Boulevard Pool is designed like an open-air theater. Tonight it's christened with the Brandon Flowers concert. Bamboo Pool is more private with a park-like environment. More on this to come when spring arrives.
The Nightclub
Whoa. When Marquee opens, it will be the largest nightclub in Las Vegas clocking in at 60,000 square feet. Veteran operators Louis Abin, Jason Strauss, Marc Packer, Rich Wolf and Noah Tepperberg of Tao and Lavo fame bring their New York club to the Strip. Four distinct experiences await.
The Main Room features a 40-foot LED deejay booth and projection stage along with coliseum-style banquette seating and two dance floors. Overlooking the main floor is the Library, a lounge experience accentuated by a fireplace, billiard table and vintage books about Las Vegas' history. Look for time-honored and classic specialty cocktails here. In the Boom Box Room, a smaller venue, you can dance away the night with Strip views. Come spring, the dayclub portion of the club opens with eight cabanas with individual infinity pools and 10 three-story bungalow lofts complete with living quarters and an open-air party deck. Yes, you can stay there.
The Artwork
One thing Las Vegas can ALWAYS use more of is art. And Cosmopolitan delivers. It starts with an artist-in-residence program with emerging and established contemporary artists. In addition, four legendary artists — Shepard Fairey, Kenny Scharf, Shinique Smith and Retna — all have artwork showcased at the resort. Want to take a piece of art home? Check out the six Art-o-mat machines, vintage cigarette machines that dispense art in matchbook-sized cases from more than 400 artists. Don't even want to walk inside? Then see art on display on the digital canvas on the Strip where contemporary artists shine their works for the public.

The Parking Garage
Hate driving up and down aisles of cars to find that open spot? No more at Cosmopolitan. Not only do signs tell you how many spaces are open in each row, but you can scan down the aisle for the green lights to know exactly which space is open. Sweet.
Want more information on the Cosmopolitan of Las Vegas? Visit www.cosmopolitanlasvegas.com.
Like Haute Living Las Vegas? Join our Facebook page. Want Haute Living Las Vegas delivered to your in box once a week? Sign up for our newsletter.
Subscribe to discover the best kept secrets in your city