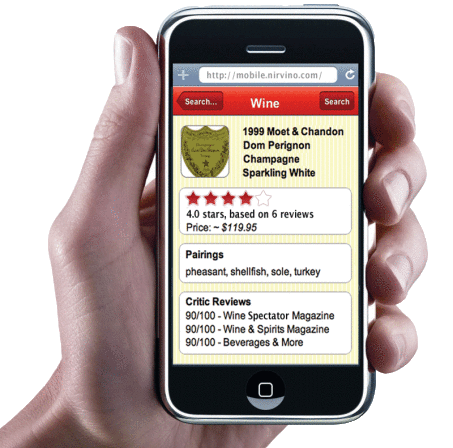 Love a good glass of wine while out to dine but sometimes get stumped with the bevy of choices on a restaurants menu? Or ever get sent to the grocery store to grab a bottle only become perplexed in deciphering the good from the bad. Well, Nirvino iPhone applications are here to help you choose that perfect wine when you need it most. And, the concept was conceived from locally born grape girl, Meliana James.
"We are changing the way people approach and interact with wine. Mobile technology has given the average person so much information and power at their fingertips. With that and our savvy applications, people can outsmart the world of wine and navigate through confusing grocery shelves and intimidating wine menus with east", says James.
James received a Bachelor of Science from Cornell University's Hotel Administration Program. Her curriculum's wine classes sparked her love of the grape and she became instantly hooked on all things viticulture. To expand her knowledge and pursue her new found passion, James studied wine in Sevilla, Spain where she developed a fondness for delicate Spanish varietals.
James relocated to San Francisco in 2001 to join her network of friends in the picturesque wine regions of Napa and Sonoma, and immerse herself in California wine culture. Nearly five years later, she co-founded Nirvino. The catalyst that sparked her niche? Well, as much knowledge as James had gained on the subject of wine, she was still often left in the store debating which $12.99 bottle of Pinot Noir would be the best to buy often selecting the bottle with the most attractive label or appealing description. "I think wine is the biggest consumer product consistently bought blindly. We have no idea what the wine we buy is going to taste like and we pray it won't be the worse wine at the dinner party", laments James.
Nirvino engages the average wine drinker by focusing on consumer opinions versus solely on critic reviews. This allows an approachable, broad and fresh perspective on wine. Nirvino recently launched a rating guide for beer as well. And, more apps, plus iPAD compatibility is planned for the near future further aiding wine lovers in the search for the best in grape.
Subscribe to discover the best kept secrets in your city