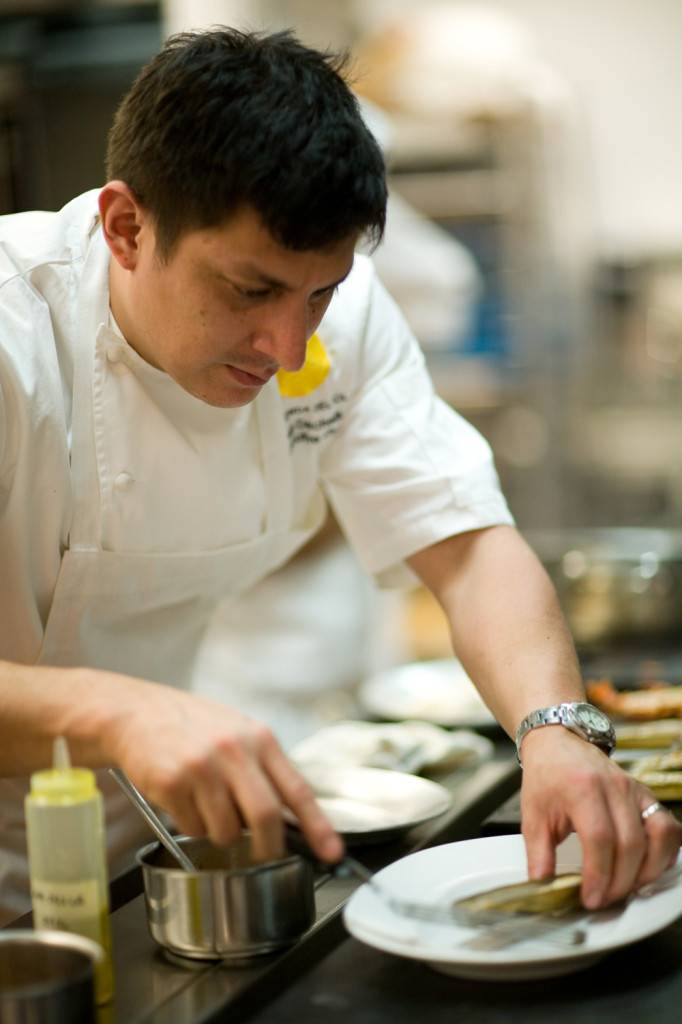 On my recent and first visit to La Fonda del Sol, I couldn't find the restaurant initially because it's not often I find myself on Vanderbilt Avenue. But I was so relieved to find it (it's on the Western side of Grand Central Station), this oasis for Midtown during the lunch rush: the mid-century furniture, the orange/brown color patterns, the blonde furniture, the not-too-noisy dining room that sits a few steps up from the bar area.
And then of course there's the food: Colombian-born Josh DeChellis is a passionate chef and it's splendidly shown in his modern take on Spanish cuisine. From the pumpkin tapas dish — a standout dish — to the octopus a la plancha, chef DeChellis is detail-oriented (aged balsamic vinegars, meat braised in just the perfect Spanish wine, the right splash of lemon) while also seeing the whole picture of each dish — a rare and welcome trait in a chef.
Haute Living: Hi, Josh. What's new at La Fonda del Sol?
Chef Josh DeChellis: Our wine director just did a major overhaul of the wine list, bringing in wines from little-known regions in Spain, small production wines, wines for the holidays and good values. We're also doing an Asadero menu designed for large groups, 8-16 people, that has a whole octopus a la plancha, roasted sucking pig, prime rib cooked on a wine barrel, wood oven roasted baby goat and a Galician paella.
HL: What are some of your favorite dishes at your restaurant?
JD: We just put the Egg Yolk Montatido on the menu, which we brought to the New York Taste event this year. It's an egg yolk cured in smoked maple syrup, with porcini mushrooms and Jamón Ibérico.
HL: Where do you like to dine when you're not working?
JD: Mary's Fish Camp on Charles Street comes to mind. I love to go there with my family for lunch on the weekend. I usually get the cod sandwich, the lady gets the lobster roll, and my boys get the fried fish and everyone is happy.
HL: What's your ideal meal?
JD: That's a tough question. I guess it's eating something coming from a genuine place, like a connection between the food and the person who's preparing it. A Japanese dude presenting a piece of carefully chosen fish on a simple bed of rice, for example, there's a real connection there, and it's genuine.
HL: Where do you like to dine for a special occasion?
JD: One place only: Blue Hill at Stone Barns. I've been going to Blue Hill for special occasions since it opened. Dan's food is… There's no real way to say it without being very long-winded, but I've never had a dish there or at Blue Hill in the City that has been anything less than extremely pleasing. I go to Stone Barns for my birthday every year, which is in early June, and it's so fortunate because early summer is such a great time to be there.
HL: What's your favorite New York City neighborhood?
JD: I'll narrow it down to a street: Irving Street, the strip from the southern end of Gramercy Park down to 14th Street. When you're on Irving Street, it feels like a very small neighborhood, yet one block over there's Park Ave and then Union Square and with the Greenmarket. It's a very gastronomically-aware neighborhood that I've been attached to for over 10 years.
HL: What do you like to do in the city on your days off?
JD: I like to go on a bike ride on the West Side Bike Path with my lady, and grab a beer afterward. But mostly, I like to get out of the city, far away!
HL: Your favorite vacation destination?
JD: I like going to Anguilla. There's nothing there, no tourism at all. It's perfect. You can let the stress just peel away over the course of several days. I go fishing, eat the local seafood and just take a break from my hectic life.
HL: What's your most memorable meal?
JD: There are too many to count. There's no way I can say one; my heart, it loves too many things. The meal at Pierre Gagnaire I had in the 1990s, the the roast chicken with green beans prepared by my father's girlfriend after my son Harrison was born, or the early morning sushi at Tsukiji market in Tokyo: I'm attached to these great meals equally.
HL: What are your five favorite ingredients?
JD: At the moment, they would have to be field caviar, freshly clipped juniper branches, a wine barrel, 1982 Pedro Ximénez sherry and toasted garlic.
La Fonda del Sol is located in The MetLife Building at 44th St and Vanderbilt; 212.867.6767.
Need help finding the perfect New York City restaurant? Or want tips on cooking elegant meals at home? Contact Haute Living dining columnist Tracey Ceurvels via her blog, The Busy Hedonist, or email her with any questions.
Subscribe to discover the best kept secrets in your city