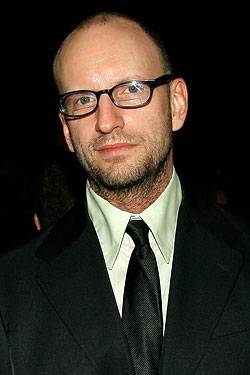 Our Haute 100 list details the accomplishments of the most influential people in each of our markets—Miami, New York, Los Angeles, and San Francisco. These people continue to make moves, so rather than waiting for the next Haute 100 issue to come out, we thought we'd provide you with regular updates on those Haute 100 members who are making headlines. Oscar-winning director Steven Soderbergh makes a trip to Omaha for a nonprofit film fundraiser.
Steven Soderbergh
Category: Originator
Industry: Film

What Makes Him Haute: This producer, cinematographer and Academy Award-winning director is best known for the thought-provoking "Traffic," "Erin Brockovich" and the "Ocean's 11" franchise. His upcoming "Che," based on the life of Che Guevara, is already stirring up Oscar talks.
What Makes Him Haute Now: Why would Oscar-winning filmmaker Steven Soderbergh make a trip to Omaha? It's not for the steaks. if that's what you were thinking. Soderbergh will headline a major fundraiser for Omaha's nonprofit art house movie theater on Feb. 20. The benefit, called Feature III, is for Film Stream's Ruth Sokolof Theatre. Long-time friend and Omaha director-screenwriter Alexander Payne will introduce the event and afterward Soderbergh will talk to host Kurt Anderson about his illustrious career. "He's the perfect Film Streams invitee. No other contemporary American director has had such a diverse, risk-taking and prolific run," said Payne. Payne and Soderbergh met in 1989 when Soderbergh was filming "Sex, Lies, and Videotape."
The director is currently filming his new thriller, "Contagion," in Hong Kong starring Kate Winslet, Matt Damon, Jude Law and Gwyneth Paltrow. Actresses Laura Dern and Debra Winger have headlined the event in the past. Tickets to Feature III will go on sale Oct. 20 and are $35 for the concert hall interview. Mega movies buffs can pay $150 for the interview plus a post-event party, and $250 for a private reception with the evening's special guests. No word whether they will be serving Omaha Steaks, but Soderbergh is definitely on the menu. For more information go to www.filmstreams.org.
Like
Haute Living Los Angeles
? Join our
Facebook page
. Want
Haute Living Los Angeles
delivered to your in box once a week?
Sign up
for our newsletter.
Subscribe to discover the best kept secrets in your city