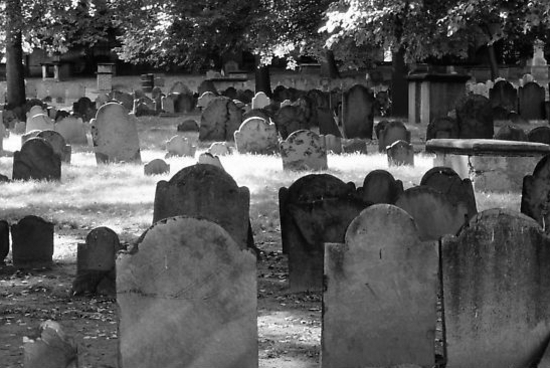 You are the type that must dress for every occasion.  And Halloween is, of course, no exception.  But where do you take your costumed self in the hallowed days and nights leading up to this Sunday's scare fest? There is certainly no shortage of opportunity in and around Boston.  To help you decide we have unearthed some of the best spots to get your scare on this Halloween weekend.
Gorefest 8: Cirque du Slaughtè at Improv Boston
Now through Halloween night enjoy the eighth incarnation of blood, guts and maniacal clowns at Improv Boston, promising to be the goriest show on earth. This twisted tale tells of the horrors of a doomed depression era circus with all the freaks and frights one might expect – including conjoined twins and the bearded lady – all mangled inside a musical comedy. Prepare to be a part of this live horror fest as some of the gore may ooze on to you.
Location:  40 Prospect St., Central Sq., Cambridge 617.576.1253 improvboston.com/gorefest
Ghost and Gravestones Frightseeing Tour
If any place in the US is haunted, Boston is sure to be one of them with a storied past and graveyards filled with historical figures from our country's beginnings. To tap into the ghosts and graveyards of yesteryear, go to the experts with a trolley guided tour from Ghosts and Gravestones Frightseeing Tour. Hear tales of cursed pirates, double-crossed divas, demonic being, the Boston Strangler and more. Just beware that you don't become a part of their next tale.
Location: Throughout Boston 617.2693626 ghostsandgravestones.com/boston/
The Official Salem Witches' Halloween Ball
Perhaps the most haunted of Boston locations, Salem, MA is home to the Salem Witch Trials of 1692, and home today to many proclaimed witches and warlocks. Salem celebrates Halloween throughout the entire month of October with attractions, tours, festivities and haunting for young and old alike. The crowning glory is the Halloween Ball held annually at the Hawthorne Hotel.  This year's 21+ event takes place Friday, October 29th and may be the most authentic Halloween celebration around.
Location: Hawthorne Hotel, 18 Washington Sq., Salem 978.744.4080 festivalofthedead.com
Subscribe to discover the best kept secrets in your city