Enjoying a picturesque view of Central California's rocky coastline, the Bentley faithful were gathered on an elegant patio of Pebble Beach's Inn at Spanish Bay, huddled around wood fires and enjoying heartwarming spirits.   In attendance three weeks ago for the annual Concours d'Elegance, the well-heeled crowd was acclimating to the charming environs when their attention was beckoned by the tinkle of a wine glass.  Dr. Franz-Josef Paefgen, Bentley's Chairman and Chief Executive, greeted his core of customers to welcome them and deliver a quick company update.  Discussing the brand's strategy in the face of the ongoing recession, he pointed out that Bentley has done what many companies do in times of tepid sales, and that is "bring a new product to market."  That product, the new flagship Mulsanne, was first unveiled at last year's Pebble Beach Concours d'Elegance, and now figures to finally take initial customer deliveries in the coming months.
If appealing to a wider customer base was part of Bentley's intention with the Mulsanne, then the storied British manufacturer has wildly succeeded, though through no adjustment of price point.  Rest assured, the top of the line Mulsanne, which replaces the outgoing Arnage and Azure, retails for almost $300,000, and that's without the bevy of desirable options that can bloat the total MSRP to over $330,000.  With anticipated production set at only 700 examples per year, the Mulsanne promises to be every bit as exclusive as Bentleys always have been, if not more so.  Rather than making what may have been tempting concessions on cost or production volume though, the company has reached out to non-traditional Bentley buyers with a sporty design and interior amenities clearly meant to appeal to a slightly different demographic.  The Mulsanne is no less exclusive than prior models, but it does seem to be geared towards a younger buyer.
Sure, the Mulsanne has all the elements of refinement that we've come to expect of Bentley.  Bespoke combinations of interior hide, wood veneers, and exterior paint colors allow for hundreds of permutations that ensure a one-of-a-kind uniqueness for any example.  The ride quality is regally smooth and electronic amenities dominate the cabin, including a seat massage function that is hardly necessary in a car so comfortable.  But in addition to these trademark features that have always appealed to the core Bentley buyer of the past few decades, almost assuredly an older gentleman of wealth and sophistication, there are a number of options that are likely to be more easily appreciated by younger money.  It is difficult, for instance, to imagine the traditional Bentley customer taking full advantage of the Mulsanne's premium Naim sound system, whose 20 custom-made speakers are powered by what Bentley claims to be the most powerful production amplifier ever, good for 2,200 watts.  And that ingenious spring-loaded dashboard console shelf with media inputs?  That's for your iPod (which strikingly displays the Bentley logo when powered off).  Furthermore, the Mulsanne's 60 gigabyte computer offers 20 gigs of empty hard drive space, presumably for storing music and media from portable devices.  Just guessing here, but if there's a 50+ year old man hip enough to download playlists to his own iPod, I'm betting he doesn't drive a Bentley.  If ever there was a highline luxury car more positioned for the Jay Z's of the world than the John D. Rockefellers, this is it.
Further cues to youthful exuberance manifest in the driving components of the car.  The Mulsanne is the first Bentley flagship sedan ever to feature paddle shifting.  Beautifully knurled stainless steel paddle shifters are mounted on the steering wheel, providing instantaneous access to the 8-speed automatic ZF gearbox.  Driving characteristics can be adjusted with a Drive Dynamic Control dial that offers a Comfort mode, featuring a softly sprung suspension and full power steering, as well as a Sport mode, which stiffens the suspension for better communication with the road and decreases the power steering assist for smoother control during quick maneuvers.  These attributes combine to deliver assured performance through curves, remarkably gluing the almost-three ton car to the road.
Straightaway performance is equally impressive, anchored by Bentley's new 6 ¾ liter engine, a completely redesigned V-8 that features cam phasing, variable displacement, and cylinder deactivation for improved mileage.  The twin turbocharged engine delivers whopping amounts of torque at astoundingly low rpm (752 lb-ft at 1,750 rpm).  With so much power available at such low rpm, the transmission is programmed to change gears at relatively low points in the tach range, reflected in the tachometer's modest redline of 4,500 rpm.  In terms of everyday use, the engine delivers all the performance you might need for such a car, ably overtaking lesser cars in traffic with a stomp of the accelerator.  Of course, such moves are far smoother if executed with a downshift or two of the wheel-mounted paddles.  Simply flooring it is still effective, but the resultant lag and lurch of the transmission leaves one with the obvious realization that a sports car the Mulsanne is not.  In fact, even with such outstanding torque delivery and potential horsepower (505 bhp at 4,200 rpm), the new V-8 is still only capable of launching the 5,700 pound car to 60 mph from a standstill in 5.1 seconds.
Despite these last few minor performance criticisms, the Mulsanne is an automotive wonder, combining stunning exterior design that evokes the great S-Type Continentals of the 50s, luxurious and ergonomic cabin layout, and impressive engineering.  Once again, Bentley's handcrafted manufacturing and refined British motoring sensibilities deliver a luxurious driving experience that is unmatched by the mass-produced flagships from German and American competitors.  What's more, this is a Bentley that seems to be reaching out to the next generation of Bentley Boys, encouraging ownership by today's hottest, and haute-est, luxury spenders.
Base retail price:            $285,000
Price as tested:               $330,195
Engine:
All alloy twin-turbocharged 6,750 cc V-8
Transmission:
Rear-wheel drive 8-speed ZF automatic gearbox with paddle shifting
Performance:
Max Power             505 bhp at 4,200 rpm
Max Torque            752 lb-ft at 1,750 rpm
Acceleration          0 – 60 mph in 5.1 seconds
Max Speed             184 mph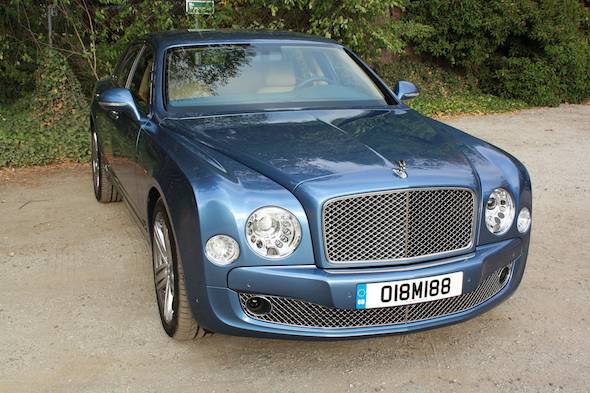 Subscribe to discover the best kept secrets in your city