With Ramadan scheduled to begin this Wednesday, Dubai life is already starting to slow down in preparation for the Holy Month. During Ramadan Muslims fast from sunrise to sunset. It is a time when importance is given to separating the physical from the spiritual. One gives back to the community, to charity, and spends more time with family and friends over wonderful meals as soon as the fast is broken. For such a cosmopolitan city like Dubai, this might create hindrance for those used to the party scene, the sophisticated bars and nightclubs many of which slow down almost to a complete halt during the Holy Month. But what you can look forward to are the wonderful iftar and suhoor meals full of delicious treats in a variety of settings where you can literally feast until your heart's content. The following are a list of some of Dubai's best places to get iftar and suhoor during Ramadan.
Park Hyatt
Indulge in a delicious spread of local and Lebanese dishes at Cafe Arabesque at the Park Hyatt in Deira. For Suhoor you can move to The Terrace with its romantic waterfront view for a full meal from 8pm to 2am. Also served are Mocktails, shisha and Arabic music. Iftar is 160AED with drinks; 85AED for 6-12 year olds; under six eat for free.; 170
Deira Cafe Arabesque and The Terrace 04 602 1234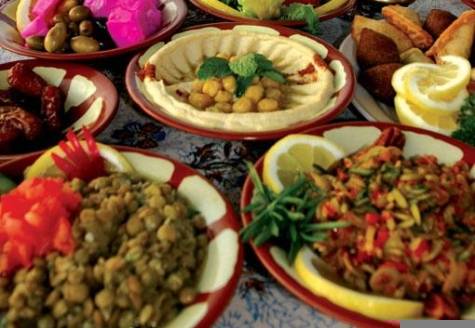 Madinat Jumeirah
You can choose from a variety of venues at the Madinat Jumeirah from the traditional Arabic style Al Muna, the romantic Moroccan majlis-style of Shoo Fee Ma Fee, the poolside atmosphere of the Khaymay Al Bahar or the open air Arboretum. Wherever you decide to go you'll delight yourself in a delicious Iftar buffet.  For Suhoor, try the Al Majlis for an a la carte menu and magnificent views of the ocean and the Burj Al Arab. 180AED Iftar with drinks; Half the price for four-12 year olds and free for under 4; Suhoor at Al Majlis is 100AED Saturday through Wednesday and 150AED on Thursday and Friday.
Madinat Jumeirah 04 366 6730 Al Majlis, Arboretum, Al Muna, Khaymat Al Bahar marquee and Shoo Fee Ma Fee
Burj Khalifa
Enjoy Iftar on the 124th floor of the world's tallest building the Burj Khalifa and marvel at the views of Dubai below. Stay for Suhoor with an a la carte menu from 9pm and 3am. 100AED Entry; 75AED Iftar for under 12; Ramadan Tent Iftar 150AED with Ramadan Juices
Downtown Burj Khalifa, 124th floor 800 AT THE TOP/ 050 830 9881
Ewaan, The Palace Hotel
The lovely setting of the Palace Hotel's Ewaam restaurant will host a delicious Iftar buffet at sunset. A place outside on the terrace near the pool will offer you beautiful views if the Dubai Fountain and the Burj Khalifa. Stay for Suhoor from 10pm-2am (3am on the weekends) and experience live cooking stations and shisha. 180AED with drinks; half price for 7 to 12 year olds; under seven eat for free.
Downtown Dubai, 04 428 7888
Ritz Carlton
Enjoy Iftar amidst the rich Arabic decor of the Ritz Carlton. Indulge in meat and seafood grills which include delicious lobster from Oman with Arabic music played in the background. 150AED with juices; under four years eat for free
The Salon and La Baie, The Ritz Carlton 04 318 6715
Subscribe to discover the best kept secrets in your city