Let's face it, Americans are good at a lot of things. Football. Eating. Living in Excess. Actually, almost everything except soccer. Yet for some reason, this year's World Cup has got the city and country in a tizzy of excitement in a way I haven't seen before.  Dreaming of goals and giddy with the thought of competition and conquest, whether Chicagoans are watching the games for pride or for pleasure, here are your Haute 5 spots to catch all the action.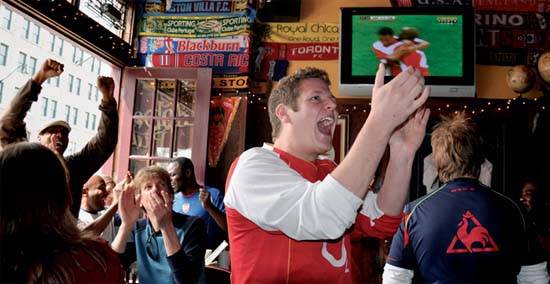 The Globe Pub
One of the only official soccer bars in Chicago and consecutively rated the best soccer bar in the country, the Globe is your best bet to root on Team U-S-A. Aside from hosting game day parties on the plethora of big screens, if you want to catch some live action, they also shuttle ticket holders to the Chicago Fire games in a luxury cruiser. Expecting to be hoping for the series, they are making some of the World Cup parties invite only, so make sure you're on the list.
1934 W Irving Park Rd., Chicago. 773.871.3757.  http://www.theglobepub.com/
Ginger's Ale House
Located in wild Wrigleyville, Ginger's Ale House has twenty HD-TVs and two giant HD screens to watch live English, Scottish, European and American MLS Soccer. Voted the #1 soccer bar in the US by ussoccer.com four years running, you can trust this is where the true fans will be.
3801 N. Ashland, Chicago. 773.348.2767. http://www.gingersalehouse.com/
Fado's Irish Pub
Hosting a a day long party for the much anticipated England vs USA match, Fado's opens at 6.30 am for the first of three consecutive matches. Live music starts at 10 pm with U2 cover band, Elevation. Get in the action with Fado's Fantasy World Cup challenge, Pub Cash + bragging rights are at stake.
100 W. Grand Ave., Chicago. 312.836.0066. http://www.fadoirishpub.com/
Stretch Run
With a mind boggling 217 TVs, depending on your intensity, you can watch the game alone in individual viewing booths or in the designated World Cup Room which hosts 40 people on 12 TVs and a projector. Just make sure you're as fanatical as the others there. Want to add some spice to the game? Partake in  a little off track betting and horse racing while you're in the competitive spirit.
544 N. LaSalle St., Chicago. 312.644.4477. http://www.stretchrunchicago.com/
Zocalo
Nothing goes hand in hand with soccer like tequila. And Zocalo's has the best selection on lock. Hosting a World Cup Viewing Party on June 11 for South Africa vs. Mexico, the Cuervo and Modelos are sure to be flowing. Hang out and get your groove on with their signature Latin House and Tropical Beats later in the evening.
358 W. Ontario, Chicago. 312.302.9977. Zocalochicago.com
Subscribe to discover the best kept secrets in your city