Sure, April showers bring May flowers. Which is why we are now petal deep in my favorite time of year: wedding season. And since we here in Texas know that everything is better when it's bigger, it comes as no surprise that Dallas is home to some of the most creative and luxurious florists that cater to all those big-time, big-money weddings. But even if you're simply looking for that perfect vase collection for the front entry table, these boutiques will give you the finest of flora.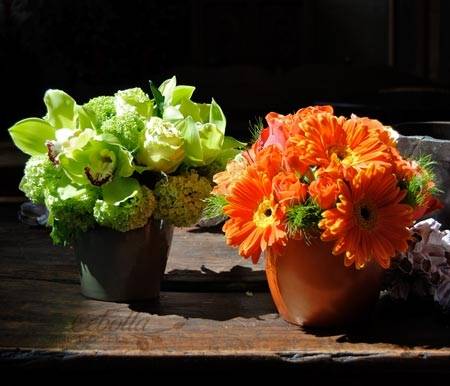 Cebolla's Fine Flowers
Listed as Oprah's favorite Dallas florist (and has she ever been wrong?), Cebolla's is an incredibly popular destination for your poppy shopping. Luit and Jamie Huizenga, a husband and wife duo, teamed up to create the finest floral arrangements in the European style, served  up in homemade pottery vases, a far cry from the standard plastic or glass designs. Last Fall, the couple opened up a second location on Maple Avenue that now serves as their flower "emporium," a 15,000 square-foot oasis complete with greenhouse for them to harvest their own blooms. Looking for a unique gift? Try the monarch chryalises, that will eventually hatch ready-to-fly  butterflies.
Cebolla's is located at 5610 Maple Avenue in Dallas, 214-369-7673, and at 4415 Lovers Lane in Dallas, 214-369-7673
Redenta's
A Lakewood favrorite, Redenta's has been making the landscapes of the East side and beyond works of art. An all-organic garden, Redenta's Garden prides itself on supplying a unique selection of herbs, roses, perennials, shrubs and trees, all grown and kept under a strict organic regimen—they even offer organic fertilizer five times a year for your home garden. In the market for a yard makeover? Redenta's also creates modern landscape designs to make your yawn of a lawn shine.
Redenta's is located at 2001 Skillman Avenue in Dallas, 214-823-9421
Dr Delphinium
The name of this place lends itself to an almost errie image of a mad scientist, making strange concoctions in some secret lab somewhere. This is basically accurate, as Dr Delphinium takes the mundane and turn it into magic, a la that reception area of your office, or the dreary space in your home solarium that looks more grey than green. The event designers/florists, who call themselves "Contemporary Botanical," are capable of brightening any space or soiree, especially with their wide selection of gorgeous orchids.
Dr Delphinium is located at 5806 W. Lovers Lane in Dallas, 214-522-9911
Avant Garden
Reflecting the libraries of the large, great houses of Europe, Avant Garden makes it their mission to bring gorgeous objets d'art, floral and otherwise, into the homes of their distinguished customers. Owner Todd Fiscus says his inspiration is derived from the fashionable Belle Époque, so the products are classic, elegant creations, sold in his store in Highland Park Village that's complete with a full floor-to – ceiling library (use the rolling ladder to check out the titles up top.)
Avant Garden is located at 4 Highland Park Village in Dallas, 214-559-3432
Mockingbird Florist
With one of the largest delivery areas in the city (if you can drive downtown in 30 minutes, they'll come to you,) Mockingbird Florist's couture arrangements are stunningly original and perfect for any and all events or reason for bouquet buying. It's no wonder, what with 35 years of experience under their belts. Try some of their chocolates or delicious gourmet fruit baskets.
Mockingbird Florist is located at 5606 E Mockingbird Lane in Dallas, 214-821-1433
Subscribe to discover the best kept secrets in your city