Stella McCartney has already changed the way we dress at the gym with her ongoing collaboration with Adidas. Now, Giorgio Armani wants a piece of the action. Emporio Armani, the high-end luxury line designed by the acclaimed designer has announced a partnership with Reebok on a line of men's and women's activewear. The new capsule collection is called EA7/Reebok, and will reflect Emporio's clean aesthetic in a variety of pieces.
Expect harem and slim-fit pants with coordinating hoodies, tanks, and a bunch of footwear for the ladies. For the men? Fitted tanks, fleece jackets, technical tops, sneakers, and running shorts. "Sportswear and activewear have become really important parts of our wardrobes," says Armani, who designed 15 shoe and 40 apparel styles for both the men's and women's lines.
The footwear range bears fun names like Pump Mega, Mega Chic, and Chic Vintage. Speaking of chic, we hear the styles are so cool you won't only be sporting them for a run on the treadmill. EA7/Reebok hits the streets this July, and prices run the gamut from $65 for a tee to $190 for the waterproof athletic jackets, and $150 for the footwear. That's no small price to pay for athleticwear, but for a piece of original Emporio Armani duds we bet this collection will take over gyms across the country. Armani says, "I wanted to offer my customers the possibility of wearing sports clothes that were stylish and comfortable."
Look out for the designer sportswear this summer at Emporio Armani and Reebok stores, as well as select high-end department stores.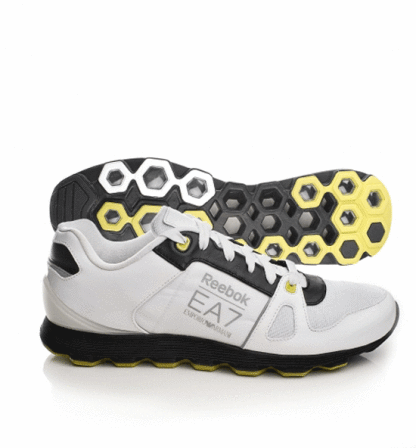 Via StyleCaster
Subscribe to discover the best kept secrets in your city