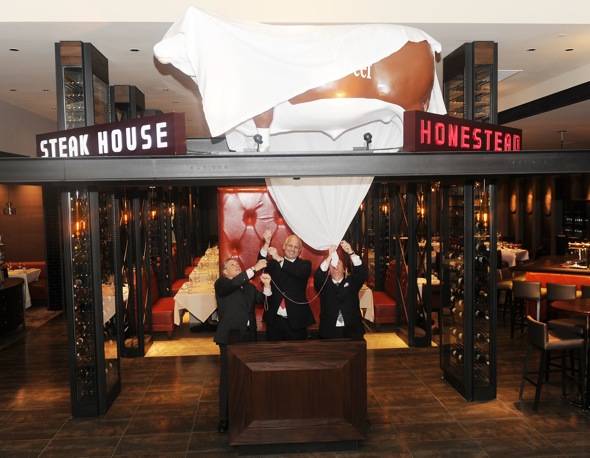 She had a long journey, but Annabelle the cow is now in front of her new home at Old Homestead Steakhouse at Caesars Palace. The celebrity cow has completed her cross-country journey and was unveiled this morning at the new steakhouse.
During her trip, the iconic brown and white cow visited several major U.S. landmarks including Times Square, the St. Louis Arch, the Lincoln Memorial, Mt. Rushmore and the Alamo. She also found time to visit her family in Nebraska on the farm where she grew up and do a little shopping in Chicago. Before being placed at the entrance of Old Homestead Steakhouse at Caesars Palace, she made one last stop at the "Welcome to Las Vegas" sign.
Old Homestead Steakhouse, one of New York City's most historic restaurants, is set to open its first location on the West Coast at Caesars Palace this month. With more than 6,000 square-feet, the new restaurant will feature a total of 250 seats with a full dining room, private dining room, lounge and bar. Guests will be introduced to several signature dishes from the classic New York City menu including the popular colossal crab cake, 32-ounce Gotham rib-eye steak and the Old Homestead New York-style cheesecake. Additionally, new menu items will be created exclusive to the Las Vegas location.
Click on the photos below to enlarge.
Like Haute Living Las Vegas? Join our Facebook page or follow us on Twitter. Want Haute Living Las Vegas delivered to your in box once a week? Sign up for our newsletter.
Greg Sherry, Gary Selsener and Marc Sherry unveil Annabelle the cow in front of Old Homestead Steakhouse at Caesars Palace. Photos by Denise Truscello/WireImage
Greg Sherry, co-owner of Old Homestead; Gary Selesner, president of Caesars Palace; Marc Sherry, co-owner of Old Homestead unveil Annabelle the cow.