Photo Credit: Courtesy of Sei Tu Bella Aesthetics
In a world where the pursuit of beauty is both an art and a science, there exists a haven where aesthetics are elevated to the level of haute beauty. Sei Tu Bella Aesthetics, a name that resonates with charm and sophistication, stands as a beacon of excellence in the realm of natural beauty enhancements and women's wellness services.
Was there a personal and/or professional experience that inspired you to open your practice?
Throughout the majority of my medical career, I have primarily specialized in trauma surgery and emergency medicine. Over a span of nearly 16 years, I diligently served in a Level 1 trauma center, dedicating my expertise and commitment to acute patient care. However, the unprecedented challenges posed by the pandemic left me feeling cornered, overburdened, and undervalued. It was during this time that I recognized the true potential of my skills in aesthetic and regenerative medicine. A profound revelation dawned upon me, leading me to envision Sei Tu Bella Aesthetics as my purpose and calling. I have wholeheartedly embraced this path, as it represents not just a plan but my unwavering dedication to it. There is no backup plan; she is my plan.
What was your mission at the start of opening your practice? Has it changed?
When I departed from my career in corporate America while 7.5 months pregnant with my daughter, my primary mission became the pursuit of equilibrium between professional and family life while maintaining financial stability. Prior to founding Sei Tu Bella, I found myself unable to ensure I'd be present with my family for Christmas, witness my sons' pivotal moments in baseball, or risk not witnessing my children's childhood memories that simply can not be replaced. Now, I am more present than ever for my family and achieving a harmonious balance between family responsibilities and woman entrepreneurship.
As an entrepreneur in aesthetic medicine, I am dedicated to perpetual enhancement and the relentless pursuit of elevated benchmarks. My ongoing mission now is centered on the elevation of my practice and the empowerment of women and providers in the industry. It is of paramount significance to me to provide unwavering support to fellow entrepreneurs in their aspirations for realization and expansion. Consequently, I have embarked upon the establishment of the Sei Tu Bella Aesthetic Academy, an institution designed to impart knowledge and foster the growth of aesthetic providers. The academy will launch in Spring 2024. In addition, I take great pride in my role as a National Trainer with Inmode, where I traverse the breadth of the nation, imparting invaluable insights to practice owners regarding the safe and efficacious utilization of medical devices, thereby ensuring exceptional outcomes.
If you had to pick three words to describe the vibe of your practice, what would they be and why?
Our identity can be summed up in three words: "State-of-the-art" defines the cutting-edge technology at our disposal, "Conqueror" signifies our unwavering determination to excel and lead in the industry, and "Visage" encapsulates the sheer beauty that is integral to our essence.
How did you come up with the name of your practice?
Your brand constitutes the most important element of a business. Drawing upon my familial ties to Italy, I aspired to select an Italian name resembling qualities of elegance, sophistication, and confidence. In my quest for a name that would also resonate with our clientele, I discovered the phrase "Sei Tu Bella," which I thought when translated, signified the statement "You Are Beautiful". It became apparent that "Sei Tu Bella" presents more as a question rather than a statement " Are you beautiful"? The formal Italian expression for "You are beautiful" is "Tu Sei Bella"; Intriguingly, it also finds application as the name of numerous pizza restaurants worldwide. In light of this, I opted to retain the name "Sei Tu Bella," thereby posing the question, "Are you beautiful?" This became the inception of our brand. If one's self-perception does not align with this sentiment, we have made it our mission to guarantee that as you exit our doors and throughout your journey as a member of the Sei Tu Bella Aesthetics family, you feel beautifully transformed.
What are the most popular services requested?
In the industry, anti-wrinkle treatments utilizing Neurotoxins and facial balancing consistently garner widespread recognition. Nevertheless, within our practice, we have observed an extensive demand for women's wellness services. Our outcomes achieved with the Morpheus V for vaginal rejuvenation stand as unparalleled with its ability to provide relief for many medical conditions and can provide a higher degree of satisfaction than a surgical labiaplasty. This is attributed to its remarkable capacity to address a myriad of medical conditions and rekindle intimacy.
What is the future of your field?
The future of the field undoubtedly lies in regenerative medicine. Society is increasingly recognizing the human body as a unique and irreplaceable entity, not subject to trade-ins when its "lease" expires. This realization compels individuals to prioritize the maintenance of their bodies to ensure long-lasting and effective functioning. Consequently, prevention through regenerative treatments, including but not limited to collagen induction services such as Morpheus 8 radiofrequency microneedling, Radiesse bio-stimulation, and various other therapies for cellular regeneration, is poised to play a pivotal role in shaping the future of our field.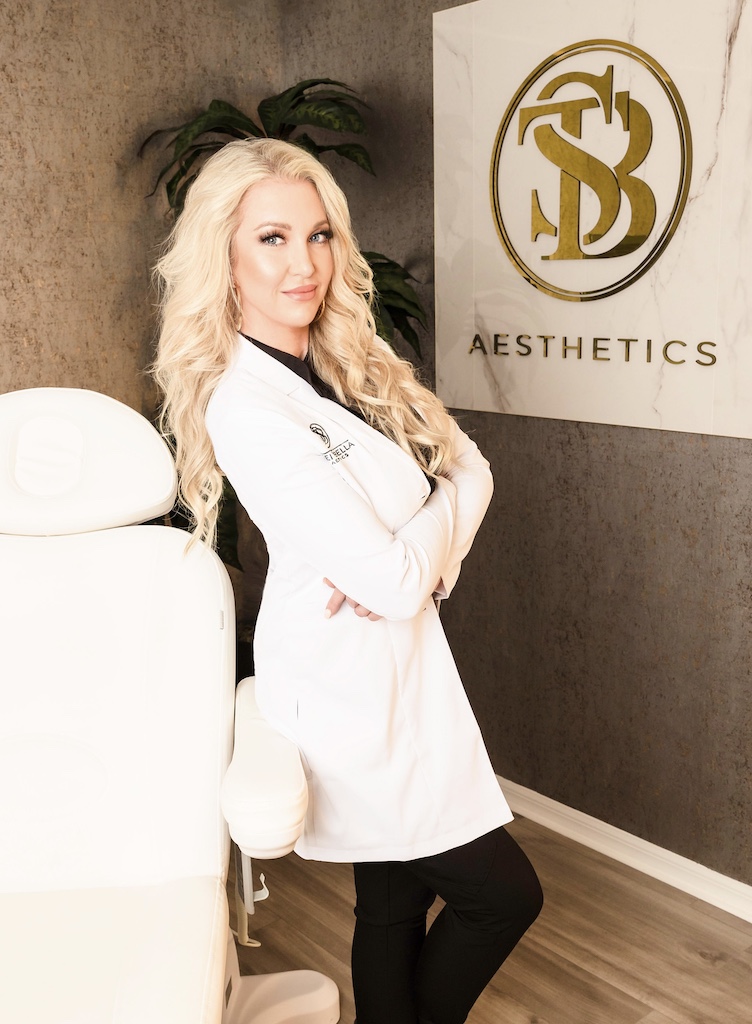 Photo Credit: Courtesy of Sei Tu Bella Aesthetics
What are you best known for?
I am establishing a prominent presence within the industry specializing in Morpheus 8 vaginal rejuvenation and women's health. As a mother of five, I am deeply committed to women's wellness. I possess firsthand experience in grappling with the insecurities that often accompany childbirth and the natural aging process. In recognizing that women already bear a significant array of concerns, it is my mission to eliminate the apprehensions related to women's wellness and intimate health. My platform is dedicated to disseminating awareness and shattering stigmas, showcasing that effective solutions exist to genuinely empower women.
What is unique about your practice?
At Sei Tu Bella, we proudly represent a women-owned establishment and the first Nurse Practitioner owned MedSpa in the state of Florida to feature Inmodes Empower RF platform for women's wellness. As a woman entrepreneur, I have risen from humble beginnings to establish a thriving wellness institute. In today's society, success is often misperceived as an outcome of inherited wealth or easily granted privileges. The truth is, embarking on the journey of constructing a MedSpa from the ground up is a monumental endeavor, far from the seemingly effortless portrayals seen on social media. The reality entails unwavering dedication, relentless effort, and a significant investment of time.
Our mission is to challenge prevailing misconceptions and transform the prevailing stigma surrounding success. Every milestone and accomplishment we've attained is not the result of a fortuitous windfall, but rather the product of unrelenting determination, countless hours of labor, and genuine dedication. I take immense pride in the path we've walked from our modest beginnings to the bright future that lies ahead. The true worth of achieving something lies in the hard-earned journey, rather than in the receiving of something freely given.
Our gratitude knows no bounds, and we owe our achievements to our incredible clients, whose unwavering support and trust have propelled us forward. Through Sei Tu Bella, I have had the privilege of encountering remarkable individuals, forging meaningful relationships, and treating our clients as cherished members of our extended family. We are committed to providing the highest level of care and service, reflecting the deep appreciation we hold for our clients.
Are there any new services you are excited to offer?
We are delighted to announce our esteemed partnership with Inmode, the distinguished manufacturer of the globally renowned radiofrequency microneedling treatment, Morpheus. We are pleased to introduce the Optimas platform to our practice, extending our range of services to include Lumecca IPL and Diolaze XL, recognized as the Gold Standard for laser hair removal treatments. Furthermore, this comprehensive platform encompasses an array of advanced treatments, including Morpheus, Morpheus Body, Forma, and Vasculaze, catering to a wide spectrum of medical aesthetics, with a particular focus on regenerative medicine.
We also take pride in being the inaugural provider in the greater Tampa Bay Area of Lutz, Florida to introduce the SaltFacial, the world's first medical-grade facial device by SaltMed. This cutting-edge technology seamlessly combines three modalities, enabling us to deliver regenerative facial treatments of the highest caliber.
What is one underrated service that doesn't receive as much press as it should be?
Morpheus 8V Radiofrequency Microneedling for Women's Wellness Rejuvenation
The world has become acquainted with the remarkable skin-tightening treatment known as Morpheus 8, primarily through the presentation of extraordinary before-and-after photographs showcasing its transformative impact without the need for surgery. Additionally, high-profile, non-paid endorsements, such as those from Kim Kardashian, underscore how this treatment has fundamentally altered the landscape of skincare.
The Morpheus 8V, an innovation built upon the Empower RF platform, harnesses the same groundbreaking technology, but with a specific focus on women's wellness. InMode's Morpheus 8V represents a state-of-the-art non-surgical solution for vaginal rejuvenation.
This in-office non-surgical technology delivers exceptional results tailored to women's intimate needs, addressing concerns related to vaginal discomfort and the often bothersome and embarrassing urinary symptoms. Beyond this, it addresses a range of medical issues, including chronic pelvic pain, recurrent urinary tract infections, bacterial vaginosis, lichen sclerosis, vaginal dryness, and more. Moreover, it offers a remarkable non-surgical labiaplasty outcome that enhances aesthetic appearance. This treatment is akin to a transformative spark in a world of comprehensive restoration for the female anatomy. It stands as an exceptional advancement that genuinely empowers women.
For more information, visit Sei Tu Bella Aesthetics's social media: