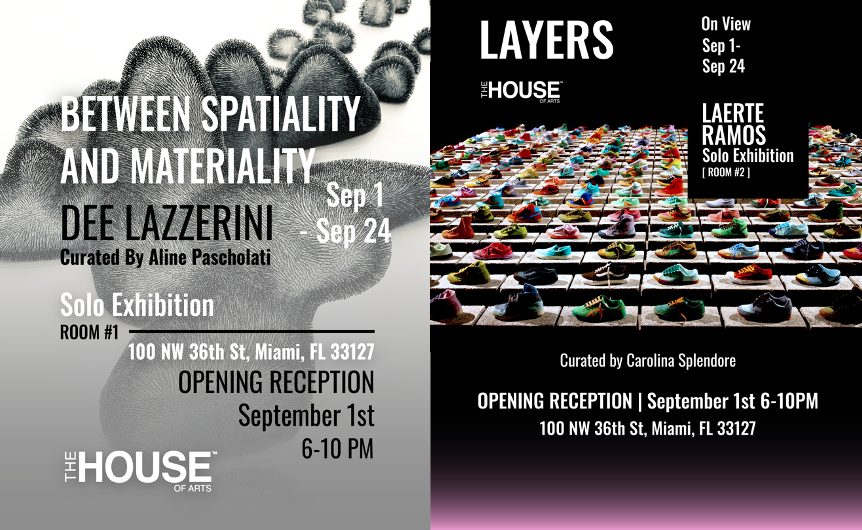 The House of Arts in celebration of the 35th SP-Biennial, opens the Fall Calendar with a diversified portfolio of over 500+ artworks from renowned Brazilian and Latin American artists, emerging, mid-career, and institutional.
The House of Arts (THOA) is a vibrant tapestry of Brazilian contemporary art open to receive cultural connoisseurs as the 5000 sq ft indoor Gallery space continues to become an international gateway for Brazilian and Latin American artists. Situated at the cusp of Wynwood and Design District, this vast space opened its doors for Miami Art Week last November 2022 and is set to captivate audiences with an unparalleled exhibition that celebrates the very best of Brazilian artistic expression. The art platform has had a profound relevance under the direction of experienced Curator Jade Matarazzo since 2010 and has brought to Miami with the physical location a refined selection of works that embody the soul, diversity, and innovation of Brazilian culture, by curating an immersive experience that embodies the intricate tapestry of the country's contemporary art scene.
Visitors can expect to be greeted by an array of paintings, sculptures, installations, and multimedia pieces that encapsulate the essence of Brazil's rich artistic heritage.
"We are thrilled to be a space dedicated to presenting the finest of Brazilian contemporary art. Our aim is to provide a platform that not only showcases the incredible talent within our artistic community but also sparks conversations about the rich cultural creative spirit that defines Brazil", says Alessandra Gold, founder, and CEO of The House of Arts.
The House of Arts is a unique space where artistic innovation thrives. The Gallery is designed with four distinct rooms, each offering a special space that nurtures creativity and brings out the best in the artists showcased. As September approaches, The House of Arts proudly presents exhibitions in two of these rooms featuring the impressive works of Brazilians Dee Lazzerini and Laerte Ramos, two young prominent contemporary artists.
[Room#1] Dee Lazzerini has a strong research-based portfolio and has worked with different art forms and ideas using head pins as his main medium creating stories with shapes and textures.
[Room#2] Laerte Ramos, on the other hand, is a true artist with an extensive curriculum and long-time experience and skill. His upcoming exhibition will be a purist contemporary show, exploring color, texture, and feelings in a unique way. Artist Laerte Ramos will be present at the opening and a guided tour is available from 5-5:30 pm on September 1st, to schedule to participate please email: contact@thehouseofarts.com
"Our gallery's four rooms aren't just spaces to display art – they're places where creativity thrives and where you can immerse yourself in the world of art. As we get ready for September, we invite you to join us in experiencing the power of imagination and artistic expression".Says Jade Matarazzo, founder, and Curator of The House of Arts.
The Gallery's commitment to fostering artistic dialogue extends beyond its exhibition walls. Interactive workshops, artist talks, and educational programs will be offered to engage visitors of all ages and backgrounds, ensuring an immersive and enlightening experience for everyone.
Highlights of the Exhibition:
Awarded artworks by Laerte Ramos: Set of works that received the "International Artists Exhibition" Award, granted by the SP-Biennial in partnership with PHICA (Phoenix Institute of Contemporary Art) and Modified Arts Gallery (AZ)
Diverse Perspectives: The overall exhibition of the space brings together a multitude of artists, each with their own unique perspective, creating a harmonious dialogue between tradition and contemporaneity.
Burst of Colors: From vivid landscapes to thought-provoking abstract compositions, the gallery showcases the vibrant color palette that defines Brazilian art.
Cultural Narratives: Artists delve into the country's history and societal narratives, bridging the gap between past and present through their art.
Innovative Techniques: The exhibition showcases a blend of traditional craftsmanship and contemporary techniques, pushing the boundaries of creativity.
ABOUT THE HOUSE OF ARTS (THOA)
The PowerHouse (TPH) is the Holdco. The House of Arts (THOA) is the Art Division of the (TPH) Holdco, with a Gallery located on the cusp of the Design District and Wynwood areas, the building is an independent building with 5,000 SQ FT of open loft indoor space + additional 3,500 SQ FT gated outside area. A unique space created for a new form of consumer experience carefully planned to house what is most relevant and innovative in the segments of art, fashion, design, technology, and its universe of current consumer behavior.
Written in partnership with The Luxury Lifestyle Magazine
Subscribe to discover the best kept secrets in your city