Photo Credit: Kane Skennar
Australian actress Alyssa Sutherland is perhaps best known for playing a Viking (Queen Aslaug on History's breakout series, Vikings, that is), and now you'll see her terrifying turn in Evil Dead Rise, the fifth installment of the iconic Evil Dead franchise. The film premiered at SXSW last month, but will have a theatrical release on April 21. Sutherland plays the character of Ellie, one of two estranged sisters in this twisted tale, whose reunion is cut short by the rise of flesh-possessing demons, thrusting them into a primal battle for survival as they face the most nightmarish version of family imaginable. Prior to her acting career kickoff, Sutherland was a model, whose appeared in the world's top fashion magazines, as well as in campaigns for Calvin Klein, Chanel, Ralph Lauren, and Bulgari, among others.
But here, she isn't talking fashion: she's chatting about her latest film. So without further ado…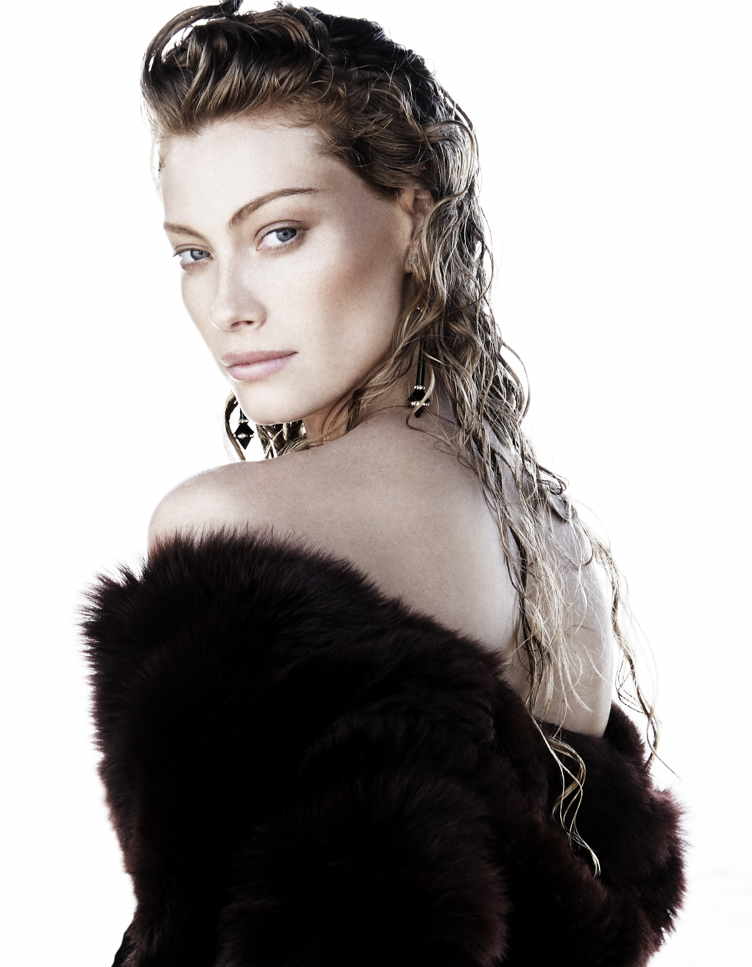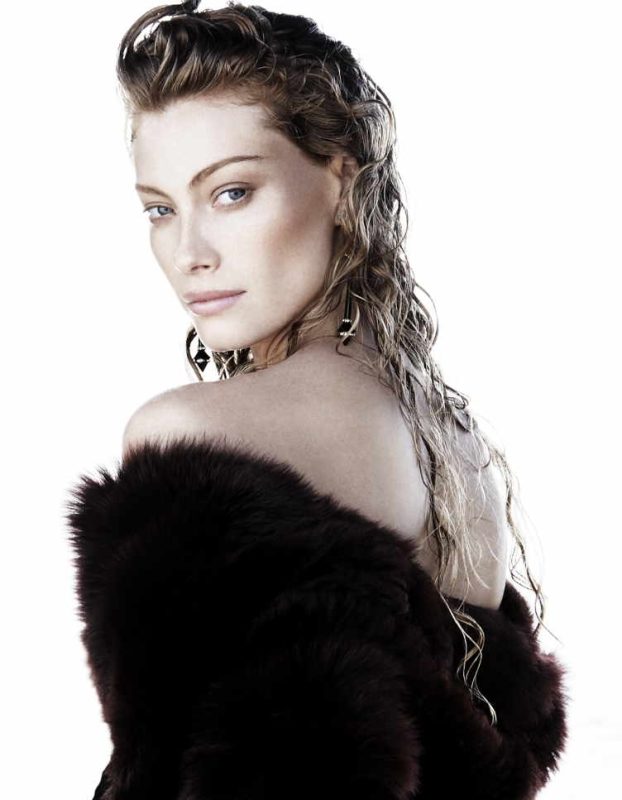 Photo Credit: Sam Bisso
Tell us a little about Evil Dead Rise and what drew you to this project/playing the role of Ellie?
Evil Dead Rise is the latest film in the Evil Dead franchise, but even though it has some connecting lore with the older films you don't need to have seen them to enjoy Rise. The most attractive part of the role of Ellie was getting to play an absolute psycho of a deadite. I don't think we've ever seen a female on screen like Ellie and it was a blast creating and inhabiting her.
Did you have a spooky/out of this world moment while filming?
I had a dream as the deadite version of Ellie where I killed someone with my bare hands. It was pretty crazy. Thankfully I'm good at compartmentalizing my work from real life so I was able to let it go!
What do you think makes this film stand out from other horror films?
I think Lee has made the impossible possible – he's managed to make a very "Evil Dead" film, while also putting his own unique stamp on it. I'm very thankful he wrote the character of Ellie and was game for me to squeeze all the juice I could out of her and make her an insane female monster. I love that we didn't pull our punches. Ellie is one BAD mother.
How did you prepare for this role? Did you draw inspiration from any previous Evil Dead film or other horror films?
I went all over the place with my prep. I found weird dance videos on YouTube, I watched a lot of movie monsters/villains (mostly to make sure I wasn't going to subconsciously "repeat" a performance I had seen in the past), and I spent hours with the stunt team, led by Stuart Thorp, working on deadite movement. I had a playlist for deadite Ellie that I put on at night that I would dance and move around to so that I had the basis for the character movement. A few ideas came out of that movement, actually. Little things that I got to contribute to some sequences in the film. I also thought about the deadite "soul" and created the tormented life they lived the first time around. You know, hurt people hurt people.
Photo Credit: Joanna Degeneres
What's your favorite horror film and why?
That's tough! I actually am such an easy scare that I hadn't watched many horror films before doing Evil Dead Rise. I think probably Get Out. It was scary but I couldn't look away. And Toni Collette's performance in Hereditary is incredible.
The family aspect plays a huge roll in this film. Did you and the cast do any off-set bonding to achieve the sisterly/family bond?
We did family boot camps with the stunt team in the first couple weeks of prep and family rehearsals. But apart from that I didn't have a lot of time on my hands before we filmed with all the other prep I had. Lily and I are from the same hometown and in a lot of ways we're cut from the same cloth. I adore her. We got along immediately and in fact we get asked if we're sisters when we're out together.
Before this, you were on a series called Vikings. How do you reflect on that time and what did you take away from this being your first major acting role?
Vikings was a real gift. I had very little experience walking on to that set and wow did I learn a lot. I'm very grateful for the start it gave me.
What's next for Alyssa Sutherland?
You know, I don't know yet. I just love acting so much, and I want the next thing to challenge me like Ellie did. I'm also exploring writing and finding joy in that so I guess you never know!
Subscribe to discover the best kept secrets in your city