Photo Credit: Drew Altizer
Whitney Hudak is on a mission. The pretty girl about town wants to change the way people think about arthritis. "It's a common misconception that it's only a disease suffered by the elderly population," Hudak explains. "It's an incurable disease that affects juveniles, young children, teens, adults, and the elderly. Many arthritis patients have to get chemotherapy, and particularly when juveniles and children are diagnosed with the disease. It's debilitating for their lives because they have to go in for these chemotherapy treatments." Hudak is the chair of the Arthritis Foundation's upcoming fashion show, Fashion Fights Arthritis, an event that takes place Friday, May 31 at the Fairmont Hotel.
Photo Credit: Arthritis Foundation
The show will raise funds to support families that cannot afford intense medical care. It also covers the costs of Camp Milagros, a children's camp that caters to kids and teens with arthritis, research, and more. "We fund multiple different fellowships at different hospitals and universities throughout the Bay Area, and that's important because it is a niche area of medical practice, rheumatology, and the arthritis care," Hudak says. "Ensuring that there are medical students that are interested in going into those fields so that more research and time devoted to finding the cure for this disease is what a lot of the funds also go to supporting."
Photo Credit: Arthritis Foundation
Both sets of Hudak's grandparents had arthritis, so when Suzanne Taves, the senior development director at the Arthritis Foundation, reached out asking if Hudak would get involved in helping plan the annual show, Hudak jumped at the chance to help the cause. The event was founded 16 years ago by a local philanthropist, Patricia Sprincin. Typically the presentation has been by a single fashion designer, like Tokyo Gamine, Karen Caldwell, or Carmen Marc Valvo.
Photo Credit: Drew Altizer Photography
However, Hudak is shaking things up at with this year's fundraiser. Jeffrey New York will provide the women's looks, and Gene Hiller is dressing the men for the show. "We're excited to have both of them on board for the show," Hudak says. "It's unusual to do men's clothing, because a lot of times, it is one designer. So I'm thrilled to have men's and women's clothing represented. It's also fun because they're two luxury retailers, so you get multiple designers. You'll have Gucci, and you'll have Oscar de la Renta, and a wide array of brands that will appeal to every generation." During the champagne reception before the luncheon, guests can shop collections from Jeffrey and Gene Hiller at the pop-up boutique.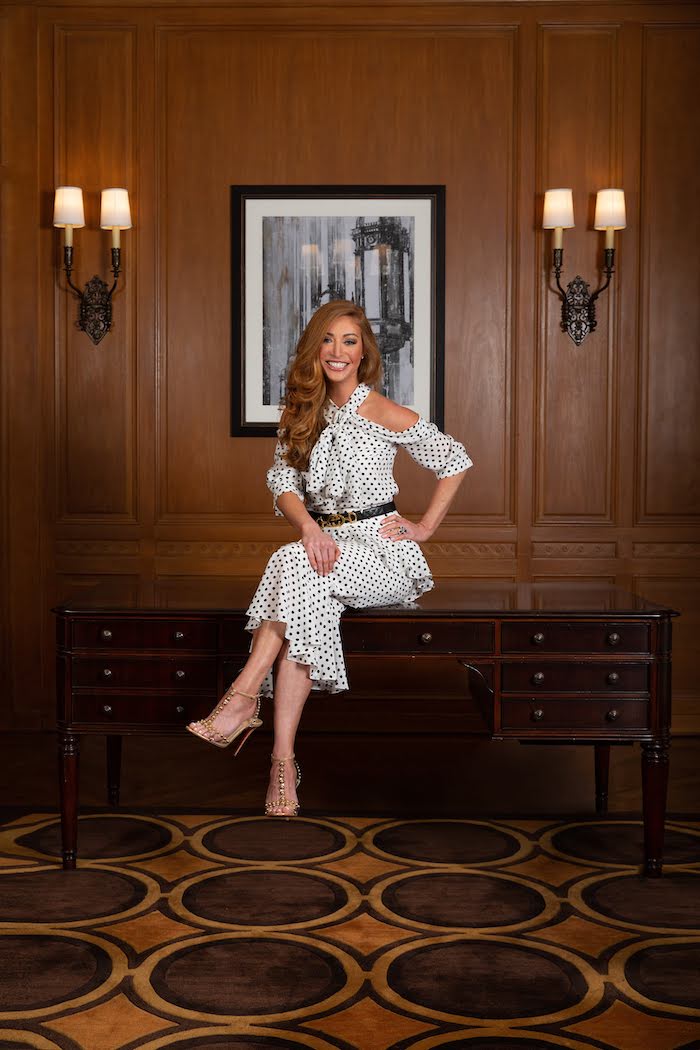 Photo Credit: Arthritis Foundation
As a busy attorney, Hudak understands that not everyone can take off work to attend a charity fashion show. To make the show accessible to all, she's created an entirely new event, Fashionably Late. The evening cocktail party starts at 6 p.m. and includes a strolling dinner, cabaret-style seating, and the same fashion presentation that's showing at the luncheon. Afterward, the ultimate party band, Pop Rocks SF, will perform. "The reason that I wanted to add the evening show is to encourage awareness about the disease and the organization," Hudak says. "I've gotten questions of like, 'Why are you involved with this organization?' with the undertone of, 'Isn't this a cause that only older people would care about?' It's important to me to let people know that this is a disease that afflicts juveniles, and teens, and people our age. It's going to be a fun night."
Photo Credit: Arthritis Foundation
Hudak, who is in her early 30s, is determined to bring in new supporters. "Let's infuse this organization and the individuals that care about this cause in our community with a new generation," she says. "Let's continue to honor the tradition, but at the same time, let's do something new." Another way she's breathing young life into the event? Rather than using professional models, the models will be locals from the community who have significantly aided the cause. "We're honoring men and women for their philanthropic efforts. Plus, it's nice as a spectator of the fashion show to see this gorgeous clothing on someone that looks like you, or looks like your mom, or looks like one of your friends. Seeing these clothes on your friends, and your family, and your acquaintances in the community, it's more relatable." Hudak hopes this translates to more clothing sales and in turn, more funds for the foundation—proving that she's well on her way to accomplishing her mission. 
Tickets for Fashion Fights Arthritis and Fashionably Late! are now for sale.