When it comes to celebrity fitness, the A-listers have access to the best of the best. So we are openly willing to take a page from their books when it comes to their favorite workout studios. In the Magic City, there are five in particular that A-listers like Gabrielle Union, Will Smith, Alex Rodriguez, Olivia Culpo, Adriana Lima and Dwyane Wade frequent whenever they are in town and we gave each of them a go to compile this top five list of celebrity fitness studios to get you (and keep you) summer-ready. Check them out below.
Anatomy Midtown
If you're in Miami, you've heard about Anatomy. The premier wellness center recently opened its second location in the booming Midtown area of the city, with a 15,000 square-foot space in a brand-new, renovated building. Its first location in Miami Beach garnered quite the celebrity following, with fans like Will Smith, Gabrielle Union and Mark Wahlberg who've all made the fitness sanctuary a must-go as part of their Miami-based regimen. Not only does the facility boast a whole slew of state-of-the-art cardio and strength equipment, but also an impressive lineup of unique class offerings. Personal training is of course, also available via Anatomy's signature Body Architects system, while the Midtown location also houses hot and cold plunge pools, an infrared sauna, a eucalyptus steam room, an onsite chiropractor, mobility stretching experts, private Pilates instruction and a Vitamin IV lounge powered by VitaSquad. For more information, please visit its website.
Photo Credit: Angelo Melo
JetSet Miami
If you're not into the traditional gym thing, but want an incredibly effective workout, give JetSet Miami a try. With studios all over the city, including in Brickell, South and North Miami, Wynwood, Coral Gables, multiple in South Beach and more, the Reformer Pilates-based workout is not for the faint of heart. Be prepared to work hard and fast, but see results and engage muscles you didn't even know you had. The facility offers a high-intensity (but zero impact) 50-minute workout that incorporates all of the different types of exercises your body needs to get your heart pumping, blood flowing and body tightening—weight-training, cardio and of course, Pilates. Just ask Olivia Culpo, Alex Rodriguez or Vita Sidorkina-Morabito, who are all fans. Reserve your own Reformer Pilates machine for class and allow yourself to be guided through an intense but fun workout provided by an elite staff of highly skilled, trained and friendly JetSet Miami instructors. An onsite nutritionist can also help with dietary goals, by request. For more information, check out its website.
Photo Credit: Rodolfo Benitez
SOL Yoga
Beyond being an effective workout, yoga offers practitioners a wide variety of benefits for the mind, body and the soul. So if you're an avid yogi, or even if you're looking to explore incorporating yoga into your fitness regimen, the aptly named SOL Yoga may be right for you. Offering a variety of yoga practices, including hatha, vinyasa and power, SOL—or 'secret of life'—also uses infrared heat technology, which is known to be the best type of heat, penetrating deep into the skin and beyond to provide detoxifying benefits to increase agility and longevity. With locations in Midtown Miami and Fort Lauderdale, the studios are clean and luxurious, with a modern décor style and amenities you'll actually want to use. Check out its website for more info or to sign up for your complimentary first week of classes.
Photo Credit: SolYoga
DBC Fitness
If you want to train like a real athlete, DBC Fitness is going to be the choice for you. An acronym for Dumbbells, Barbells and Cables, the facility bridges the gap between physical training and science, using cutting edge technology and proven biomechanics to enhance the average workout and elevate it to a professional level, for any fitness level. Each trainee initially goes through an assessment to determine the best course of training action, tailored to their needs and levels, and each subsequent session is properly designed as part of their own personal corrective and progressive program. This acute regimen is so effective, the facility has garnered a particularly impressive celebrity following of professional athletes, including Chris Paul, Von Miller and Miami's very own, Dwyane Wade. For more info or to schedule your own assessment, please visit its website.
Photo Credit: DRKT
Barry's Bootcamp
Barry's Bootcamp is a Miami staple for so many celebs, including Diplo, Ellie Goulding and Adriana Lima. Burning up to 1,000 calories per 60-minute session (and sometimes more, if you're an overachiever), the classes combine a cardio treadmill workout with weight training and intense bursts of anaerobic exercises, alongside limited recovery periods in between, allowing your heart rate to remain at a high level for the duration. Though the workout itself is mind-bogglingly tough, it's also quite enjoyable. The "Red Room Experience" makes it fun; as soon as that red light turns on and the beat drops from the speakers, you're lost in the high energy in the room—a collaborative effort between instructor, pupils and the atmosphere itself. You're inspired to run faster, lift heavier and be the best version of yourself for an hour, after which you leave with a leaner, more toned body and of course, that signature BB endorphin "high." Visit the website to choose from the lineup of daily classes, from morning through to the evening.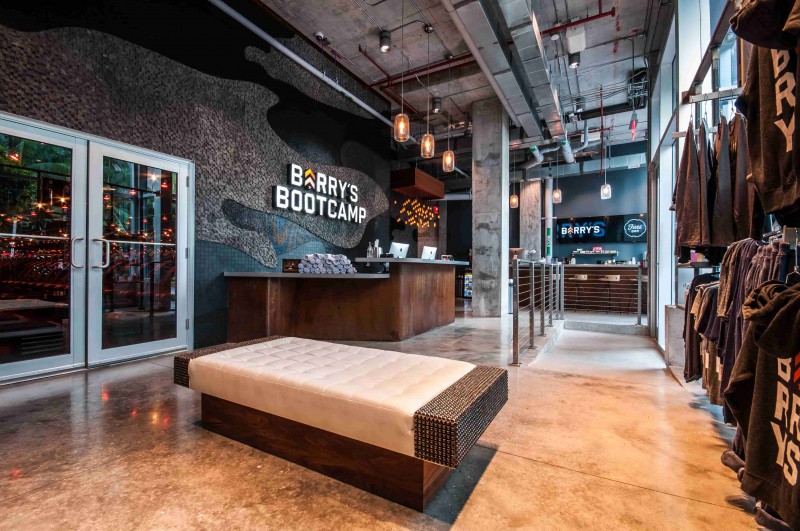 Photo Credit: Barry's Bootcamp