Photo Credit: Frederich Auerbach
Photography: Frederic Auerbach 
Shot on location at The Four Seasons Los Angeles at Beverly Hills
Dr. Dre is walking through Quincy Jones' Los Angeles home and he is in awe. "Can you even fathom what's happening? This is so f***ing crazy. [There's] so much history here," he marvels.
Through the lens of a camera, we see what Dre sees as he prepares to shoot a special edition of his Beats 1 show, The Pharmacy: Walls liberally lined with platinum and gold records; a slew of album covers, including Michael Jackson's Thriller; a series of movie posters for soundtracks he's scored; and personal photographs with fellow icons like the late Jackson and Paul McCartney, his friends.
"You're my ultimate mentor and inspiration. You're the reason I decided to get into production," Dre admits reverently, before presenting Jones to his program's listeners as "the legend of all legends."
Photo Credit: Netflix
It's quite an introduction, and one that's well-deserved. Jones, with a career spanning 60 years, is one of the most respected names in music history. He has a record 79 Grammy Award nominations and 27 Grammys; he is also one of 15 people in history to take home a Grammy Legend Award; he has an Emmy, an Academy Award and a Tony to his name; is responsible for producing one of the top-selling albums of all time, Michael Jackson's Thriller; launching the careers of A-list celebrities like Jackson, Oprah Winfrey and Will Smith; he is the first African American in history to be nominated for a Best Original Song Oscar (for "The Eyes of Love" from the 1967 film Banning), as well as an Academy Award nomination for Best Original Score for the film In Cold Blood, making him the first African American to be nominated twice in the same year; the first to conduct the Academy Awards' orchestra; the first to receive the Academy's Jean Hersholt Humanitarian Award; has tied sound designer Willie D. Burton as the second-most Oscar-nominated African American in history; and he is the first African American to become VP of a major record label, Mercury Records. Additionally, he received the John F. Kennedy Center Honors in 2001, an honorary doctorate from the Royal Academy of Music, London in 2015 and in 2013, he was inducted into the Rock & Roll Hall of Fame. Quincy Delight Jones Jr. hasn't just lived through history, he is history. 
These achievements—and how he overcame his roots growing up in gangster territory on the gritty streets of Chicago to become a beloved cultural icon—are the subject of the new Netflix documentary Quincy. Thanks to his daughter Rashida Jones, who co-wrote and co-directed the September 21 release in collaboration with Alan Hicks, the film is a loving and starry-eyed labor of love offering unparalleled access into the living legend's life. With a dash of definite hero worship, Rashida succeeds in showing her father's countless career highs and capturing his true, endlessly charismatic essence. He calls everyone he meets—regardless of age or sex—"honey," wants to immediately know their astrological sign when meeting someone new—which is such a frequent habit that the younger Jones dedicates an entire section to her father's astrological curiosity—and is fond of littering his conversation with bebop-friendly phrases like "I'm pretty fair for a square." Make no mistake: For Quincy Jones—otherwise known simply as "Q"—life is one long, nonstop party.
Literally watching his life flash before his eyes was a unique experience, to be sure. In his opinion, Rashida successfully captured the good, the bad and the ugly. "I was stunned. I really was stunned," he says. "My daughter knows me. She gets it all. Rashida misses nothing."

The 42-year-old actress-turned-director started her film where it all began for her dad, on the South Side of Depression-era Chicago. His mother, Sarah Jones, a schizophrenic with dementia, was taken away in a straightjacket when he was 7. His father, Quincy Delight Jones, was a carpenter for the Jones Boys, an African-American gang who ran the ghetto. As such, Jones and his brother, Lloyd, had to be tough. He carried a knife with him at all times and did whatever he had to in order to survive. It wasn't always enough—he still has the scars to prove it―including one from an ice pick and another from being nailed by a switchblade. "We were street rats," he recalls. "We'd see dead bodies every day, Tommy guns, stogies and piles of money in back rooms. When you're young, you want to do what you see, and what I could see was gangsters."
Photo Credit: Quincy Jones Archive
His father saw it too, and moved Jones and his brother to Seattle, where he discovered his love of music by breaking into an armory and toying around with an old upright piano he found there. After that one moment of tinkling, he swears he knew music was his destiny. He tried percussion, trombone, sousaphone, B-flat baritone horn and the French horn before falling for the trumpet. "Just that idea of seeing black men that were dignified and proud, I thought, 'That's what I wanted to be,'" he notes.
Armed with this new desire to succeed, at 14 he would hang out backstage "bugging" jazz musicians like Count Basie and Clark Terry to show him what they knew. He also befriended "RC," otherwise known as Ray Charles, then a 16-year-old piano prodigy who would become like a brother to him ("Ray Charles taught me how to read Braille when I was 14 years old," he recalls. "I spent his whole life with him. He was my blood brother, my buddy."). He began playing in his first band and worked nightclubs, where he'd jam afterward playing bebop, a style of jazz developed in the mid-1940s characterized by fast tempos and complex chord progressions.
"I had no control over where I lived, no control over my sick mother. I couldn't control the angry whites who still called me n****r when they saw me alone on the street. Music was the one thing I could control. It was the one thing that offered me my freedom," he says.
After marrying high school sweetheart Jeri Caldwell at 24, he moved his wife and first daughter (he would eventually have six girls and one son), Jolie Levine, to New York, where he began touring with Lionel Hampton, writing for "anybody who would pay" before attracting the attention of singer Dinah Washington, who—charmed by his personality as much as his skills—demanded he produce her album. His career took off from there, and he began working with the biggest names in the business, from Louis Armstrong and Tony Bennett to Ray Charles and the Count Basie Orchestra. He moved to Paris, and continued his musical education with Nadia Boulanger, a French composer who had tutored the likes of Leonard Bernstein and Igor Stravinsky.
Photo Credit: Frank Sinatra Enterprises

In 1961, he decided to properly settle down with his first full-time job, making history in the process. He became the first African-American vice president of a major record label, Mercury, where he discovered and made a star of then 16-year-old Lesley Gore ("It's My Party"). At the same time, his marriage to Caldwell disintegrated, and his ladies' man status got out of control. His second daughter, Rachel, was the result of a short-lived affair with a back-up dancer named Carol Reynolds. But while he played hard, he was also hyper-focused on work—which is when he got "the call."
That call was from none other than Frank Sinatra. Ol' Blue Eyes—whom he had met when conducting Sinatra's orchestra in 1958 at a benefit concert in Monaco arranged by Princess Grace—had become impressed by Jones and wanted him to produce his 1964 collaboration with Count Basie, It Might as Well Be Swing. This became a major turning point in Jones' life.
The two worked together for years harmoniously, with no more than a handshake necessary to bind them together in lieu of a formal contract. "We had an amazing relationship. Frank had no grade: He either loved you or he'd roll over you with a Mack truck in reverse," Jones says with a laugh. "He was one of the greatest human beings I ever met. Sinatra calls you up and asks you to [arrange for him]? I said, 'Man, is the pope a Catholic? Get out of here! I'll be there tomorrow.' You dream about that, you know? That's as good as it gets."
Jones, whose friendship with Sinatra lasted until his death in 1998, considered the legendary singer to be more than a collaborator―he was also a friend. In 1968, one year after marrying Swedish model Ulla Andersson, Jones was in London scoring The Italian Job when the couple's second child, Quincy Jones III, was born (their first was daughter Martina). "When I got home, stuck amid three months of mail was a letter from Frank Sinatra Enterprises," he recalls. "It said, 'Dear Q3, let Uncle Frank welcome you into this world with a college education, knowing it will be a far better world than the one we messed up.' There was a bond in there for his entire college education. You don't ask somebody for that; he just did it. That's a friendship."
After his time with Sinatra, Jones decided he wanted to get into the business of film scoring and moved the family to Los Angeles, which is where his marriage to Andersson dissolved, and he took up with Peggy Lipton, the star of popular 1970s TV show The Mod Squad. The charmed life of Quincy Jones continued, and from his first films, Mirage and The Slender Thread in 1965, he began scoring countless movies. For seven years, he was in constant demand as a composer. His film credits included The Italian Job, The Out-Of-Towners, They Call Me Mister Tibbs! and The Getaway. In addition, he composed "The Streetbeater," which became familiar as the theme music for the television sitcom Sanford and Son, and the themes for other TV shows including Ironside, Banacek, The Bill Cosby Show and the opening episode of Roots.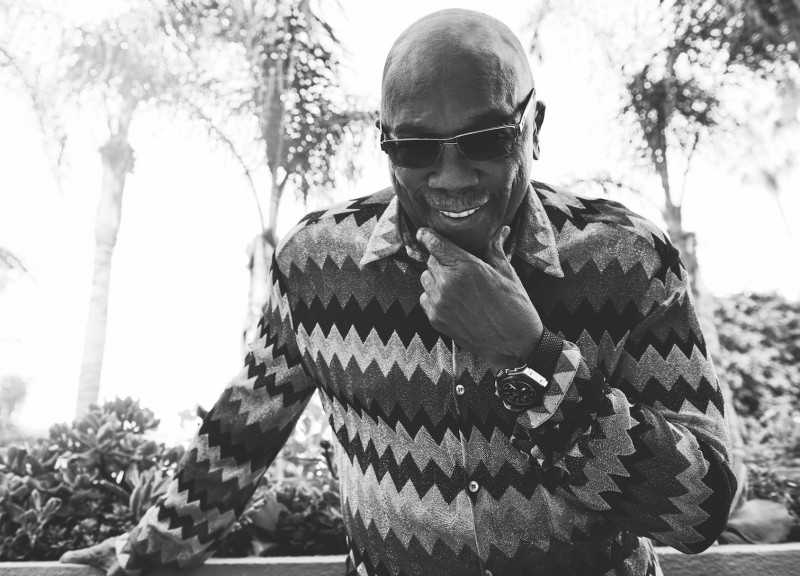 Photo Credit: Frederich Auerbach
But into each life a little rain must fall, and for Jones, that storm passed in 1974 when he suffered a life-threatening brain aneurysm. He was given a one in 100 chance to live. His friends and family even planned a memorial service for him—which he attended, along with Lipton, their then four-month-old daughter, Kidada, and a slew of famous friends including Richard Pryor, Marvin Gaye, Sarah Vaughan and Sidney Poitier. Jones survived the first surgery, and then the second, when doctors found another aneurysm and had to operate once again.
But Jones, as you might have guessed, is incredibly blessed, and after being nursed back to health by his family and friends and giving birth to the daughter that would one day tell his story (in 1976), he began the next stage of his career, when he moved back to New York to be the music supervisor for The Wiz, a fantasy film starring Michael Jackson. While working on the 1978 release, Jones also decided to produce Jackson's solo album, Off the Wall, which simultaneously sold more than 20 million copies and also solidified Jones as the most powerful record producer in the industry at that time. "When Michael and I first worked together on The Wiz, I saw his work ethic. He knew everybody's songs and lines from the movie. I knew he had more inside of him artistically than he'd given us with The Jackson Five," Jones recalls.
He became a father figure to Jackson according to Peggy Lipton. To that, Jones says with a laugh, "I guess part of a role of producer is being a babysitter, a father and a shrink!"
And even though Jackson was as comfortable with Jones as he was with anyone, he still hid behind the couch occasionally and turned his back to Jones while singing. In spite of his shyness, their professional relationship had some amazing returns: Jones not only went on to produce Jackson's Thriller, which sold 110 million copies and became the highest-selling album of all time (at the time) as well as the accompanying music video for Thriller—another unprecedented Jones concept, a 14-minute mini-film that contributed to the rise of music videos as promotional tools for album sales—and the 1987 album, Bad, which went on to sell 45 million copies.
Jackson wasn't Jones' only focus at that time, of course. He had his fingers in every pie possible, as is his way. He first produced and conducted the 1985 charity song "We Are the World," organizing some of the biggest global artists in one place to raise funds for victims of destitution in Ethiopia, and then he decided to produce a film, and in the process discovered a little-known star named Oprah Winfrey.

Photo Credit: Frederich Auerbach

He cast Winfrey in his 1985 film, The Color Purple, a coming-of-age period drama directed by Steven Spielberg based on the Pulitzer Prize-winning novel of the same name by Alice Walker, and in doing so, created the woman best known simply as 'O.' "I can't drive a car, but what I can do is see the talent in a person… or not," he says with a laugh. "When I first found Oprah, it was amazing. I told her that her future was so bright that it would burn my eyes. She never stops growing. She got $35,000 for The Color Purple, and she's worth $3.5 billion today." And while he's proud of the career she's created for herself, there's one thing he hopes she does not achieve: the presidency. "I don't want to see that or see her do that. I was in the White House for eight years with Bill and Hillary [Clinton]. It's a terrible job. It's heavy."
While he was busy creating a future in the film industry, he didn't notice that his marriage to Lipton, whom he thought he'd be with forever, had deteriorated. He wanted to fix things, but there was nothing, in her eyes, that could be fixed. After their marriage ended, he continued to throw himself into his work. He became a forerunner in the rap community, fusing bebop and hip-hop together to create a unique sound, even hosting a Hip-Hop Symposium in 1985 to discuss correcting violence in the community. He won seven Grammys under his own name for his 1989 album, Back on the Block. He joined forces with Timer Warner, Inc. in 1990 to create Quincy Jones Entertainment (QJE), where he was responsible for The Fresh Prince of Bel-Air, as well as the discovery of megastar Will Smith (of whom he says, "Will had never acted before Fresh Prince, but I knew it would work. After a 15-minute read through, there was no doubt he was our guy. You could tell that there was no mountain too high for him."). In 1993, he produced An American Reunion, a celebration of Bill Clinton's inauguration as president of the United States; it was the first time such a special had been televised. That same year, Jones founded Vibe magazine. In 2001, he published Q: The Autobiography of Quincy Jones, and in 2007, partnered with Wizzard Media to launch the Quincy Jones Video Podcast, which was far ahead of its time. Most recently, in 2017, alongside French producer Reza Ackbaraly, he launched Qwest TV, the world's first subscription video-on-demand service for jazz and electric music from around the world. In the meantime, he found and lost love—and had his last daughter, Kenya Julia Miambi Sarah Jones—with German actress Nastassja Kinski.
Clearly, his career has been the stuff of legend, but because he tended to put work before his personal life, it suffered. He had to acknowledge that he had always been running from the loss of his mother, and, on a deeper level, the psychological mind games she played at his expense when he found her; she was fond of criticizing Jones' every achievement. While it didn't ruin him, it did wear him down, and made him want to achieve to spite her, in a sense. "My biggest fear my whole life after losing my mother was not being prepared for a great opportunity, so I made sure that I had my chops together the best I could," he admits. "My mother and I never had a real mother-son relationship. That bruises you. Mothers and sons and daddies and daughters, that's the way it is."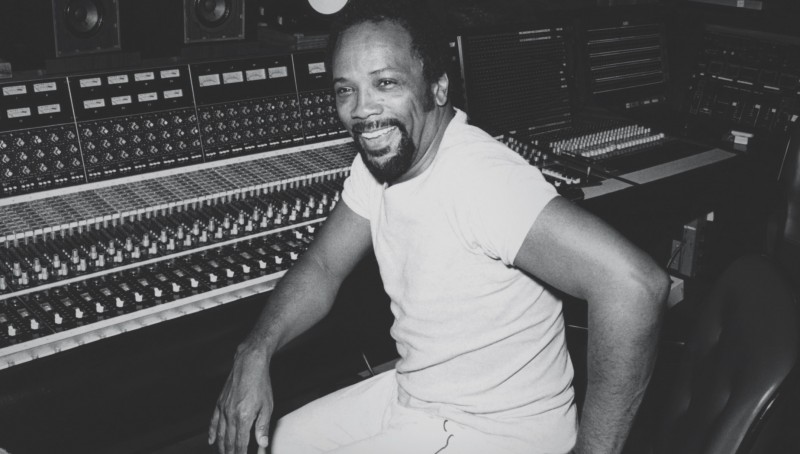 Photo Credit: MPTV Images

After his marriage to Lipton ended, Jones had to take a good, hard look at his life—which is when he realized the truth. He thought about his seven children and how that running had been at their expense, and threw himself into fatherhood in a big way. Given that Quincy the documentary exists as a lengthy, carefully woven love letter from daughter to father, it would seem he succeeded.
"I have no hair no because I've got six daughters. I had the first one at 19 and the last one at 60. I'm an equal-opportunity employer," he jokes, before seriously saying, "I love them from the bottom of my soul. I not only love them, but I like them and respect them."
It would have been hypocritical of him to teach his children not to fail, so he didn't. He taught them to enjoy life and to love themselves—which, when it comes down to it, is the best lesson anyone could really possibly learn, isn't it? "I think the main thing I always pushed with them was that you've got to know exactly who you are, and that's not so easy. Once you've found out who you are, fix the parts you don't like. There's a statute of limitations on all childhood traumas. Fix your stuff and move on and enjoy your life. They all did, too," he says with a smile. "Rashida, I told her I wouldn't let her be a professional until she finished school, and she went to Harvard; she finished at 21. She goes for knowledge, then the heart."
What he could also give his kids was unique, once-in-a-lifetime experiences. He taught them to love travel, strapped their tiny little bodies into planes—with a nanny, of course—and literally gave them the world. He also gave them the gift of music in a way that only Quincy Jones could. "They heard the best music in the world when they were growing up—Miles Davis, Marvin Gaye, Stevie Wonder," he says. "They used to see these guys when they were recording, you know. Kidada was controlling Michael [Jackson] all the time. Two years old, giving him orders―'Don't do that; don't put those things around here.' It was so funny, so ghetto."

Does Quincy show the young Kidada bossing around the King of Pop? No, unfortunately, but Jones has lived a long life, and even with 800 hours of footage to weed through, it was impossible to show everything. "Honey, I'm 85 years old. You can't put that all in one film. It's too long a life to get into in two hours," he notes, before pausing a beat. "[The weird thing is], I feel like I'm just starting now."
In that case, he's chronically starting over, constantly reinventing himself. As he says, "It's so many different journeys, honey. Writing for film, writing for TV, records, it's all different."
Photo Credit: Shutterstock

And of course, that journey—unlike the film—continues on. Quincy delves into two additional health scares—a more recent diabetic coma and a blood clot—and ends on a high note, showing Jones producing the 2016 National Museum of African American History and Culture opening (and as a fun aside, it shows Jones sweet-talking Colin Powell into attending within minutes). That two-year gap between the opening and the film's release doesn't show that Jones still hasn't slowed down. He's currently working on both a film and Broadway show on the history of black music; has formed a partnership with Donatella Versace to open music supper clubs in hotels around the world, the first of which, Q's Bar & Lounge, is located within the Palazzo Versace in Dubai; he has a line with Buscemi shoes; a line of headphones with Harman/JBL; and is working on two serious passion projects, the first of which is foreign territory—he is creating a rock opera with a virtual-reality component. (As another fun aside, his cousin, Jaron Lanier, created VR. Lanier also happens to be related to Jane Fonda—as is Jones. The world is so big yet so very small at the same time.)
He's also working on a film that hits very close to home: the tale of the Policy Kings, an illegal gambling racket that existed in 1930s Chicago, which coincided with his real-life experience growing up in the era of the Jones Boys. "It is a fascinating story that not many people know about, but I know the story intimately because it was a part of my childhood. The Jones [Boys] were the biggest gangsters in the city. When [gangster Al] Capone found out how much money they were making, he ran them out of town and took over their businesses," he explains. "Because our name was also Jones, and my father did carpentry for them, he didn't want to take the risk that Capone's people didn't know we weren't related to the Jones Boys, and that's when he packed us up and moved us to Seattle. The irony of course being that it was that move to Seattle and the discovery of music that changed my life. Up until that point, I probably would have followed a rather nefarious path. Now, I'm doing a movie about the Jones Boys."
Call it life or call it luck, but that's the Quincy Jones magic, taking lemons and making lemonade. His success is all sweet, never bitter. As a result, it should go without saying that he has no regrets. "Not a one," he says firmly. "Je ne regrette rien ['I regret nothing.']. Mistakes help you learn, and I've made a lot of them, especially when you play as hard as you work."
Life was, is and will be good for Quincy Jones, make no mistake about that. If there's anything that Quincy has captured, it's that for this iconic music man, life is always beautiful. "I've been fortunate to have lived a very full life," he admits. "When I was in [Washington] D.C. for the concert to celebrate the first Martin Luther King Jr. Day holiday in 1985, a family approached me, and the grandmother had a copy of Sinatra at the Sands, the mother had a copy of The Dude and the daughter had a copy of Thriller. It was a really gratifying moment. Different generations know me for different things, so perhaps each generation will learn a little more about [my] entire body of work. Someone once called me the 'Ghetto Forrest Gump' that has spanned seven decades in music… I've been around for a long time… I'm very happy being alive and being vertical and having the experiences I've had."
With that mischievous, purely Quincy Jones charm he adds, "But they promised me 30 more years, so I've got time. Honey, what a life it is—and I'm not done yet."