Photo Credit: Ylva Erevall Photography
Celebrity nutritionist Kimberly Snyder has launched her new lifestyle brand, Solluna, and along with it, a unique juice bar concept at the Four Seasons Hotel Los Angeles at Beverly Hills.
Kimberly Snyder is the best-selling author of The Beauty Detox series and has worked with A-listers such as Kerry Washington, Reese Witherspoon and Drew Barrymore. Her Glowing Green Smoothie, or "GGS" to her fans, can be seen all over Instagram and social media, where she and her followers discuss the #FeelGoodMovement.
A longtime advocate for wellness, Kimberly Snyder has just recently introduced Solluna, designed to promote health, wholeness, self-acceptance, healing and inclusion. Among the new offerings will be skincare products; supplements, including probiotics and digestive enzymes; adaptogen blends; and programs for sleep, yoga, weight loss and meditation. Additionally, Snyder's Feel Good Circle is a subscription program offering opportunities for community discussion, journal exercises, special videos and audio recordings, discounts and other perks. It's all available through her website.
But those in Los Angeles have access to a unique brick-and-mortar outpost where they can experience a sip of Solluna in the form of Kimberly Snyder's new juices and smoothies. The 100 percent organic, plant-based, gluten-free and nutrient-rich pick-me-ups are available at Vinoteca inside the Four Seasons Hotel Los Angeles at Beverly Hills. Hotel guests or anyone in search of a boost will feel just like one of Snyder's celeb clients as they sip on a Glowing Green Smoothie, Feel Fit smoothie, or a juice, such as the Feel Youthful, Feel Cleansed, and Feel Alive concoctions.
Photo Credit: Solluna
The wellness guru gave Haute Living all the details on her new juice and smoothie bar, Solluna's complete offerings, her next book (at last!), and tips for combatting stress and anxiety.
What was your goal was with the creation of Solluna?
Over the past decade, I've been a nutritionist, and have also had fun with the glamour of being a "celebrity nutritionist." I was so happy to be making a difference. But then a shift happened. I was working on my third book, The Beauty Detox Power, and I could feel something change inside me. Without knowing it, I was doing some deep inner work, evaluating and reevaluating just what I wanted in life. I realized I wanted to expand my work, and focus more on emotional and spiritual wellness, which I was discovering was often more important than dietary wellness.
Then, a big life event solidified all of what was going on in my heart and mind. My mother passed away suddenly in March 2017, within three days of my son celebrating his first birthday. That moment was the strongest, clearest glimpse into the fragility of life that I had ever experienced.
A shell around my heart that I didn't even know was there began to chip and crack. I became truly vulnerable for the first time. And while scary at first, it was also liberating. I began to show people the real me. I began to open up about challenges I've had in my life, such as having eating disorders in high school, as well as the flaws and insecurities I never wanted to reveal to anyone.
It was from this place that Solluna was born. It was from this place that the Feel Good movement took root. Solluna is about bringing opposites together to form a whole. What do I mean by that? Solluna, a word that means the uniting of the sun and moon, is about getting back to basics, but it's also about elegance. It's about treating our bodies well and strengthening our spirit. It's about living in harmony with the rhythms of Mother Nature while still keeping a day job or being a stay at home mom.
How does Solluna build on your eponymous brand?
Solluna means a uniting of the sun and the moon, and is all about embracing all the cycles of life. As such, there are offerings for physical, emotional, mental and spiritual well-being, including supplements, non-toxic, benefit-driven skincare, online sleep and healthy weight loss courses, recipes, our popular podcast on Podcast One (now called the Feel Good Podcast), yoga series, meditation series, and our Feel Good Circle.
Why was the Four Seasons Hotel Los Angeles at Beverly Hills such a great fit for your Solluna juices and smoothies?
We share the values of integrity and exceptional quality. General Manager Michael Newcombe has been incredibly supportive of our mission of superior, organic ingredients in the most beneficial, proper combinations, and not cutting any corners. I am incredibly grateful for the opportunity.
Any chance we'll see more Solluna juice and smoothie locations?
For now I am happy with this as our flagship and expanding our reach online and with our supplement and skincare products across retailers, but we shall see!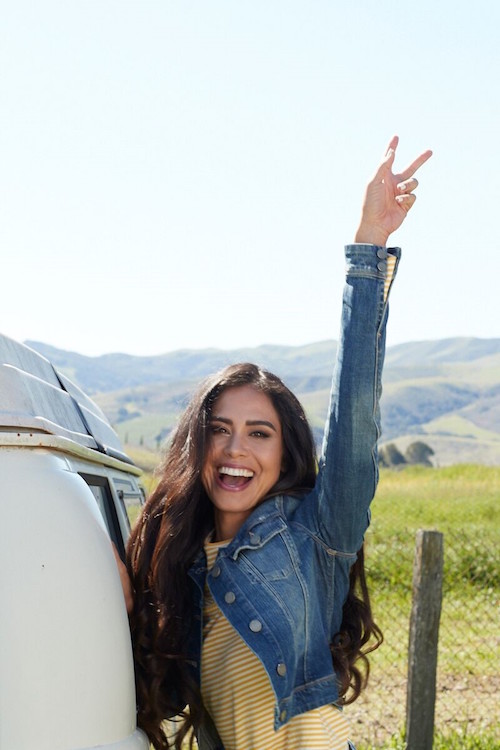 Photo Credit:Ylva Erevall Photography
You love to travel. What have you experienced abroad that you've incorporated into your wellness routine?
I was out of the Western world for about three years when I went backpacking. The biggest thing I saw universally, across Africa and Asia and South America, was a much more holistic approach to food and life. In the Western world we tend to have this reductionist approach to food, whether it be obsessing about calories, protein, carbs or whatever. It causes us to look at food in a fragmented rather than whole way, and when we do that, we too feel fragmented.
My approach is that everything should be embraced in its wholeness. Whole foods are powerful, and I focus on proper combinations and food order to elevate how we feel in my recipes. Hence, all our smoothies and juices at Vinoteca are properly food combined (a principle I outline in my first book, The Beauty Detox Solution).
So many people deal with stress, anxiety and fatigue. Are there juices or ingredients that can help?
Greens — from kale, spinach, cilantro, celery and so on — are so powerful in supplying us with balancing antioxidants, vitamins, minerals and more, and help clam inflammation. Go for the greens!
It's about the combinations though … For instance, in our world-famous Glowing Green Smoothie we offer at Vinoteca (that I've made on every national show from Dr. Oz to Good Morning America!), there is a certain amount of lemon juice included to reach a certain level of vitamin C for your body to absorb the non-heme iron, which helps build healthy blood, circulation, glow and vitality, which is certainly going to prevent fatigue.
It's not about having recipes with 30 different things added in, at only a pinch each, but rather having larger amounts of the best ingredients in the right synergistic ratios.
Where should juices and smoothies fit into our overall wellness? Are they meals? Are they snacks?
The Glowing Green Smoothie is what I recommend to start every morning with, as it is a whole foods-based smoothie with the best combinations of greens, lemon juice and whole, high-fiber fruit. The Feel Fit protein smoothie has over 27 grams of plant protein and is great post-workout.
Our juices, including Feel Alive, my favorite one (which is a mix of kale and other greens, lemon juice and a touch of apple) are great to supplement in through the morning and the afternoon, and for healthier cocktail bases! Since this is a lifestyle, not a diet, if you are going to drink from time to time, why not make the best choice possible? We actually offer a few signature cocktails at the Four Seasons with the base of our juices.

Photo Credit: Marie Look
You've stressed that we, as people, are not perfect, and so we shouldn't pressure ourselves to eat perfectly, either. What do you tell yourself or clients when negative thoughts begin to creep in?
I'm a recovering perfectionist, and actually, the title of my next book is Recipes for Your Perfectly Imperfect Life, so this is a big theme for me. When my mom passed away suddenly, so much of my life started to unravel and became very messy, and I had no choice but to be in it. At some point I had a meditation where I realized, deeply, for the first time, that none of the outside stuff was so serious as I made it out to be. I started to connect more with the light and the stillness inside of each of us, rather than the hustle, the running around, trying to look perfect or be the perfect mom or whatever. It was a big breakthrough for me — so freeing.
Solluna was born of that energy. I think getting out of running around and finding time to be still, as in practicing meditation or a breathing practice or being out in nature on the beach or for a hike, is an important want to get out of that pressure that is based on external comparisons or listening to our inner critic.
What aspect of your brand are you most focused on growing right now?
Personally, I am very excited about launching the Feel Good Circle, because this is the virtual online circle where I can offer emotional, mental and spiritual support, which I feel is so very needed. Those that are ready to go to a new level of healing and wellness can join me. We made it very low entry ($5.55/month), and includes a video, 15-minute weekly audio inspirations and journal PDF prompts to dive deeply in a monthly theme (embodying the Divine Feminine, Living Courageously and so on).
Tell us more about your new skincare line.
Like supplements, I believe we don't need to use a million different products to look and feel good, but the ones we do use should be highly effective. Not only should the products be non-toxic, they most certainly need to provide results like firmer, more glowing, resilient skin, helping to smooth out unwanted lines and wrinkles. My frustration is that many "natural" products don't really improve your skin, and of course many products out there contain toxins and chemicals that we don't want going onto our skin, which in turn means it ends up in our bodies. 
With great love — and research and testing — I am so happy to present you with our Solluna Skincare Line. We found the best ingredients — like Vigna Aconitifolia, a non-toxic, botanical alternative to Retinol — that actually work amazingly well to support beautiful, healthy skin. I'm working with a small lab and with a formulator I love and trust. She and I created everything together, and "small batch" means nothing is mass-produced. No marketing gimmicks, as in stating the name of an ingredient and then a tiny drop goes into an enormous vat of product. Everything is carefully made by hand, and the ingredients are properly combined and in amounts able to be highly effective.
Any places or activities you like to enjoy in Los Angeles for a little wellness boost?
I'm a huge proponent of grounding and barefoot beach walks, and I actually do them daily! My favorite place in Los Angeles is Lake Shrine, which is one of the temples of the great yoga guru Paramahansa Yogananda. It is a very peaceful lake where I go to meditate weekly.
Learn more about Kimberly Snyder
Learn more about Solluna
Learn more about Vinoteca and Four Seasons Hotel Los Angeles at Beverly Hills