New York City's latest immersive pop-up is The Egg House opening to the public on April 7, 2018 in the Lower East Side. This egg-themed pop-up features immersive installations and offers a multi-sensory experience for guests. Connected by a single storyline, The Egg House will take visitors on a journey through its real life sized rooms which include The Foyer, The Kitchen, The Hallway, The Pool, and The Garden.
Upon entering, guests will walk through The Foyer with a photo wall into The Kitchen of breakfast themed installations followed by The Hallway of vending machines transitioning to The Pool filled with caviar-shaped balls. The Egg House incorporates sound, smell and other surprising elements into the 3,300 square feet space.
The team is also collaborating with neighborhood favorite breakfast spot, Egg Shop, on a few egg treats. Other vendors include Eggloo, an egg waffle ice cream parlor, and a New York native cupcake vendor. While the food will be for sale and not included in the ticket, the team does hand out sampling of eggnog in the afternoons and breakfast items with coffee in the mornings.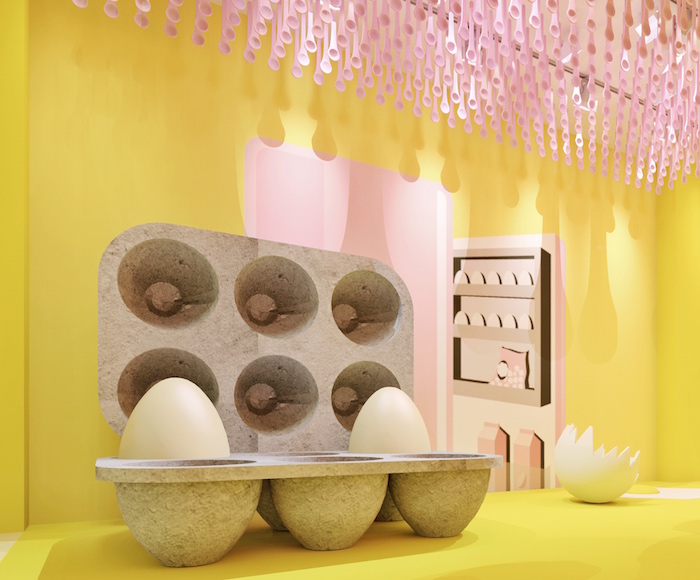 In addition to the regular opening hours, the team will be hosting events including food industry's cult favorite Breakfast Club, which is a seated breakfast gathering that has been hosted in cities around the world, and will be prepared by a celebrated chef. Other community events include chef's talk on #eggducation with Antoine Westermann of Le Coq Rico, morning yoga, a calligraphy session, and more.
The founder, who wishes to be anonymous at this point, is also the founder of a social media account with huge followings and the owner of a millennial tea store opening soon in SoHo.
Why eggs?
"Because it's universal," the founder says. "It can be seen in almost every cuisine. Although each culture interprets it differently, it's so versatile that everyone can relate to. That's why we included the egg in different shapes and forms—it creates a familiarity. Eggs also represent breakfast and therefore mornings and energy—everything that is great in this world."
Tickets go on sale Thursday March 15th and can be purchased here.