For those celebrating the special holiday of love in Miami, we've helped you out by rounding up a list of some of our favorite places that will impress your special someone. We're a week away, so you still have time to snag that last-minute reservation. Here are our top choices of where to celebrate Valentine's Day 2018 in Miami:
FOR THOSE DINING OUT…
CASA TUA
Photo Credit: Casa TuaIt doesn't get much more romantic than Casa Tua on Valentine's Day. Each year, the iconic destination makes the top of the list, as there truly aren't many other places as magical or romantic as this special Italian eatery. The staff will ensure that every detail is taken care of to make the night memorable, from rose petals delicately laid across the table, to dim candle lighting, ever-flowing champagne and a long list of decadent dishes to satisfy your taste buds. Enjoying all of this in the intimate garden, tucked away from the rest of the busy hustle and bustle of South Beach is sure to create the ultimate romantic date night.
---
CECCONI'S
Photo Credit: Cecconi's Miami
The cozy Italian restaurant at the exclusive Soho Beach House is another great date night spot spoil your loved one on Valentine's day. With intimate tables nestled under the delicate string lights and soft candle lighting, warm Italian food and a comforting atmosphere, Cecconi's creates the perfect setting for a romantic evening. It doesn't get much better than rich truffle Agnolotti and a glass of fine red wine to set the mood right.
---
DELANO 
Photo Credit: Delano South Beach
The iconic South Beach hotel is offering two options for cozying up with dinner on Valentine's Day. The first is dinner for two at the property's breathtaking, Philippe Starck-designed pool and beach club area. Here, you and your date can spend a romantic evening under the stars with a special five-course prix-fixe dinner. Even better, the meal is served at a candlelit table for two perched at the shallow end of the pool. Couples will receive a complimentary bottle of Dom Pérignon champagne and will be treated to a private water show featuring acrobats and live performances. This special experience is priced at $1000/person and requires a reservation. To book your table, please call (305) 674-5752 or email at delanoeats@sbe.com.
Additionally, the hotel's acclaimed restaurant Leynia is offering their special take on Valentine's Day with a special three-course tasting menu featuring a wide variety of delicacies to help heat up your night. A special Valentine's Day "Rose Bubbles" menu will be offered, featuring Dom Pérignon, Ruinart, Perrier-Jouët Blason and sommelier-picked bottles to toast the special evening.
---
THE FORGE
Photo Credit: The Forge
The historic South Beach institution never fails to spark the romance with its dim-light, sexy atmosphere and an exclusive wine cellar that help create a memorable and romantic evening. If you really want to impress your special someone, reserve The Forge Wine Cellar for a private dinner for the two of you, which harbors one of the most impressive collections of wine in all of the city. Pair your glass of wine with one of the spot's mouth-watering steak or fish dishes and take in the rich history that the one-of-a-kind destination offers.
---
SEASPICE
Photo Credit: Seaspice
Located along the beautiful Miami River, Seaspice is one of Miami's most romantic destinations to dine on any given night of the week—so you can be assured that on Valentine's Day, the restaurant will make the experience all the more memorable. With waterfront views, an intimate ambiance and decadent food and drink offerings, Seaspice is truly one of the ultimate date night locations—which can be safely asserted considering the spot has hosted a total of 30 weddings and counting. On Valentine's Day, Seaspice will also give singles hope to find their happily ever after with a reception at Modern Garden featuring Valentine-inspired cocktails.
---
FORTE DEI MARMI
Photo Credit: Forte Dei Marmi
The cozy South of Fifth restaurant offers some of the most authentic Italian cuisines in Miami. With Two Michelin-starred chef Antonio Mellino helming the kitchen, you can be sure that the meal will be nothing short of spectacular and include all of the finest ingredients to help make the night one to remember. Set in the stunning dining room or romantic outdoor terrace, the beautiful Chad Oppenheim-designed interior will both impress your date and create the perfect ambiance to bask in the holiday of love. Guests can enjoy a five-star meal along with a lineup of Valentine's Day dessert specials including Vanilla and Strawberries Love Mousse, Hibiscus Sorbet and Handcrafted Chocolates as a parting gift.
---
BAZAAR MAR 
Photo Credit: sbe
To celebrate the special holiday, chef José Andrés and his talented team have created a decadent truffle menu in honor of Valentine's Day, which will extend all month long. Guests will indulge in the ultimate sensory experience with the spot's special truffle tasting menu that highlights eight dishes including José's Asian Taco made with black truffle, Smoked Toro Tartar made with toro tuna, Grilled Hama Hama Oysters topped with smoked butter and truffle shavings, and Sea Urchin Coca topped with shaved Périgord Truffles. All you need is a special bottle of Dom Pérignon Champagne to toast the special occasion and you are in for the ultimate date night. The truffle menu will be available during regular dinner hours and is $150/pp. Reservations are highly recommended.
---
AND FOR THOSE WHO WANT TO DINE IN…
CASA TUA CUCINA
Photo Credit: Casa Tua Cucina
For those looking to indulge in the fine Italian cuisine that Brickell's newest gourmet food hall offers, but still want the privacy and comfort of eating at home, the spot has the perfect solution for you with their takeaway options for the special occasion. Choose from a selection of homemade pastas, fresh appetizers from the Crudo + Grill (we recommend the oysters to get the aphrodisiacs flowing), sweet treats from Dolci, and for guys looking to pick up a last minute gift—custom floral arrangements from Fiori.
---
ZUMA – AT HOME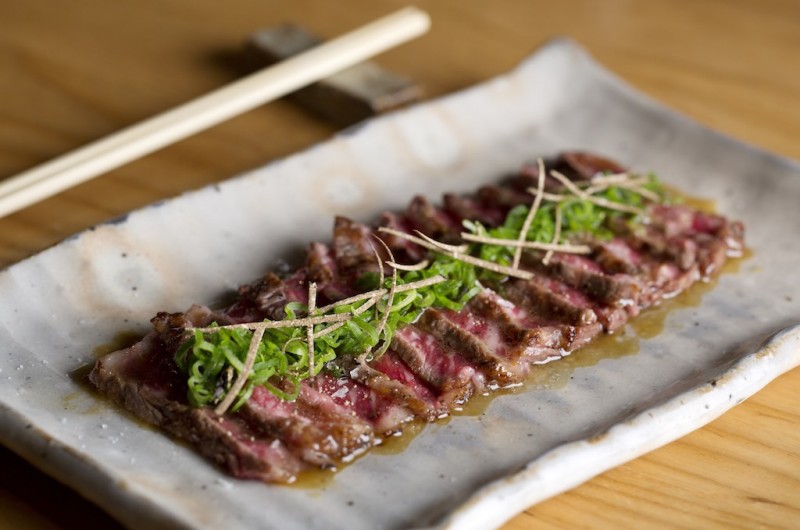 Photo Credit: Zuma
If you're really looking for something over-the-top and intimate for you and your loved one, renowned Japanese hot spot Zuma is now offering its acclaimed cuisine brought to and cooked in your home. Sound too good to be true? Here are the details:
Zuma Miami's Head Chef John Stewart can now come to your home with select members of his team and servers (of course, in the staple Zuma attire) and prepare an exclusive menu fun and vibrant dishes curated especially for the event
The luxury catering experience includes one of the venue's professionally trained cocktail specialists for a taste of signature creations inspired by each of their worldwide locations
With small touches and details of Zuma's personality brought in, down to the venue's signature dishware, anyone can immerse in the VIP experience from the comfort of their home
*Rates starting at $10,000. Also available for wedding receptions and special events.
Subscribe to discover the best kept secrets in your city