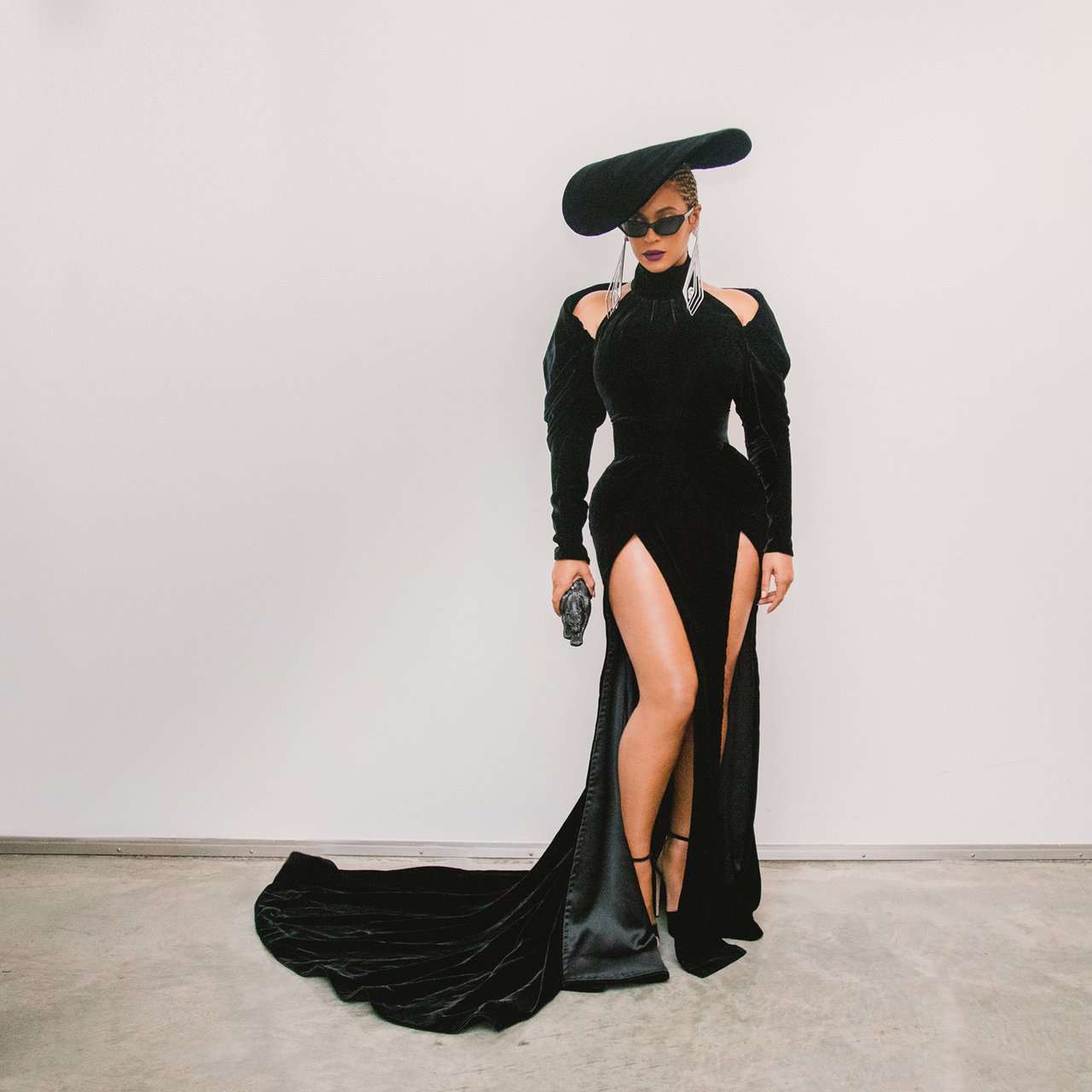 Photo Credit: Driely S. Carter/Beyonce.com
Lebanon-based haute couture designer Nicolas Jebran has dressed some of the biggest names in the business including Jennifer Lopez, Cindy Crawford, Celine Dion, and Gigi Hadid. Over the weekend, however, he added another impressive accolade to the list: dressing Beyonce for the Grammys.
Jebran is the mastermind behind the gorgeous black velvet gown Queen B wore to the awards. In true Beyonce fashion, the dress was at once classy, sexy, and downright statement-making with bold elements and a powerful silhouette.
Here, Jebran spills all the details behind the stunning dress, how Beyonce herself served as inspiration, and what is was like working with the her.
The Grammys are such a big night in the music industry. How did it feel to have Beyonce wear your design to such an important event?
It's an honor and great pleasure to work with a distinguished personality like Beyoncé especially for music's biggest night.
When Beyonce came to you, did she have a specific vision in mind of what she wanted to wear?
Beyoncé knew she wanted to wear black and referenced the Black Panther movement as an inspiration. The rest of the design was based on my creation and was all about delivering what she wanted.
Where else did you pull inspiration from?
Having worked with Beyoncé on previous events, I felt this was a confirmation of their trust in my creativity and ability to deliver a couture piece that embodied Beyonce's mission. The added inspiration was Beyoncé herself. Her power, personality, and strength made a unique inspiration when designing this gown.
Did you feel a strong responsibility or pressure to convey the social justice statement in the design of the gown and was it difficult?
In each Nicolas Jebran collection, I convey a message that beholds a mission towards society, taboos, and empowerment. Conveying these messages in the design itself was not difficult, but challenging enough! The challenge lies in conveying the message the right way and to the right audience.
How is the design process different when you're designing something for an artist like Beyonce? How involved was she in the process?
To design for a celebrity of this caliber is a beautiful privilege. It's different as you are not designing for a collection or a private client. It's different in the way you look at your piece of art as you imagine her wearing it, her posing, smiling, and accessorizing, so this all adds to the experience. It's not different in terms of the perfection of the job. Beyoncé and her stylist Marni Senofonte were involved in every step of the design process.
You've worked with her in the past. What was different about this experience?
Each time I work with Beyoncé feels like our first project together. The thrill is there. The urge to excel and the anticipation of her appearance wearing a Nicolas Jebran design is always an exciting moment. We look forward to working with Beyoncé and her team in the near future.