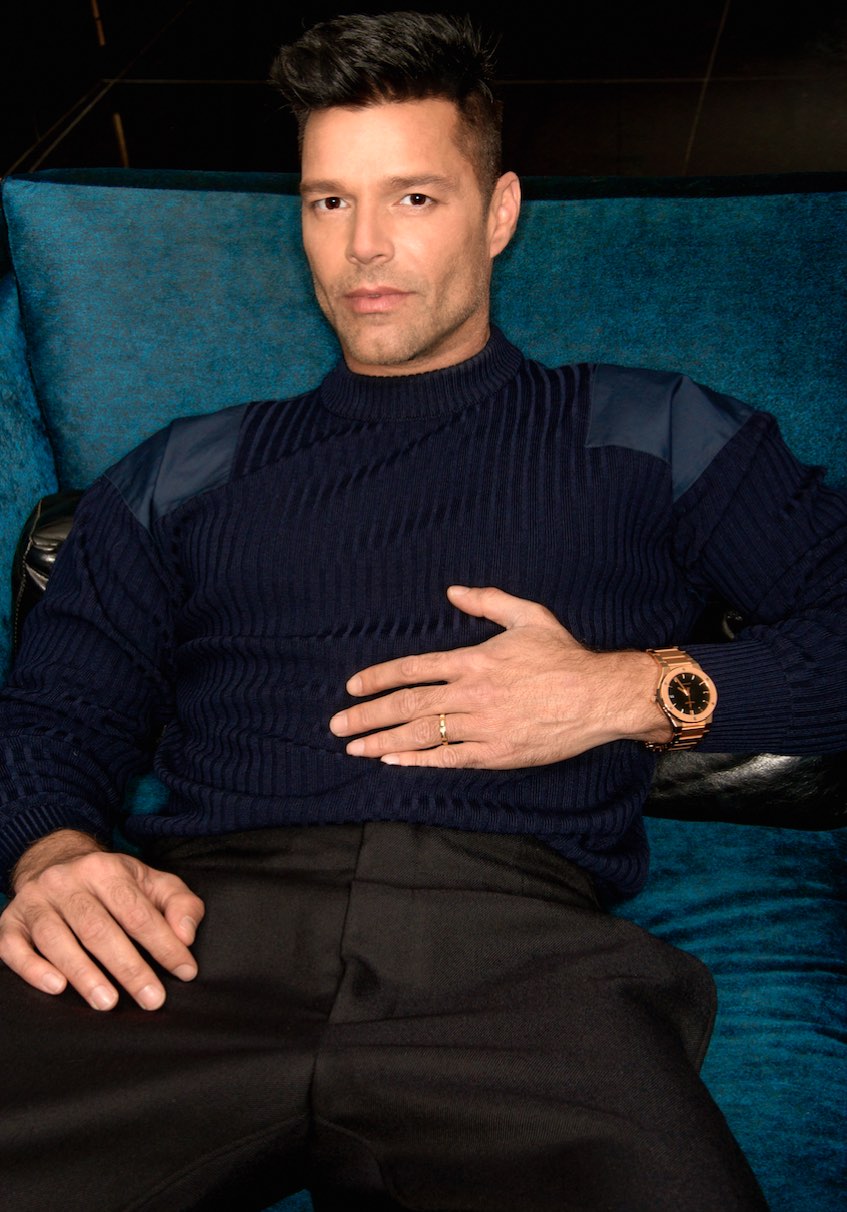 Photography by: Don Flood 
Styling: Douglas Vanlaningham at Photogenics Army 
Grooming: Joey Nieves 
Makeup: Maital Sabban
Shot on location at Sofitel Los Angeles
Twenty years ago, fashion icon Gianni Versace stepped outside his opulent mansion on Miami's famed Ocean Drive, where he was brutally murdered by serial killer Andrew Cunanan. His partner of 15 years, Antonio D'Amico, found him dead, surrounded by a pool of his own blood. Fast-forward to 2017, and Latin star Ricky Martin sits there today on the very same marble steps. Channeling the love, the passion and the raw emotion of Versace's heartbroken Italian lover, Martin makes his debut as D'Amico in the new American Crime Story: The Assassination of Gianni Versace.
Coming off the success of the first installation of the series, American Crime Story: The People v. O. J. Simpson, fans and admirers eagerly await the release of the newest six-part TV movie, starring Penélope Cruz, Edgar Ramirez, Darren Criss, and of course our cover star, Ricky Martin. As usual, the casting choice was very methodical on director Ryan Murphy's part. Ricky recalls that when he received the call from Murphy, with whom he had previously worked on the hit show Glee, he was immediately thrilled and honored. Though he knew that the role would require diligent research and dedication to accurately portray his iconic character, he was mostly concerned with properly depicting the tragic love between D'Amico and Versace, and to give the portrayal the justice it deserved.
"For me, the most important thing was to be able to make the audience understand the intense love of Gianni and Antonio," he says. So, he went straight to the source. "I talked to Antonio and asked him to share everything that he went through with me. I was lucky because he was very open and generous and really let me inside of the character." In addition to consulting Antonio, Ricky delved right into the role and conducted thorough research via books, the Internet, movies—basically, anything he could get his hands on. But Ricky's alternate reality really came to life when the cast began shooting at the original Versace Mansion in Miami.
"It was amazing to be able to shoot there and be inside where it all happened—it was so intense," he recalls. "There is still a special magic inside the house even though it has been so many years. They really try to keep it as original as possible, and that made shooting so much more dramatic."
Day one on set was no easy feat as Ricky's first scene was one of the toughest of the entire saga. "In my first scene that I did, I had to reenact finding Gianni's dead body on the street right after the crime," he reflects. "I spent three, maybe four days, just covered in fake blood, because the way that Ryan films is very cinematic."
But working alongside some of his co-stars, who happened to be some of his closest friends and colleagues, made the experience that much more memorable. "We're all like family," he says. "I knew Edgar [Ramirez] from before, and I've known Penélope [Cruz] for years, particularly through our philanthropic work. It always helps when you're working with people you know, so it was very beautiful to be able to practice lines with them behind the cameras and be able to run scenes without any sort of fear. This helped me become my character, and it was a very special experience to be able to do this entire project with a cast that is so amazing."
Despite the complexity of the character, D'Amico—a man who goes through intense love and passion, followed by heartbreak, grief, depression and conflict—Ricky was able to tap into his own emotions and wholeheartedly embody him as a person. "When I first read the scenes, I said, 'Oh my god, this is going to be very difficult,' just to be able to connect emotionally and find those levels of sadness, uncertainty and depression. But once I closed my eyes, I allowed myself to feel that pain. Because on certain levels, I can put myself in his shoes," he explains. "As an actor, I don't get in front of the camera and lie—on the contrary, I just go with what I would feel if I were my character."
While the two differ in many ways, Ricky is still able to see some similarities between himself and Antonio. "I'm someone that is in love, that's loyal and believes in family values. I also believe in living life to the fullest and taking advantage of every situation that life gives me and jump into it. And I think Antonio and Gianni had that dynamic," he explains. "They were also pretty private, although they were in an industry that would ask Gianni for a lot of presence. But at the end of the day, they kept their relationship sacred as well as they could, and I try to do the same thing. I live a life that tends to be very exposed, and I try to be transparent to the world and to my fans, but I also do still have my private moments. And I cherish them like a gem."
The story itself and the controversial topics that it explores are two of many reasons why Ricky feels his role in the production is so special. Reenacting as cruel and very public of a death as Gianni Versace's brings forth questions of intolerance, hate, homophobia and injustice in our world. Though strides have been taken since Versace's death, these issues are still very real and require constant exploration.
"These are all things that Ryan wanted to point out with the making of this movie. There is a lot of injustice in our lives, and we are unfortunately still dealing with these issues. As someone living in the LGBTQ community in the '90s, intolerance was a very real thing. Andrew Cunanan was in Miami Beach for many weeks, and he was not hiding at all—he was on the list of the most wanted men by the FBI back then—what do you mean they didn't find him before it happened? It's not only the question of why he did it, but also, how did we allow that to happen?" he questions.
"Gianni Versace was having the time of his life living in Miami Beach, and then all of a sudden, one day, he walked outside of his house to go buy a newspaper, and when he returned he wasn't even able to open the door of his house before he was shot. So, what I mean by this all is that Andrew Cunanan was on a killing spree, and Miami was his last stop. I think because he was killing gay men, authorities somewhat turned away and allowed it to happen," Ricky says. "As a member of the LGBTQ community myself, I must say that I am very happy and proud of everything we've accomplished. The fact that we can get married today is amazing—this is something that Gianni and Antonio wanted to do back then but were never allowed—it wasn't even an option. So, I'm very happy with the steps we've taken since then, but there's still a lot of ignorance and hate in our world that we need to work on—there's still a lot that needs to be done."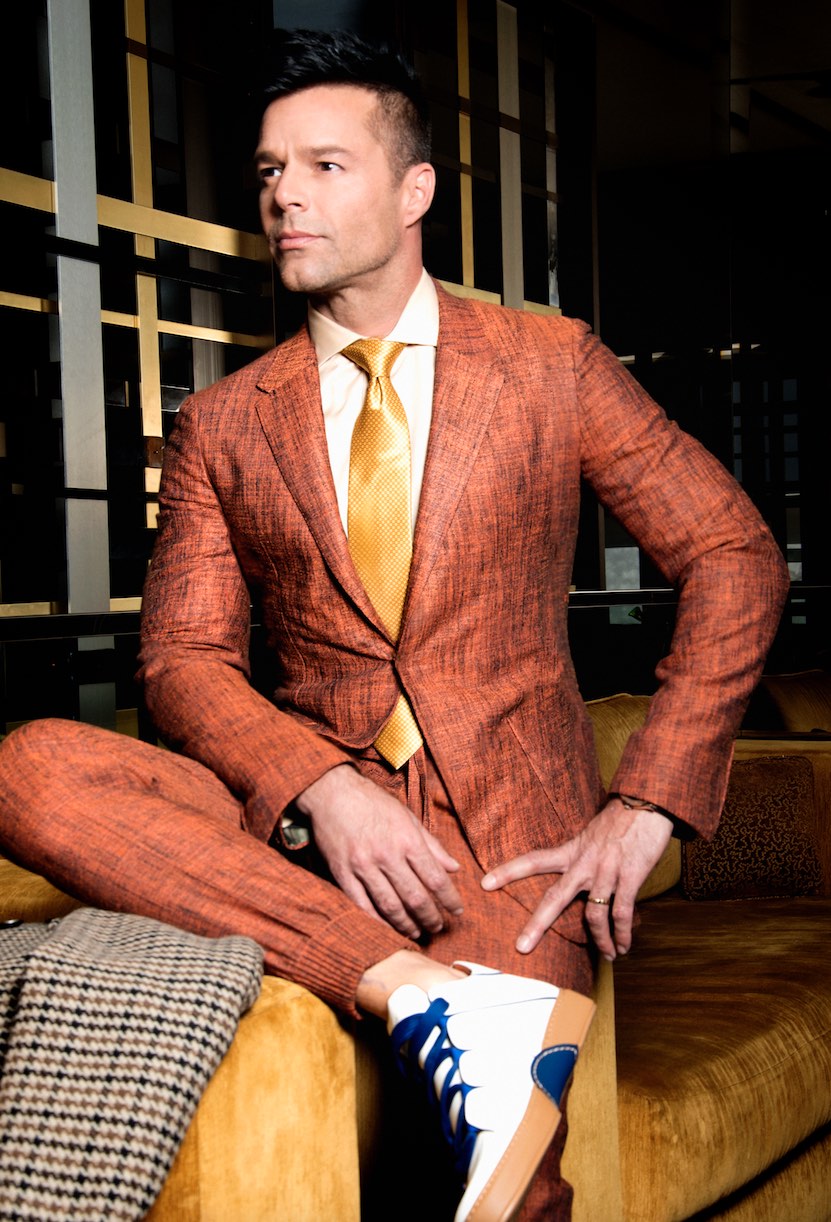 And Ricky doesn't stop there. He's also taking action in other areas he strongly feels need attention. During his time off from shooting, Ricky has been tirelessly working to help restore his homeland, Puerto Rico. Through his nonprofit organization, the Ricky Martin Foundation, the star has miraculously been able to transport more than 150,000 pounds of basics and supplies to the island through three humanitarian trips so far. With his nine million, 11 million and 19.7 million followers on Instagram, Facebook and on Twitter, he has used his massive digital presence to bring continuous awareness to the struggling island, which still needs so much attention. He is determined to reach his $10 million goal and has already garnered $4 million, which he credits (with much humble thanks) to his loyal volunteers, including Ellen DeGeneres—who has continued to remind people about Puerto Rico daily on her show—and Facebook Live, which has allowed him to generate hundreds of thousands of dollars by reaching mass audiences on a global scale.
"The images that you see on television don't do justice as to what has really happened on the island," he stresses. "There's only four percent of the island that has water and electricity right now. I must say I am very thankful for the love that we've received. But the way things are, I see ourselves rebuilding for the next five years.
"The toughest challenge that we're faced with right now," he explains, "is keeping the momentum going. The people need to understand that we're not done. Like I said, the news isn't talking about Puerto Rico anymore and I just want to keep reminding the audience what we're doing with the money that they're giving me. Every dime is going to the victims, and I continue to let them know and show them via social media so they see that the process is still going on. But it is uphill."
Even throughout his uphill battle to keep the relief momentum going, Ricky admirably maintains his positive attitude and perspective on life that we all know and love so well. He continues to post genuine, uplifting messages to his Instagram, Facebook and Twitter accounts each day, as well as broadcast in real time, the goings-on during his humanitarian trips to Puerto Rico, remaining hopeful and helpful for the people of his country.
"I'm going to be honest. I'm human, and I get really angry and frustrated at some points. That's when I go to the gym and I take my anger out on the boxing bag and let go of the frustration," he shares when asked about how he maintains his inspiring energy. "I am so lucky that I'm able to channel my energy this way, but sometimes you read comments on television or online of people that don't believe anything is happening in Puerto Rico, and there's a big group in Congress that has said no humanitarian aid to Puerto Rico, which is really frustrating."
Despite this, he is able to leave the negativity behind and focus on the task at hand. As soon as he touches down on the beautiful island of Puerto Rico, his home, he embraces its contagious vitality and undeniable spirit, even during its horrible time of devastation. "Every time I go to Puerto Rico, I say, 'I am here to shed some light. I am here to focus on what we have and what needs to be done. We cannot count on anyone else,'" he shares. "We have to come together as citizens of the United States and get together to help our brothers with or without the government. Mind you—I am not saying the government isn't doing anything, they are—but we need to do way more considering that there are four million U.S. citizens there. So, let's keep walking, let's keep healing one family at a time. That's what I see, and that's my philosophy."
And he is doing so. With the Ricky Martin Foundation, he brings "boxes of hope" to one person at a time. Consisting of the necessities (from diapers to medicine, baby formula to food, blankets and even mosquito repellent), Ricky and his foundation put together these boxes with love and understanding of what the country's citizens need most during this time. Little by little, one day at a time, Ricky is making the lives of those in Puerto Rico so much better.
So, as we go through the star's demanding professional and philanthropic schedule, I ask him how in the world he manages to make time for himself—and truly unwind. He laughs as he digests the question. "I started working in this industry when I was 12 years old, and I love what I do. In the beginning of my career, I was pretty militant with my schedule, but then I eventually learned the importance of being disciplined and focused—basically, I work hard, and then I rest hard," he explains. "I make sure that I spend time with my kids and my fiancé, and I just let go. I meditate and I do yoga and go to the gym—I think it's really important to take care of my mind and my body in order for me to put up with the intensity that this career asks of you. But I love what I do."
Indeed, he does—talk about living la vida loca. In between shooting a hot television premiere, saving the world, fathering two twin 9-year-old boys and planning an upcoming wedding to fiancé Jwan Yosef (which is expected to be an extravagant, multiday affair), one wonders when he manages to squeeze in the "resting hard" part. But to him, he is just doing the job he knows so well and loves so much. To us, Ricky Martin is truly our modern-day superhero.
Subscribe to discover the best kept secrets in your city