Although the international fashion community has long overlooked San Francisco, considering it a no man's land of denim and hoodies, locals—and savvy international designers like Andrew Gn—know that the fashion scene here is thriving. "Oh my god, are you kidding me? There is a fashion community," Gn said when we asked him if SF is a fashion-forward city. "There is fashion! There can't be more fashion than there is." People like Emily Holt, former editor turned Hero Shop-owner, and Mary Gonsalves Kinney, Silicon Valley's secret stylist, are paving the way for Bay Area-based designers, acting as advocates for small brands and allowing them to flourish. It's actually a thrilling time for fashion in SF. Designers aren't afraid to experiment with the avant-garde because there is no status quo dictating what can and can not be done. The close proximity to the tech industry means that fashion entrepreneurs have alternative backgrounds and a completely different point of view from the mainstream. Where else in the world can you find Japanese-inspired couture dresses, incredibly soft, wildly chic leather moto jackets, and comfortable pointy-toed flats made from recycled water bottles? Only in SF. If you haven't started to shop and support local makers, it's about time to change your ways. Here, in alphabetical order, are the top ten most important Bay Area-based fashion designers.
Amour Vert, 

Eco-friendly stylish basics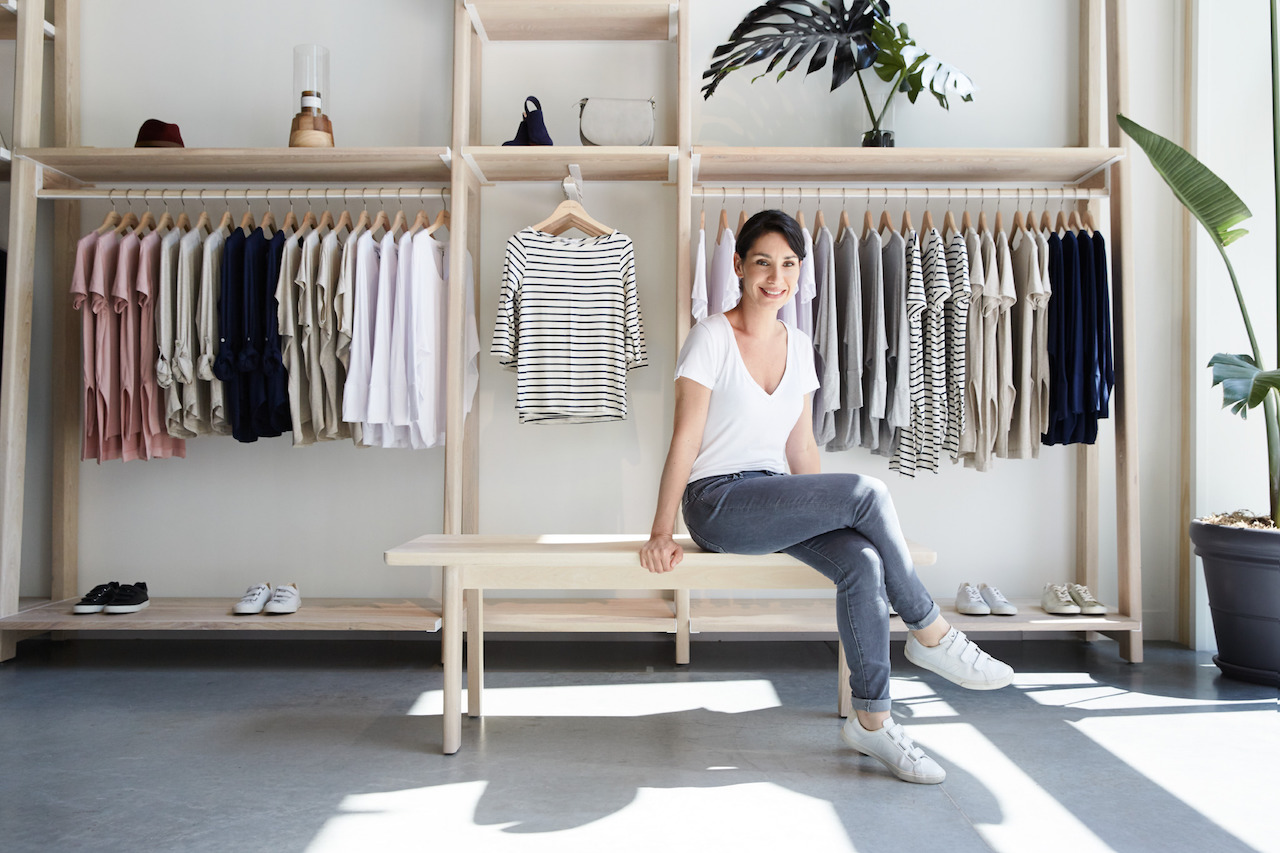 "SF is very remote from the NY/LA fashion scene which can be challenging when you are a young brand trying to raise awareness, but it is also a blessing because it forces you to focus on your business and not get distracted." — Linda Balti
In 2009, a Stanford-based French engineer noticed that there was a serious lack of sustainable and ethical fashion options. So, Linda Balti set out to create a collection of clothing that was made from specially engineered textiles, blended fabrics, and low-impact dyes. Amour Vert, which translates to 'green love' in French, is the resulting brand that has quickly become a cult favorite among SF's fashion bloggers. "San Francisco is very laid back and it reflects in the fashion. It's about easy and cool things that are not so pretentious but that you feel good in most of all," Balti says. She has also made it a point to give back to the environment from the get-go. For every super soft, perfectly cut, French-inspired tee that's sold, a tree is planted someplace in the United States. Since the brand's inception eight years ago, over 145,393 trees have been planted. Shop the brand's flirty silk dresses, sophisticated basics, and luxe layering pieces at boutiques in Hayes Valley, Palo Alto, Pacific Heights, and the Marina.
Cat Wu, 

Perfectly fit luxe essentials
"My dad always told me to 'do what you love and the doors will open.' I've gone back to that so many times in my journey. You may face challenges and mistakes along the way, but they were all meant to lead you through that next door." — Catherine Wu
Cat Wu's story began when textile designer Catherine Wu was sick of searching for the perfect leather jacket. She scoured the world for a vintage-inspired, incredibly wearable, ideally fitting leather moto jacket. When she couldn't find the one, she decided to make her own and her namesake line was born. "My moto is definitely the piece I can't live without. It's what inspired my line," she says. "It's that classic piece you can wear all day everyday and adds that bit of edge to any outfit. It's also the softest leather you'll ever feel. When in doubt, I throw one of my motos on—whether I'm heading to a work meeting or a night out." For fall, Wu has expanded upon her signature piece by designing a micro collection of essentials every woman should have in her closet. These are investment pieces you'll return to season after season. "The perfect blazer, the perfect coat, the perfect tote. I obsessed over the fit of each one and designed them in buttery soft leathers and suedes that look and feel amazing on." A trip to Japan inspired her to focus this new line on architecture, fit, and texture.  "I came back and started creating this gorgeous clean-lined suede coat that's now a staple in my wardrobe and I'm launching in the fall. There's an element of 'borrowing from the boys' while balancing that with femininity. 
Dilara Saatci, 

Exotic jewels
Photo Credit: Drew Altizer
"SF ladies are open to push themselves a little bit and get out of their comfort zone to achieve the fashion look they actually desire." — Dilara Saatci
Dilara Saatci is a women of the world. She was born in Istanbul and raised in Berlin, but decided to start her namesake jewelry brand in San Francisco. Saatci works with Turkish artisans to create one-of-a-kind necklaces, bracelets, and earrings. Her current collection features pieces that are made out of oxidized silver, black rhodium, and pave diamonds. "I see my collection as 'everyday diamonds.' I am a huge fan of the effortless look," she says. "Look absolutely fabulous, but convey the image that it all comes together effortlessly. With these pieces you can layer and mix and match materials where you can easily create that look." Her designs are more intricate than flashy and have a subtle edge. "My line does not have the very 'showy look' using huge diamonds and gemstones. I think that's a reason why it has been so well received here in SF." Her long pendant necklace looks ideal with the modern uniform of a crisp white shirt, great-fitting skinny jeans, and classic black pumps.
Emily P. Wheeler, 

Stunningly unique jewelry
"I love using natural materials to create something with edge and symmetry. Lately, I've been inspired by the materials themselves, starting with one unique stone and then building around it." — Emily P. Wheeler
If you're looking for an alternative to the basic diamond wedding ring that everyone is wearing these days, allow us to introduce you to Emily P. Wheeler or EPW. The EPW fine jewelry line is comprised of pave and baguette diamond earrings, rings, necklaces and bracelets in 14 karat and 18 karat white, yellow, and rose gold. Each piece is handmade in LA with the highest quality materials used. From a modern blue-green grossular garnet set inside a jeweled frame to a cigar ring filled with tiny diamonds, her rings are unlike anything we've ever seen before—and we love them! Wheeler describes the cigar ring like this: "It has the  presence of a large cocktail ring but doesn't get in the way, and can be layered with lots of other jewelry. All the pave diamonds are set with the most powerful magnifying lens in the industry, allowing for accuracy and precision. This enables the stones to catch and reflect light perfectly, making them extra sparkly! It packs a punch but is comfortable and wearable." This could be said of her entire collection—it's contemporary, gorgeous, and unique.
Erica Tanov, 

Timeless treasures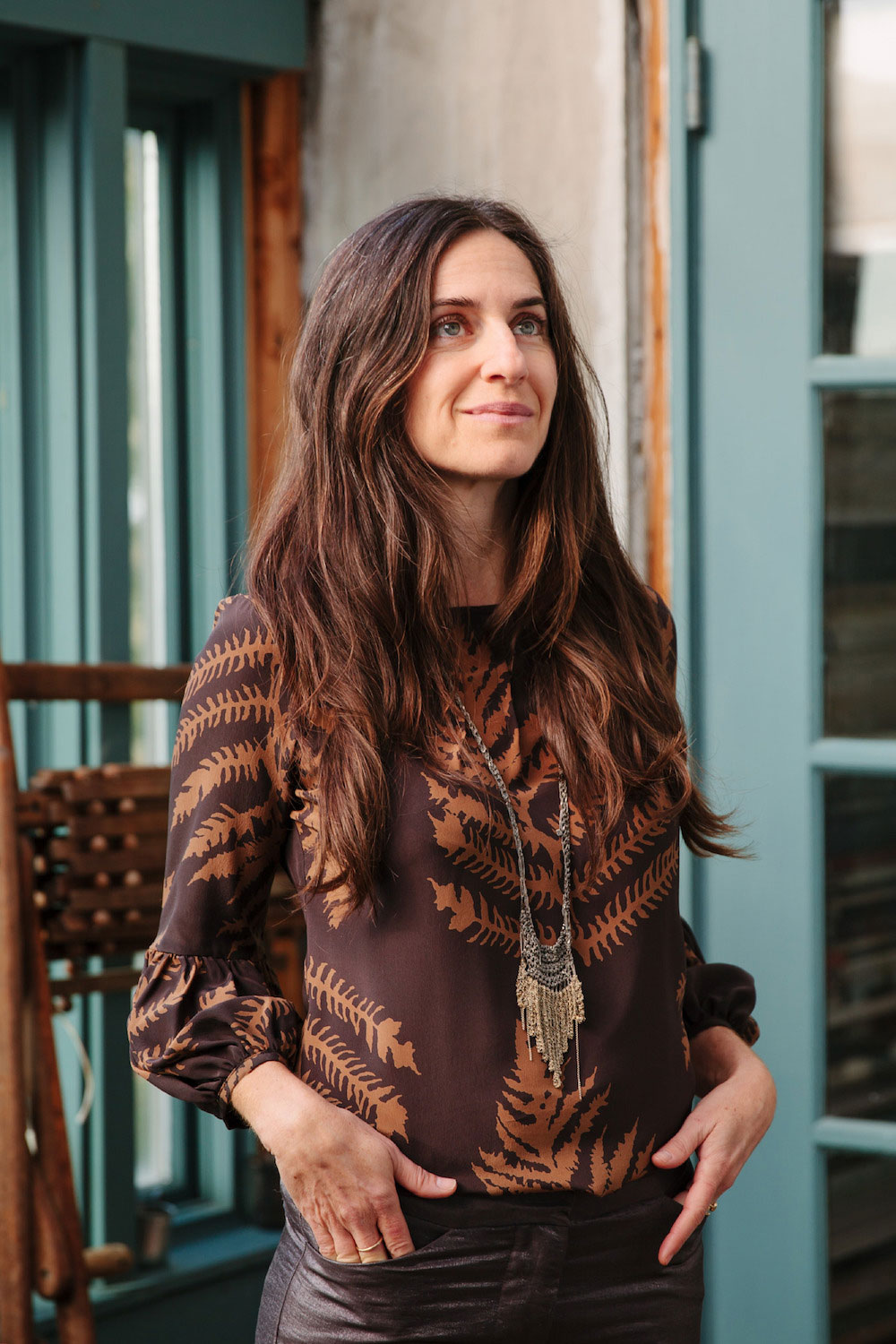 Photo Credit: Alanna Hale
"I don't feel you have to live in a major fashion city to be creative, in fact the opposite is true for me. Feeling grounded allows me more freedom to design." — Erica Tanov
A pioneer in the Bay Area's fashion industry, Erica Tanov has been making natural, feminine clothing for 23 years. Her flagship boutique is in Berkeley and she opened a second store in Marin in 2010. She says the biggest challenge she's faced as a Bay Area-based designer is the lack of "access to the showrooms, fabric and trim resources, modeling agencies right at your fingertips. Finding sewing contractors specializing in high-quality, small production runs is getting more and more difficult." Tanov's signature piece is the silky Lola slip, a timeless number that can be worn as an underpinning or a dress and comes in a wide range of colors. Her upcoming collection is "inspired by nature's beautiful decay. Layers of textural fabrics eliciting lichen-laced bark, peeling and crumbling walls in a rich color palette of faded rose, muted chartreuse, deep forest and dark basalt with hints of gold throughout. The original print for the season is a drawing I did years ago of wilting petunias. It's a melancholy yet decadent collection meant to be layered. The silhouettes are simple, elegant and feminine."
Jake, 

Bespoke suits and gowns*
"Whether you are a man or a woman you need at least one Jake bespoke three-piece – jacket, vest, trousers – suit in your closet. Our bespoke process is second to none and created always around the client and how he or she lives his or her day-to-day life." — Jake Wall
Many people know Jake Wall as the guy who quit Project Runway when his dog died. However, we know him as one of the city's most creative, talented, and original fashion designers. Since he walked away from the reality television competition, Wall has made a name for himself with Jake—his namesake label of effortless shirtdresses, chinoiserie-printed bomber jackets, and custom gowns and suiting. Upon entering his sumptuous Jackson Square atelier, you'd be surprised to learn that Wall did not attend fashion school. "As one mentor constantly reminds us, 'I think you succeed because you weren't ruined by fashion school… you were never taught what you couldn't do, instead you think anything is possible. It's that spark that makes you a force to watch, to wear, and to reckon with.'" His styles—think a men's suit with shorts, and a women's dress with exceptionally long sleeves—may not always be practical, but they are fabulous, over-the-top, and fun, which is what fashion should be, right? The current collection is called Dangerous Liaisons and it's  inspired by Wall's story of 2017. "As SF begins to shift towards our fall months which are more accurately described as an Indian summer, we look to how our 2017 collection layers up and down with the perfect level of refinement for a gala or the ready-to-go needs of hitting up the grocery store. Dangerous Liaisons is versatile and allows you to dress up as much as dress it down depending upon what life throws your way."
Major Obsessions, 

Sequined and velvet separates
Photo Credit: Drew Altizer
"One who dares wins. Take a risk, life is too short not to wear color!"  — Sonya Molodetskaya
When local fashionista Sonya Molodetskaya met fellow Russian-born seamstress Altana Danzhalova, she asked Danzhalova to create a few one-of-a-kind pieces for her personal closet. The clothing featured styles—velvet, sequins, grosgrain ribbon—that Molodetskaya was majorly obsessed with. Molodetskaya's thousands of Instagram followers took note of the new clothes and so, the duo decided to give the brand a go. "Major Obsessions has been quite busy lately. The Fall/Summer 2016 collection and the Summer 2017 were sold out after two very successful fashion shows," Molodetskaya says. "Right now we are working on our Fall 2017 which we would rather keep a secret, but I can say it will have lots of feminine touches such as ruffles, velvet, and my favorite—sequins and feathers." She is inspired by street style and her constant travels to New York, Milan, and Paris Fashion weeks. "I keep my eyes wide open. The name Major Obsessions means the styles people are obsessed with at this moment. Altana and I 'pick up' those trends and create our own version of them. Major Obsessions is all about current trends."
Rothy's, 

Comfortable classic shoes
"What we're really doing is elegantly solving a dilemma every woman has faced as she stares into her closet wondering what to choose to gracefully move through everything she needs to do during her day and evening." ­ — W. Roth Martin
The hottest new shoes for women in SF were created by two men, Stephen P. Hawthornthwaite and W. Roth Martin, whose backgrounds are in investment and design. Years of constantly walking up and down the city's hills combined with an epidemic of flip-flops and sneakers encouraged Hawthornthwaite and Martin to seek a stylish alternative to tennis shoes and sandals. They set out to create a shoe that felt as comfy as sneakers, but as stylish as Jimmy Choos—and they succeeded. "Rothy's are stylish, comfortable and versatile shoe—just what a woman on-the-go needs," Martin says. "They're made of recycled plastic water bottles using a low-waste manufacturing process. You can look good in and feel good about wearing your Rothy's! They're available in two silhouettes—the Flat and the Point–and a multitude of colorways and patterns based on a woman's needs and seasonality. They're a wardrobe gamechanger: they offer the ease and comfort of a sneaker and the feminine polish of a chic flat." Although the brand is young, it's already developed a base following. "Our customers are incredibly loyal and vocal. Once they fall for the brand, they tell all of their friends. They also lead particularly active lifestyles so demand both style and comfort. We are focused on keeping  our customers, San Franciscan or not, happy by making a great product from the ground up which they can be proud to support."
Stevie Howell, 

Hand-painted silks
"SF is a city that values new ideas and creative thinking but hasn't always embraced fashion. The challenge is in getting  people to appreciate it as an art form." — Stevie Howell
Is she an artist or a designer? That is the question that comes to mind when we think of Stevie Howell. The easy answer is: she's both. Howell is known for making wearable art in the form of luxurious and sexy loungewear, kimonos, and scarves. She paints directly on to fabric—silk, cashmere, cotton, and satin—to create exclusive items for her namesake line. Howell also collaborates with brands like Anthropologie to craft beautiful textiles, bedding, and wallpaper. She says that every San Franciscan should own one of her silk robes—and we couldn't agree more. "They are my go-to for basically every occasion and activity. There is the sleeping robe, the post-shower robe, the casual over-jeans robe, the fancier out-on-the-town robe, the travel robe, and the bathing suit coverup robe. They really are the most versatile and comfortable item!" What distinguishes the SF market from other fashion places? "The lack of seasonality. I always include a few cashmere scarves in my summer collections which most buyers think is insane, but they always sell in SF!"
Tokyo Gamine, 

Custom couture
Photo Credit: Drew Altizer
"San Francisco is an intimate, artistic and liberal city. Every time I meet  a new person I feel like I uncover a new subculture. Because of the city's friendliness and diversity, I feel encouraged to explore and challenge myself creatively." —  Yuka Uehara
When Yuka Uehara decided to launch a haute couture label, Tokyo Gamine, stylist Maria del Puy gave her some words of advice. "Don't worry about getting yourself out there. Just be you, then the right people will come along and support what you do." Uehara followed this recommendation and before she knew it her whimsical, playful, sculptural, made-in-SF gowns were being worn by local luminaries like Karen Kubin and Jennifer Siebel Newsom. The hardworking designer— sometimes she works for days on end—uses an assortment of materials (raw and woven silks, neoprene, cotton, and synthetics) to make one-of-a-kind jumpers, dresses, and jackets. Each piece is considered a work of art and many are specifically tailored to a client's personality or a specific event. Uehara is incredibly intuitive and sponge-like—she quietly soaks in everything from the city's cosmopolitan culture to an intimate conversation with a friend and translates that into her designs. "Music, literature, ballet, opera, films and conversations with friends. I find inspiration in people and how they view, act and react to things. In the end, what sparks my creations are the emotional connections I develop with a particular story or person."
*After this article was originally published in the September/October issue of Haute Living San Francisco magazine, Jake Wall decided to shut down his business. 
Subscribe to discover the best kept secrets in your city