Dudes, it's getting cold out. And despite our resilient, strong faces, beards can only guard so much before we need help. There are tons of products on the market now specifically designed to help fight back against what the winter weather is capable of doing to our faces, and it all fits perfectly into a small dopp kit to cover everything from skin hydration to shaving oils. As you gear up for the cold, make sure to get these products. Winter is coming.
Pre-Shave: Baxter Of California Shave Tonic

This bottle is a handy helper to everything when it comes to dragging knives on your face. Before the shave, it helps the hairs stand up to get a closer shave. After, it helps soothe the skin and treat any cuts or anything. Not to mention, it smells pretty great.
Clean Cut: Baxter Of California Safety Razor
After years of shaving with the throwaway Bic razors, three blade gillete's, 15 blade supermarket brands, I decided enough is enough. I went abck to basics with a safety razor from Baxter and I never looked back. Now, my shave has never been closer and I feel like a 1890's boxer when I do it. Using a safety razor is a bit trickier than modern blades, and requires some practice. (Don't get discouraged if you knick yourself a couple times at first.) When you get the hang of it, just swap out the blades for 10 cents from any corner store and rinse the rest.
Wash Off: He's A 10 3-In-1

After shaving, most men get in the shower to combine the cleaning process with washing off any excess stubble, this shampoo/conditioner/body wash combo is good for all regions and picks up any hair that's fallen while shaving. It also gets rid of that shampoo stick that hotel shampoos give off sometimes–which streamlines your time in the shower with one product instead of having to cycle through multiple bottles.
Hydrate: Baxter Of California Skin Recharge Cream

The cold weather will dry out your skin. Shaving hair off your face will dry out your skin. Even if you get on an airplane to fly to a place that won't dry out your skin, the airplane itself will dry out your skin. Stop the insanity with this cream. It's like a bolt of lightning to put you back on track and keep your face feeling fresh and ready to go. It also keeps your skin healthy so that next time you need to repeat this process your shave won't cause as much irritation. After a night at the bar, you need to have some water before bed, right? Treat your skin the same way.
Scrub Em': Curaprox Black Is White Toothpaste

Most toothpaste tubes face the same problem, the white base, no matter what colorful strip is in it, is hard to tell where's been cleaned properly. This black toothpaste has charcoal in it, so it's really clear what spots you've already reached when brushing. The charcoal also gives a unique texture that feels like you're really getting clean when scrubbing away.
---
Dare To Care: The Three Levels For The Guy Who Goes For The Purposefully Sloppy Look
I have different intervals in my hair. I get it cut short and then over a month or two it gets longer and more shaggy. The problem with this method is that one product doesn't cover all the gradual timeframes. Recently, I tried to incorporate other products into the monthly cycle, and its made all the difference. For anyone that goes short and then lets it all grow back long, try these products to help tame that mane.
Just Cut: Baxter Of California Clay Effect Spray
After just getting my hair cut, this spritz-style bottle is exactly what I need, a light firmness to hold the front of my cut in place for the day, keep the part on the side in tact, and not leave any annoying white streaks like other products can at the outset. This bottle fits everywhere and lasts for way longer than any heavyhanded user of gel or pomade would go through a tub.
A Couple Weeks In: Parlor By Jeff Chastain Reworkable Hold Paste
This is the midway point between styling cream and a clay pomade. It spreads in your hand really well but once it hits your hair and you walk from the house to the car to go to work, its firmed up perfectly to hold things in place. It'd got a little more strength to it than the clay effects spray, but does require more time to work it into the hair–perfect for after your mop's grown in a bit and requires a bit more fuss to get ready.
Before The Cut: He's A 10 Miracle Defining Gel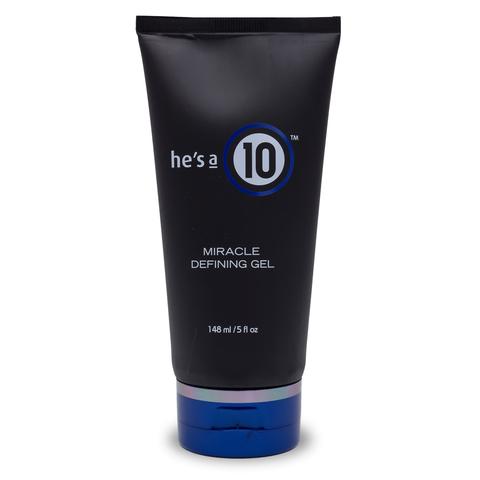 When hair gets to be a bit unruly, and it requires more than some brief touch ups to get it to work int he mornings, I reach for this bottle. This stuff is super strong, without having to put shoe polish in your hair to get things working. It's got a great hold, reduces any frizz, and the best part is its clear, which means no awkward white streaks you couldn't rub in.
Subscribe to discover the best kept secrets in your city