Photo Credit: James Duckworth for ACVB/AtlantaPhotos.com
Atlanta is a southern city that's rich in history—it was a city that rose from the ashes of the Civil War to become a hub for transportation (it's the biggest hub in the Southeast with the U.S.' busiest airport with Hartsfield–Jackson Atlanta International) and a hub for growth. It's claims to fames include being the birthplace of Martin Luther King, Jr., hosting the 1996 Olympic Games and a cultural expansion that include the High Museum of Art, the Alliance Theatre, which won a Tony Award; and a plethora of art galleries on its West Side. But today, Atlanta is more than its history: it's fun. In fact, the birthplace of some of Hollywood's top actors, directors and musicians—including Tyler Perry, Spike Lee, Jane Fonda, Ryan Seacrest, Julia Roberts, 2 Chainz, Andre 3000, Future, Ciara, T.I., Kanye West and Usher—is the perfect place for an Angeleno to go for a weekend escape. Here is what a guy's guy should do—where he should play, stay, wine and dine—during a 48-hour jaunt in A-Town. 
STAY
Photo Credit: Ritz-Carlton Atlanta
For easy access to the heart of the city, we recommend staying at the Ritz-Carlton Atlanta downtown (181 Peachtree St NE). Splash out and reserve the Ritz-Carlton Suite, 1,320 square foot digs with panoramic city views. You'll have two full bathrooms, a music area with a grand piano (perfect for the music-makers) and a high-floor location. The bathroom is sick (in a good way)—think lots of marble with a separate rain shower and oversized soaking tub, a powder room and a lighted shaving mirror. There's also a separate living room, a library, wet bar and formal dining area for six, a custom-designed refreshment center, a separate entertainment area and fully integrated technology so PDAs can be viewed on the two flat-screen TVs. If you book this suite, make sure to take advantage of the complimentary overnight shoe-shine service. We also recommend you take advantage of the Club Floor Access— which is a major differentiator from other hotel products in the city. Guests who have Club access are exclusively invited to the Club —which is open all day—with five food and beverage presentations and wine and cocktails. The Club concierge is dedicated to Club guests, helps handle things like pressing and reservations, and a great added service for travelers. The concierge will greet you by name with a formal "Sir" or "Madam," getting to know their guests and personalizing the stay as much as possible. They'll remember you by name, even if you haven't been back for several years (we're witnesses). It's a great place to kick back and enjoy a cocktail with your guys, any time of day. Last but not least, there are a rotating series of activations in the lobby, including cocktail tastings on a nightly basis, or a caricature artist to sketch for guests on weekends.
DINE
Photo Credit: Angie Mosier
There are a plethora of dining options for the discerning male traveler, but with 48 hours, how to narrow the choices down? First and foremost for convenience as well as taste, we recommend
AG,
the signature restaurant at The Ritz-Carlton,
a modern steakhouse experience with southern flair which celebrates regional growers and seasonal ingredients.  A local hotspot for business lunches and after-work gatherings, the restaurant recently debuted plated lunches with dessert to-go and an inviting happy hour, "HH at AG,
"
 to unwind after a long day at the office.  The beverage program shines at AG with innovative offerings such as seasonal iced teas served with homemade infusions, a section of the menu dedicated to creative G&Ts, along with the choice of ice pairing with each signature cocktail such as gourmet, crushed, flavored, stemmed, spheres, clear blocks or perfect cubes. The decor plays up its masculinity: think dark wood, leather booths, plaid decor and guy-friendly photographs.
Then, there's Gunshow (as in, "welcome to the"), a restaurant that has topped many "best in America" lists recently. Chef Kevin Gillespie's eatery, located at 924 Garrett St., offers a bold, new take on the traditional dining experience. Inspired by Brazilian churrascaria-style dining and Chinese dim sum, Gillespie combined the two for a decidedly fun and delicious result. Dishes are presented on rolling carts and trays to diners at their tables where they can then choose what to order. Pricing is a la carte. Along with an innovative dining experience, the restaurant's design is also unique. With few walls and a highly visible kitchen, it's an interactive experience with a weekly rotating menu that just cannot be missed.
Last but not least is King + Duke (3060 Peachtree Rd NW), another "best of" pick, a completely guy-friendly experience in Buckhead, the upscale section of Atlanta.  Helmed by California native Chef EJ Hodgkinson, you'll find a southern eatery with a SoCal sensibility: sustainable, organic advocacy and a bent towards old-world, open-fire cooking. With age-old technique and a 24-foot open-fire hearth, Hodgkinson injects the over-arching theme of responsible butchering and direct-heat cooking into the juicy, smoky menu at King + Duke – continuing to propel the restaurant into the red-hot center of Atlanta's food scene. Plus, the restaurant is named after characters in Mark Twain's The Adventures of Huckleberry Finn, playing paying homage to both classic literature and American traditions. Make sure not to miss the deviled eggs, topped with VA mangalitsa ham and chives, and "The Burger"— a double stack with American cheese, tomato jam, fixins and fries. The spring vegetable butterbean hummus with chilies, raita and piadina also can't be missed.
DRINK
Photo Credit: White Oak Kitchen & Cocktails/Facebook
White Oak Kitchen & Cocktails (270 Peachtree St.), conveniently located downtown, has a seriously extensive list of spirits which means you might have a hard time making a decision. Try the Barterhouse Orphan Barrel 20 year bourbon, or a Middleton Irish whiskey, or an Oban 14-year. Whatever tickles your fancy, White Oak will have it. Another recommendation for the whiskey enthusiast (and clearly you can tell where our passion lies) is The Lawrence, (905 Juniper St.) with a full menu celebrating the best of Japanese, Irish, Scotch and blended malts, as well as American whiskies. Last but not least, should you favor the utmost of elegant expreriences, head for a cocktail bacchanalia in Buckhead at the Regent Cocktail Club (3035 Peachtree Rd. NE), located above the American Cut steakhouse where you'll find a 1940s-era ambiance and classic cocktails such as Negronis and Manhattans at your disposal.
PLAY
Photo Credit: Gene Phillips for ACVB/AtlantaPhotos.com
What to do in Atlanta with 48 hours and a plethora of options? Many sport-loving dudes will love to take in a game—Atlanta is home to five major teams, including the MLB's Atlanta Braves, the NBA's Atlanta Hawks, the NFL's Atlanta Falcons of the National Football League, the WNBA's Atlanta Dream, and, as this past March, Atlanta United FC of Major League Soccer. Atlanta United FC will call Mercedes Benz Stadium home along with the Atlanta Falcons starting in July 2017 and the city has also recently added a professional lacrosse team, the Atlanta Blaze. That doesn't even begin to cover the college sports (so we won't). Other options include taking in the High Museum of Art or Fernbank Museum of Natural History if you're cultural, Centennial Olympic park or the Martin Luther King. Jr. National Historic Site if you're historical or, if you're into high-end shopping, the many wares of the Buckhead Shops. It's your playground—so get to it!
Atlanta 1
Ritz-Carlton Atlanta lobby
Photo Credit: Ritz-Carlton Atlanta
Atlanta 2
A room at the Ritz-Carlton Atlanta
Photo Credit: Ritz-Carlton Atlanta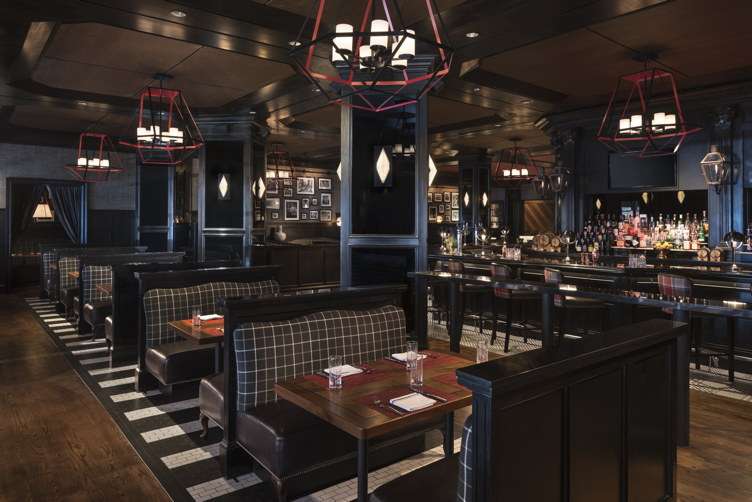 Atlanta 3
AG at the Ritz-Carlton Atlanta
Photo Credit: Ritz-Carlton Atlanta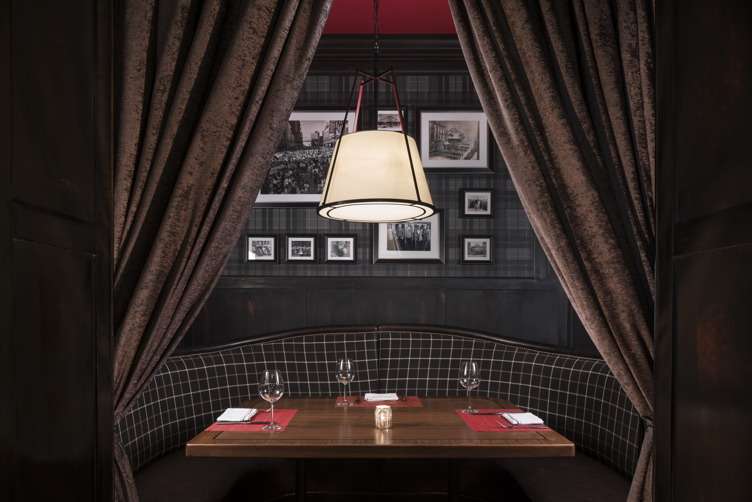 Photo Credit: Ritz-Carlton Atlanta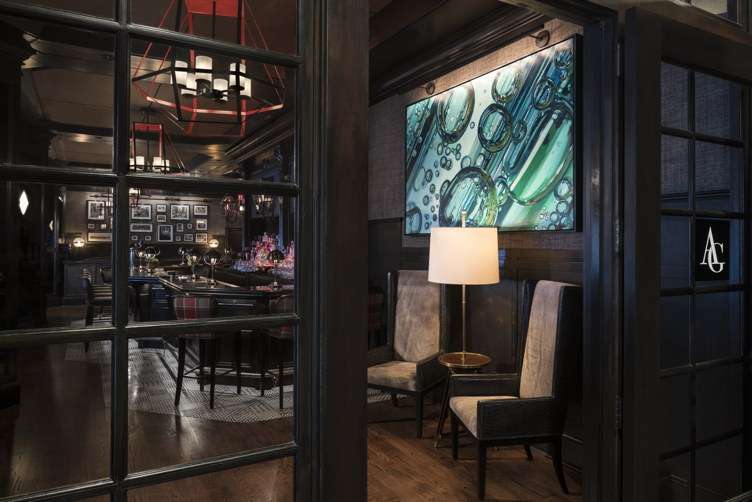 Photo Credit: Ritz-Carlton Atlanta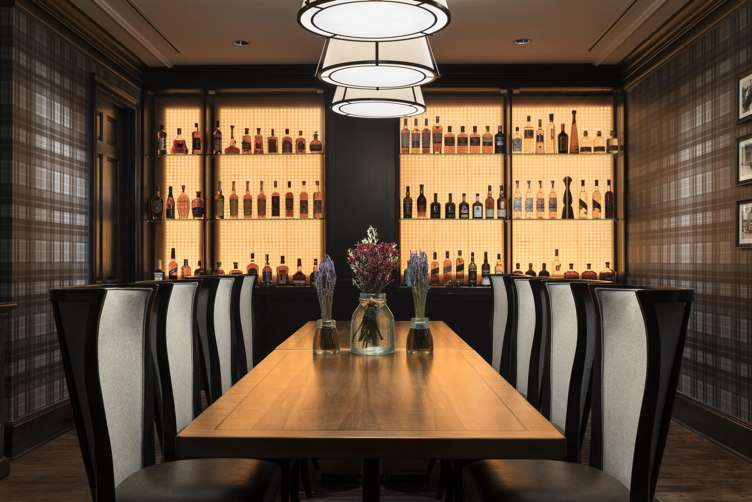 Photo Credit: Ritz-Carlton Atlanta
Atlanta 7
Dining room at AG
Photo Credit: Ritz-Carlton Atlanta
Atlanta 8
The terrace at AG
Photo Credit: Ritz-Carlton Atlanta
Atlanta 9
King & Duke interior
Photo Credit: Andrew Thomas Lee
Atlanta 10
The King & Duke dining room
Photo Credit: Andrew Thomas Lee.
Atlanta 10
An innovative dish at Gunshow
Photo Credit: David Crawford
Atlanta 11
The Gunshow West Coast Burger
Photo Credit: David Crawford
Photo Credit: Kevin C. Rose for ACVB and AtlantaPhotos.com
Atlanta 13
The piazza at the High Museum of Art featuring Roy Lichtenstein's "House III"
Photo Credit: Kevin C. Rose for ACVB and AtlantaPhotos.com
Atlanta 14
Giganotosaurus and Argentinosaurus Dinosaur sculptures in the main room at the Fernbank Museum of Natural History
Photo Credit: Gene Phillips for ACVB and AtlantaPhotos.com
Atlanta 15
Centennial Olympic Park
Photo Credit: James Duckworth for ACVB and AtlantaPhotos.com
Atlanta 16
Buckhead Shops Southern Gentleman
Photo Credit: James Duckworth for ACVB/AtlantaPhotos.com
Subscribe to discover the best kept secrets in your city