As the founder and owner of Southampton Sweat, Leah Landon currently serves as the Vice President, brand experience at Juice Press. Landon spent 10 years in the music industry managing the careers of Lady Gaga where she was an integral part of launching her career, Eve, Fat Joe, Kelis and Mario. Landon also created and executive produced several reality shows on E! and VH1. Landon transitioned out of entertainment to focus on wellness and is a certified yoga instructor, health coach, natural food chef, pilates instructor, spin instructor and has a masters in clinical social work. 
The Southampton Sweat Festival for 2017 is all about stepping beyond the boundary where fitness and lifestyle meet. This year's hosts, Quincy Davis and Balaram Stack, are here to inspire peak performance within the realm of community support, as the current heirs apparent to New York's surfing throne. This year's festival is all about bringing people together to push their self focus to new heights while at the same time creating a stronger community. We spoke with founder Leah Landon to hear more about her thought process behind the festival.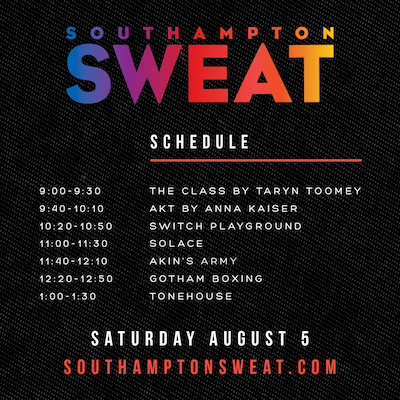 As the owner and creator of Southampton Sweat, why? 
Music and entertainment is a meaningful part of my background, so people coming together for festivals – making a day or weekend out of that experience of enjoying something beloved together – is the most natural thing in the world to me. I wanted to recreate that experience for the fitness community.  Wellness and fitness are the current focuses of my personal and professional lives and Southampton Sweat was a natural extension of my own personal daily lifestyle. 
What do you hope to offer the community?
I really want to demonstrate that people can be a part of a community effort and a communal whole, while at the same time focusing on their own experience and becoming the best version of themselves.  On a more granular level, it's an opportunity for attendees to try out a number of new class styles in a short period of time, for fitness diehards to take on the challenge of 5 straight hours of NYC's toughest (and most fun) workouts, and even for studio owners and instructors to connect and recognize industry best practices. Lastly, I love the idea of like minded individuals connecting through positive activity. 
Why are Quincy and Balaram the perfect hosts? 
They're perfect because they're so beautiful! Both inside and out. Beyond that, they are exemplary of local professional athletes that have had an amazing impact both within professional surfing and within the surfing lifestyle. Fitness isn't something they do, it's just who they are.
Why is music so important to fitness? 
Music is so important to fitness because music is so important to performance. Music innately drives movement. Everyone knows if you walk into the gym, and do your work, you'll walk out in a completely different energy state and physiological state. Music can give you an even greater element of control in that field – using it to put you into that heightened state of sensory awareness, and perform even better in the limited time you have set aside for training on any given day. Music primes your soul. I'm so grateful to have DJ Vashtie on board to help demonstrate this point. 
What is special about this year's event?
We have a new, high profile location, fresh studio partners, and (2) incredible hosts Taking the event's music integration to new heights, we'll also have DJ Vashtie. On site activations from The Coveteur and ModelFIT, The Fort and other fitness influencers.  As always, we'll have some massages, amazing health & wellness activations for those looking to relax and revive in between workouts.