Vadim Slavin and Yuri Rabinovich are no strangers to the entrepreneurial life, both having been respectively successful in their individual endeavors prior to working together. Six years ago Slavin was in charge of modeling and simulations at Lockheed Martin. Rabinovich was leading research in complex event processing at IBM, but all it took was a chance meeting at a start-up pitch event to change it all. Slavin and Rabinovich found common ground in their discussion of what seemed like a glaring gab in the luxury services market. How come there was no B2B luxury services market? What would they have to do to create one? Through research and observation they quickly found themselves on the brink of the genius endeavor that is their company Veritamo. 
Since its launch in 2014, Veritamo has become a leader at bringing exclusivity to those who desire it. From luxury yachts and celebrity events to private jets and one-of-a-kind experiences, Veritamo helps their business members forge new relationships without the unnecessary hassle of doing background checks and research. The invite-only app is easy to use with high end design features and a concierge service unlike any other. Available in over 40 nations, the app offers unimaginably lavish experiences at your fingertips. It saves time, opens communication, and helps establish the kind of relationships that wouldn't happen through a Google search. Veritamo increases a business's visibility to new connections in an organized and convenient way. And because it's founded on trust and exclusivity, Veritamo is desperately sought after for its worldwide range, hand selected services and convenient service booking. For its users, business is always personal. From individually vetting each client to conducting worldwide presentations, Slavin and Rabinovich do it all and now they are opening up to Haute Living about their ever-growing venture.
You first met at a start-up pitch event but it took a few years to launch Veritamo. When did you realize this was more than an idea and was something worth pursuing professionally?
Yuri: We decided to work on our first project together. Since then we launched three ventures before Veritamo and each of them became a viable business—startup accelerator, seed fund, and global business community. Yet, both of us were passionate to build a technology startup, a natural shift for us. We started from a completely different idea in the luxury shopping industry first. After launching a couple of different offerings, performing customer development and many one-on-one discussions with our current partners (clients) we got feedback that led us to launch Veritamo. The realization was that the biggest impact on the industry can be made by connecting businesses in the luxury travel and hospitality world. We had this epiphany after hosting our first Veritamo Connect Business Summit in Monaco in June 2016. We saw that we were building a business community where companies are desperate for access to trusted suppliers around the world.
What made you take the leap to start Veritamo as an online service and how did the name come about?
Yuri: We saw an opportunity in the luxury shopping domain that expanded to a B2B platform to connect businesses. Trust is the core of the luxury industry and we were looking for a brand name that would reinforce this notion. The name Veritamo is derived from "Love of Truth" and emphasizes the trusting network we are building. Each company is vetted and we accept only companies that we trust doing business with.
How do you ensure rapid user growth and keep Veritamo above the rest?
Vadim: I am a firm believer that оne of the key differentiators of any business is customer service. Even if your clients are other businesses, it is important to remember that there is a person on the other side working with you. What differentiates businesses from each other is not the technology but rather the feelings and emotions of engaging with their products. It does not matter what has transpired to make a client feel a certain way, their needs and their feelings need to be acknowledged.
We have put a tremendous amount of effort into designing our approach to customer support and customer service. At times, our commitments to customer service have undermined our ability to scale quickly. I believe it was a worthy effort which, in turn, has resulted in many more referrals and higher quality of partner companies on the platform.
The word of mouth is now helping bring more qualified partners ensuring our rapid growth which forces us to improve on our processes: everything from sales and onboarding to vetting and customer support. Every week, sometimes several times a week, we review our processes and find ways to optimize them so that we can quickly adapt to surges by reallocating resources on the team.
Within Veritamo there is an emphasis on relationships between the buyer and seller, do you see your service as changing B2B relations?
Vadim: Actually, I think that Veritamo's emphasis is exactly on the lack of a relationship between the buyer and the seller. Let me explain, much is at stake in our industry of luxury travel, lifestyle management, and hospitality. The private clients are very demanding and will not tolerate mistakes. It is therefore imperative to work with trusted suppliers in fulfilling clients' needs.
The status quo of the industry is that trust only emerges with the emergence of a relationship between two parties. It's all about who you know, it's all about who you met in person, it's all about who you trust based on prior dealings. This is not a very scalable approach to growing one's business. These relationships need to be maintained continuously in order to ensure business opportunities. Let me ask your readers how many of their LinkedIn connections can they just call up on the phone to ask for a favor? Having such connections requires careful nurturing of the relationships.
Veritamo is enabling trusted transactions between buyers and sellers exactly when relationships are not established. For example, vetting of new partners is one way that Veritamo helps assess risks when working with someone for the first time. We designed the vetting process based on risk assessment processes from the banking and defense industry.
Ongoing assessment of each partner's reputation is another industry innovation. Reputation of each partner evolves up or down based on the engagement of each partner with other partners. Reputation score takes into account professional courtesy, timely responses, level of client's commitment, avoiding unnecessary wasting of time, being clear and transparent about requests and provided services.
With a company that has over 40 countries listed, how do you guarantee that everything from the transactions to the commissions runs smoothly?
Yuri: First, every company that joins Veritamo goes through the same objective vetting process. There are many cultural differences and some companies who are less focused on delivery of quick response and may not bother to work on the weekends in case of urgent requests. Veritamo is streamlining the transaction flow between the companies to make sure that companies respond quickly, don't drop the ball while working together, and eventually provide the necessary feedback to others in case of successful or canceled transaction.
The feedback is very important in order to improve the quality of service and educate the other parties why something didn't work and present a transparent reputation of the company to others. The reputation score improves as companies deliver great customer service and it can also decrease and even lead to disconnection of the company from Veritamo. We will soon introduce B2B payments and commission enforcement together with arbitration services to help our partner companies get trusted service delivery.
The locations provided keep expanding, how do you approach the businesses in countries that aren't on the list yet?
Yuri: Veritamo was growing organically based on requests and referrals of existing partners. If one of the companies needs help in location A, we will source the necessary suppliers and ask for recommendations to onboard them on Veritamo and help the buyer with the request. We also work with ambassadors who help us grow to new locations by referring qualified companies to join us. This year we are going to launch multiple new locations where our representatives will help us build the local network of businesses, engage the local community and provide added value services to help our members grow their business.
The planned representations are Dubai, New York, London, Moscow, San Francisco, Los Angeles, Paris, Monaco and additional locations where we have trusted candidates to represent us.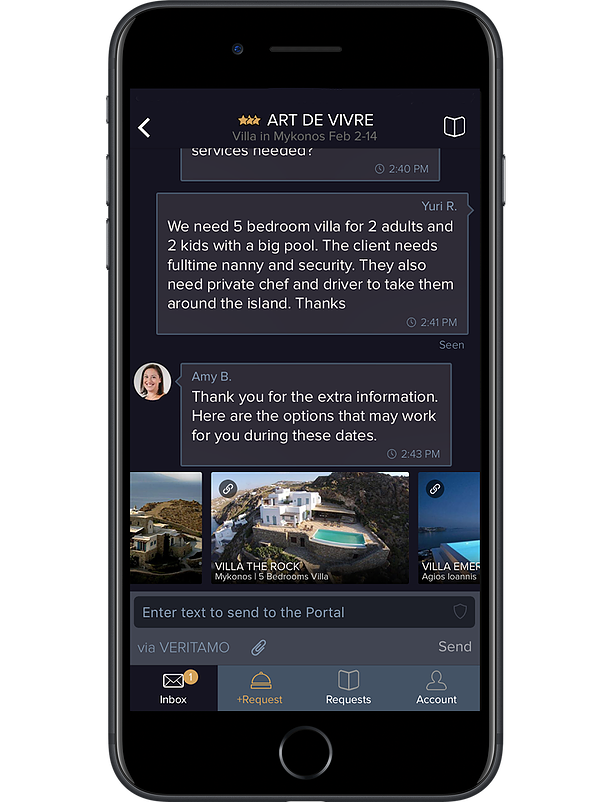 The exclusivity factor is high with the service even when it comes to being approved. What is that process like?
Vadim: There are several stages in vetting a new partner. The first stage is when the sales team analyzes incoming application or referrals from existing partners. Because of so many applications to join, unfortunately we are not able to accept all interested partners at this time. The sales team analyzes the application to see if the business is established before inviting them to create an account. Once the partner's application to join is accepted, the vetting process starts. The outcome of the vetting process is the initial reputation score which is objectively calculated based on uncovered facts about the business.
This objective scoring process was adopted from the best practices of the banking industry as well as from the United States' government assessment of trusted suppliers. Without giving away too much detail about the proprietary process, what I can say is that the algorithm objectively assigns points to certain business parameter which, in turn, represent risk reduction when dealing with a new, unknown partner for the first time. For example, with significant resources invested into industry reputation the business becomes less risky. After all, you can only lose relationships so many times before others take their business away from you.
We also look at business' commitment to data security, the stakeholders involvement, business insurance information, age on the market as a legal entity and a brand name, and many other factors – 15 distinct factors to be precise. The algorithm is adjusted on monthly basis based on observed correlation between the assigned initial reputation score and the observable feedback from other partners working with each other. Most importantly we digest the results into a very simple graphic to communicate everyone's reputation.
How long does it usually take to vet a potential member?
Vadim: It can take anywhere from several hours to several weeks depending on the company's cooperation.  It all depends on the willingness of the company to provide the necessary information which goes into the vetting process. What's interesting is that information that we ask for is public information in many countries but not all. Hence, it is understandable that not everyone feels the same way about letting us peek under the hood. This is why it can take longer to uncover additional information. However, Veritamo is fully committed to vetting all our partner companies and removing very risky businesses which tarnish the reputation of the industry.
There has been a surge for specialized services that tailor to the customer and your platform does just that. Do you see this more personalized approach as the future of the luxury services industry?
Yuri: The luxury industry is built on trust, personalization, and exclusivity. The overload of information on the internet is making it very hard to find a trusted supplier that will be able to deliver the service. Personalization of services is even rarer. There are many specialized services in the luxury industry e.g. villa rentals, jets, yachting and more that focus on one core service they deliver but then the client may need to have many different services as part of a single trip or experience. This is why many clients prefer to work with a trusted travel advisor or lifestyle manager or their personal assistant who will know all their likes, preferences, and habits. Veritamo is the single platform for the client's representatives to have all-in-one access to all the luxury suppliers globally in order to design their client's trip and make sure that the service is delivered to the highest standards their client expects.
Are there any luxury experiences you offer that you're personally excited about or are interested in trying out for yourselves?
Vadim: The breadth of services that Veritamo partners offer already today is truly staggering. There are only 510 partners on the platform and they can already offer anything from meeting celebrities and sourcing exclusive products to getting access to the most coveted restaurants or events that exist in the world today. Quite honestly we are too busy right now to think about these services for ourselves because we are so focused on getting Veritamo platform just right. Nevertheless, the very first chance I get for a real vacation, I hope to explore some of the more remote exotic vacation spots on this beautiful planet. I always considered myself an expert traveler and yet many of these places I've only found out about recently on Veritamo.