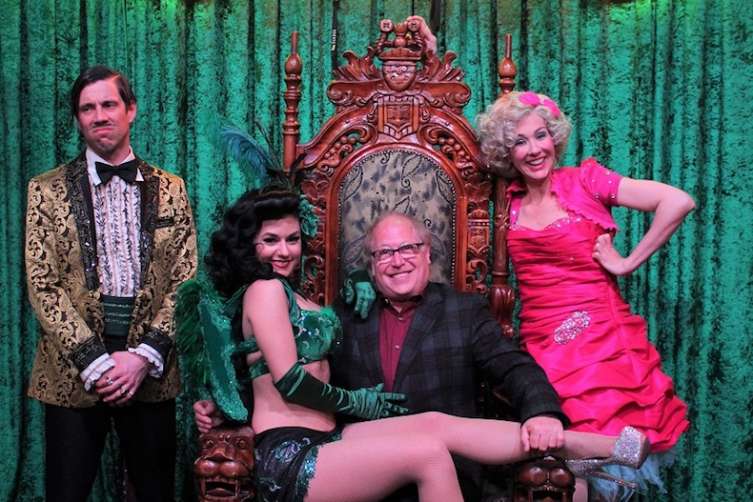 Photo Credit: Joseph Sanders/SpiegelwordThe Gazillionaire has more money than you. So much money that he brought his own show, "Absinthe," to Caesars Palace, put it in a tent in front of the resort and made thousands of fans squeal with laughter. Yes, the show is raunchy, with The Gazillionaire and his raucous assistant Wanda Widdles host the night filled with burlesque acts, teetering high-wire performances, feats of strength, aerial performances and perhaps the best hooting time on the Strip. The show celebrates its sixth anniversary in April. In the meantime, find out some of The Gazillionaire's favorite places in Las Vegas (and do take it with a grain of salt).
Where were you born: Moldova.
How long have you lived in Las Vegas: Too long.
Neighborhood: Caesars Palace.
Occupation: I'm the producer, creator, impresario and host of "Absinthe" at Caesars Palace.
Favorite Restaurant: Carl's JR.
Best Sushi: Larry's Villa had the freshest fish, but unfortunately closed this year.
Best Italian: Melody Sweets.
Best dessert: Again, Melody Sweets.
Best place for a romantic date: Why would I take a cow on a date when I get the milk for free?
Best Sunday brunch: A bottle of Moet Chandon and a pack of Slim Jim's.
Best place for a power business meeting: Sapphire.
If you have out of town guests, which hotel would you recommend? Something in Reno.
Favorite shopping venue/boutique: Whatever is running the best sale.
Favorite place to buy jewelry/watches: I know this Bulgarian guy, real good deals.
Favorite Charity Event: The Semi-Annual Gazillionaire's Gala for Pregnant Strippers.
Favorite Cultural Institution: "Absinthe," I guess.
Best Massage: Any massage done by tiny Asian hands.
Best Museum/Exhibit: "Deeze Nutz in Ya Mouf" exhibit at the Erotic Heritage Museum.
All-around favorite spot in Las Vegas: Anywhere that my idiot assistant Wanda is not.
Best Aspect of Las Vegas: All the plastic surgeons in town do just a fantastic job.
Subscribe to discover the best kept secrets in your city