Weekends are time to slow down and take a stroll. There's no better activity than wandering through a good food market, and luckily London's got several of these just waiting to be explored. 
Photo Credit: @BoroughMarket
Borough Market
This London Bridge side market is the oldest in town– dating back to the thirteenth century. Today it provides a breeding ground of gourmet produce and specialty foods, from hand foraged mushrooms and truffles, to home-pressed olive oils and everything in between. Take home some ingredients and whip up a fresh feast. If you don't feel like cooking, we recommend La Tua Pasta for their award-winning pumpkin ravioli. Magnifico! 8 Southwark St, London, SE1 1TL
Open: Mon-Thur 10am-5pm, Fri 10am-6pm, Sat 8am-5pm.
Photo Credit: @Berwickstmarket
Berwick Street Market
Situated in the middle of Soho amongst elegant restaurants, this 18th century market can trace its roots all the way back to 1778.  Traditionally, this market sold fruit and vegetables and today it's all about lunch spots with cult followings. One of the most popular stalls here is Savage Salads, which sells colourful, boldly flavoured mixed salads. Berwick St, Soho, London W1F 0PH
Open: Mon-Sat 8am-6pm.


Brick Lane
A Saturday and Sunday institution, Brick Lane becomes way more than just curry houses. Stalls line the street, blocking the view of all the permanent vendors so that all you can see is a stream of steam rising and people winding down the road. At the end of the street, hang a right into the old Truman Brewery for even more food stalls. Free samples are inevitable so be prepared to fend of numerous bites being waved in your face. The stalls are global and it's possible to pick out any cuisine from Lithuanian, Ghanaian, Burmese, Colombian as well as the usual suspects. Kumbaya. 91 Brick Ln, London E1 6QR
Open: Sat 11am-6pm, Sun 10am-5pm.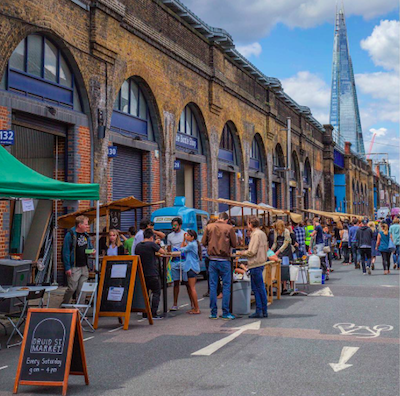 Photo Credit: @DruidstmarketDruid Street Market
This market is a young one compared to its historical fellows but it's in no way any less feisty. Entirely outdoors and frequently subjected to lashings of rain, this is the ultimate spot for passionate market goers. If it get's too much, duck into Fattie's Bakery for their signature salted caramel filled brownie, it's pretty unreal. If you haven't got much of a sweet tooth wander past the other vendors and pick from a unbelievable kimchi and Stilton cheese toastie, barbecued oysters and so much more. Is it the weekend yet? 126 Druid St, Bermondsey, London SE1 2HH
Open: Sat 10am-4pm.
Subscribe to discover the best kept secrets in your city