People pay tribute to the things they love in sometimes inexplicable ways. Marc Jacobs secured his dog a book deal. Karl Lagerfeld's cat was, reportedly, the inspiration behind one of his collections for Chanel. As for Brett Ratner? Well, he paid tribute to his house by giving it its own whiskey.
And if any home was worthy of its own brand, it would be Ratner's Hilhaven Lodge, an iconic Hollywood party spot for the rich and famous—a place that has seen more action than all of Tom Cruise's movies combined. The gated, five-bedroom, stone-and-redwood 1927 behemoth was initially built as the 'entertainment quarters' of a monolithic mansion by Hoover Dam architect Gordon B. Kaufmann, and it has steadily upped its reputation ever since.
Hilhaven Lodge was the first home of scandalous Casablanca star Ingrid Bergman, who became pregnant with Roberto Rossellini's child while still married to another man; it was where director Richard Quine romanced Kim Novak; and, up until his death in 1999, it was the home of Grease and La Cage aux Folles producer Allan Carr, who liked a good party so much that he installed a discotheque (complete with its own disco ball) in the basement.
Such a property would have been nearly impossible for a guy like Ratner, a self-proclaimed party boy, to resist. And he didn't. "I always wanted an old Hollywood house with history," he admits. "So I found a broker and he said, 'Houses like this—historic Hollywood houses—don't become available until someone dies; people live in these houses forever.' And I said, 'Okay. I'll wait, I guess.'"
Six months later on a Sunday, he received a call at the Beverly Hills Hotel, where he had been living temporarily. Ratner remembers the day like it was yesterday. "The broker said, 'Hurry up, get over here… somebody died.' Literally, they were carrying the body out of the house when I arrived. That's how good of a broker he was."
Ratner isn't going to pretend that he felt anything but an instant arrow through the heart the moment he set foot in Hilhaven. His initial reaction was, in fact, "'Oh my God, I have to own this house!'" He loved everything about it, from the English country lodge vibe to Carr's ostentatious, orange mirrored disco, copper floors and ball (which remains in the house to this day). At the time, he couldn't afford such a property—he had only directed two feature films, Money Talks and Rush Hour—but he couldn't let the opportunity pass him by. And, in 2000, Hilhaven Lodge became his.
Although Ratner says he loves nothing more than a good party and respects Carr's dedication to a good time, the director in him saw the property for what it was initially intended and set about to restore it to its former glory. Out went the dark stained walls and leopard spot carpeting, while the original wooden flooring was lovingly refurbished―(the reason why, should you ever be invited, Ratner will ask you to remove your shoes). "There were such great bones here. You feel the history. It had a personality of its own, the character… so I decided to go back to its original design, made some adjustments, changed some things, but it was basically a restoration."
He replaced the outdated furniture with Danish, French and Japanese pieces of leather, linen and wood that he loved. "My taste is more eclectic. This [pointing to the living room around him] is more me; it's my personality." Ratner continues, "There's a round table in the dining room that I already owned. I didn't know I was going to have a house with a round room, so when I saw that room I was just like, 'Oh my god! My dining table!'" When he catches us giggling at his unabashed, over-the-top exuberance, he adds, "Remember: I was 30 and had never owned a house… this was my first!"
Playing house was, and still is, exciting for Ratner. He added a digital projector to the existing, 35mm screening room, as well as refurbished the disco and added a game room to showcase his movie memorabilia and ephemera. He also bought instruments—not because he plays, but because he constantly has famous musician friends over, and they like to jam.
In true form, the self-proclaimed good-time guy decided to continue the lodge's legacy as a place to entertain in a big way. "I had an old-fashioned photo booth. I had no furniture. I would have tons of people over, and they would jump in the photo booth," he recalls with a big, happy grin. "So I felt like I was kind of carrying on the tradition of the house." And on went the stupendous shindigs, the likes of which have been attended by practically every mover and shaker in Hollywood.
Meanwhile, Ratner's directorial credits grew to include Rush Hour 2, Red Dragon and X-Men: The Last Stand, among others. He was very content. And then, nine years ago, he met the chief marketing officer of Diageo, a global liquor company whose brands include everything from Johnnie Walker and Crown Royal to Guinness and Captain Morgan. "He said, 'Hey, we should do some business together' and I said, 'Yeah, I have an idea. We should do a brand named after this house, because it deserves its own brand, it has such history. Many celebrations took place for decades in this house. It was built for the sole purpose of entertaining."
Ratner suggested a whiskey, inspired by a beautifully-shaped whiskey decanter from the 1920s that he had found in the house. Diageo had to carefully evaluate his pitch of 'It's cool because that's what people were drinking in this house for several decades' and 'Frank Sinatra drank whiskey; everybody cool drinks whiskey' because, nine years ago, whiskey was not in high demand. Two years later, when the sale of the Japanese version of the liquor suddenly skyrocketed and was becoming more popular, the brand came back to Ratner with a game plan.
Diageo sent specialists to Hilhaven, who smelled the garden and sniffed the lodge's living oaks in order to bottle the very essence of the house—which, if you're a whiskey enthusiast, smells a lot like candied fruit, cloves, vanilla, honey and caramel. The bottle's pattern mirrors the beveled glass in the sitting room; its top, the wood of the floor; the burgundy, a nod to the flowers that dot the lodge's grounds.
"Everything in that bottle is like a living, breathing embodiment of what the house is," Ratner notes. The fact that the Hilhaven Lodge whiskey, a unique affair that is hand-bottled at the historic Stitzel-Weller Distillery in Louisville, Kentucky and comprised of three different kinds—aged bourbon, rye and Tennessee—from three different decades, has become an overnight success is even more gratifying to the blockbuster filmmaker.
"We just won the Double Gold medal at the 2016 San Francisco World Spirits Competition, which is literally like winning an Oscar in the spirits business," he enthuses. A beat later, Ratner adds, "I'm so happy I waited nine years to get it right. [The Hilhaven Lodge] isn't the usual spirits brand that has a celebrity endorsing it. I wanted the house to have its own spirit and Hilhaven is just that."
No presence is felt as greatly as Ratner's infectious, almost childlike charisma. Everything brings him joy, whether he's showing off Helmut Newton portraits casually propped up against the mantle, or making sure we've seen his cheekily-titled Variety article, "Why I Hate the Hotel du Crap," his moniker for the Cannes hotel favored by (mostly) everyone.
But not everything reflects Ratner's personality quite like his new whiskey. "I feel like Hilhaven is […] so much of me," he says. "I would say [the overall feeling you get from us both is] happiness. It's not too harsh, it's not too masculine. It's very high quality without being pretentious. [When people] meet me, [they] assume I live in a marble, modern house—probably because I'm a Miami Jew—which can be boisterous and colorful, aesthetically. But when they come into my home, people are surprised.  It's understated, in my opinion. It isn't flashy; it's not pretentious. It's down-to-earth. I have some really nice art, some nice things but, in my opinion, it's not in-your-face."
Ratner's home isn't a 'Look, but don't touch' ice palace. It's lived-in, warm and filled with foot traffic,―including his 'roommate,' director Peter Bogdanovich, his live-in girlfriend, his dog, his grandmother (who, believe it or not, is always the last person to leave the festivities… and she's never missed one) and a slew of assistants.
It suits him to a T—and he knows it. After all, he did design it that way. "I never want to leave here. I'm going to live here forever [like Alan Carr did]," he vows, before saying with a smile, "Hopefully I'll have a family one day, and kids, and they'll live here with me. They can even have their bar mitzvah parties in the basement, with the disco ball."
GOOD TASTE PAYS OFF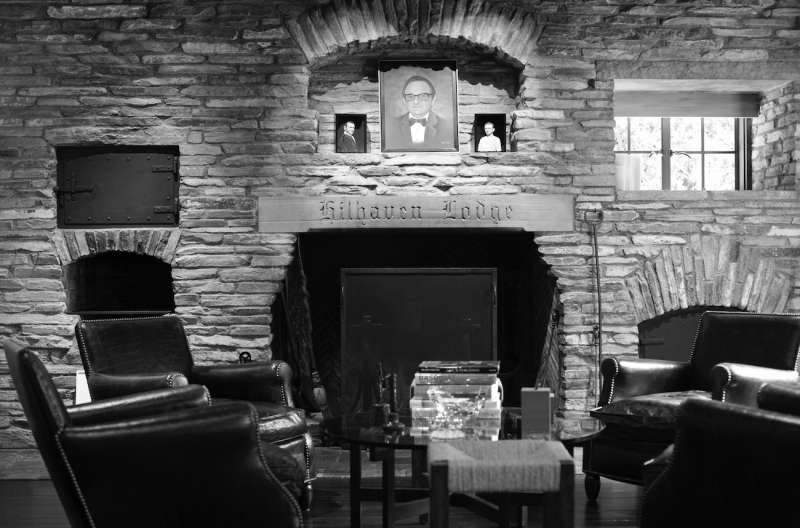 When people ask Brett Ratner how he picks which films to direct or produce, he tells them, "[I] don't really have a strategy for my own career, so I always go with my gut instincts."
As a director, he first ran to big-budget action flicks like the Rush Hour series, and movies similar to the ones he grew up watching, such as Beverly Hills Cop and Midnight Run. But then, he decided to branch out and try something new, resulting in the romantic comedy The Family Man, starring Nicolas Cage; the Silence of the Lambs prequel, Red Dragon; and comic book fodder with X-Men: The Last Stand. The fact that he chose these particular scripts—while turning other, surefire hits down—was no accident. "I was always challenging myself," he says. "I was always excited to try different genres of movies."
He turned down Ocean's Eleven after he developed it to do Rush Hour 2. Crazy? Maybe, but he has his reasons. "If a movie had a great script and great story, but I couldn't bring anything to it or make it my own, I would pass," he admits, continuing, "The great filmmakers are the ones where you can watch their films without having seen the credits and know [for example] that it's a Martin Scorsese movie. Same thing with Roman Polanski and the Coen brothers. These directors have their own style, points of view and perspective."
He also references Spike Lee's signature shot, where one character appears to be floating towards the camera, or Michael Bay's stylistic slow motion movement. But what makes a Brett Ratner movie unique? "All my movies have humanity in them," he says. "They're focused on the characters. Even if you don't remember one scene in Rush Hour, you'll remember the relationship between the two guys [played by Jackie Chan and Chris Tucker]. There's also an element of fun: not [necessarily] humor per se, but that they're enjoying themselves. [My films] are happy, positive and energetic, because I'm [like] that."
And we can tell. Although he's currently 47, Ratner has a boyish quality that makes him seem at least 15 years younger. Sitting there in his pajamas and socks, legs tucked underneath him and a big smile on his face, it's hard to believe that he's not just barely out of college.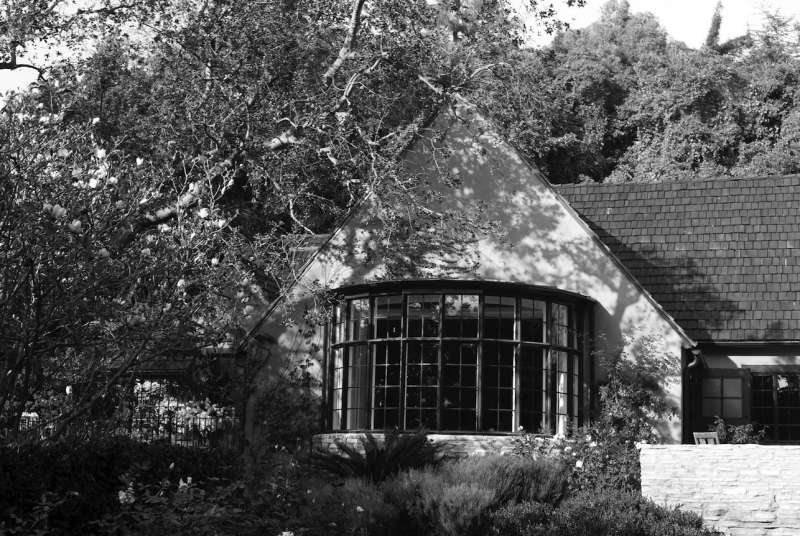 That said, he is in his 40s and, as such, has taken a short break from directing—in part because he and billionaire business partner James Packer have struck a massive, $450 million, 75-movie financing deal with Warner Bros. that, needless to say, keeps him pretty busy.
When we suggest his current mogul status has been the reason for his directorial decline, he's quick to correct us. "As you get older, it takes a lot out of you to direct a movie," he confesses. "I was doing one movie a year, back-to-back. Now, I've taken a few years off to produce movies and build my business; 2017 will be the year that I direct [again]."
Those expecting to see him at the helm of The Libertine with Johnny Depp—who plays a powerful French politician under house arrest in luxury Manhattan—well, you'll have to wait a little longer. Ratner says that, while it will still happen, it isn't his next project. He is, however, developing a script about Russian oligarchs—wealthy businessmen of the former Soviet republics that became rich, seemingly overnight, during the era of privatization after the dissolution of the Soviet Union—as well as a film about the German R&B duo Milli Vanilli's lip-syncing scandal.
Given that Ratner was the executive producer of Alejandro G. Iñárritu's 2015 multiple Oscar-winning film, The Revenant, it's hard not to trust his judgement. "Ultimately, it's about good taste and instincts—not just with movies, but with people and relationships. We have great relationships with talent. People want to work with [business partner James Packer and I]. They want to bring us their movies to produce. And it's not easy; it's a competitive world out there. There are a lot of places to go for filmmakers to get their movies made."
Hollywood, as a whole, was surprised when Ratner and Packer announced their RatPac Entertainment deal with Warner Bros. in 2013,―a joint venture with Dune Capital Partners that covers 75 films (a.k.a. most) of the studio's four-year slate.
It was also the first time in history that a director had agreed to a financial undertaking of this magnitude—and surprising because this wasn't something Ratner knew much about. But he's a scrappy guy, and he learned the ropes pretty quickly, especially with Packer as a guide.
"I would say [that starting RatPac was] the most educational thing I've ever done. I got to learn something I had no clue about, literally. From negotiating with the banks to understanding credit facilities and film financing… it's a whole other world, you know? My partner entrusted me with a lot of money. When he believes in somebody, he really backs them up 100 percent. He's the best partner ever. It's been an incredibly rewarding and great experience."
He's aware that the RatPac/Warner Bros. deal has changed his rank on the hierarchy of the Hollywood ladder, and it isn't always a welcome change. "I came from being the talent to being a buyer. I've always had great relationships with directors, other filmmakers and actors because they still see me as a director but, instead of just being someone who is trying to sell the studio an idea, we're also investing in that idea."
It's also an entirely new skill set for a guy who was used to calling the shots on his own films. "You have to understand each decision that you make and how it's going to affect your time. It's managing the filmmaking process [and] being fiscally responsible about budgets and story-telling, all in one. It was a challenge for me, and one that I never thought that I would have, but I love it. I can't believe I get to do what I do. It's really a dream come true."
DRINKING IT ALL IN 
It's no secret that Brett Ratner loves being surrounded by people. Chalk it up to the fact that he grew up in a boisterous middle-class Jewish family in Miami Beach, the son of Marsha Ratner (née Pressman), a Cuban-born socialite, and Ronald Ratner; his surrogate dad is businessman, philanthropist and attorney Al Malnik, the man behind Miami's famous Forge restaurant.
He's the guy who, at 16, talked his way into studying film at New York University's Tisch School of the Arts and convinced the great Steven Spielberg to fund his senior project. He's the guy who moved to Hollywood and made a name for himself with his jovial nature, determination and blind ambition.
"When I was at NYU, almost every kid was connected to someone in the business, the daughter of a famous film director, or son of a studio head. There was always somebody who had the connections and talent as well. A lot of the times, it made me want to quit. But, because I didn't quit—because it was my only dream, I stuck it out—I became one of the most successful unknowns to go to NYU because I had nothing to lose," he says. "I knew my mom would still love me if I didn't become a director. I knew my grandparents were still going to take care of me. I became fearless."
In addition to his family's love and support, he succeeded to spite those who assumed he would fail. "All my life, people said, 'You can't be a film director—you're from Miami Beach!' and 'You don't know anyone in the business.' Everyone was shaking their heads like, 'How can you become a big director? That's not going to happen.' But I would tell people, 'I'm going to be a movie director no matter what… positive reinforcement [to myself] because everyone said I couldn't do it. But I think, with passion and perseverance, not having fear of failure allows you to succeed."
However, unlike some of his peers, he does not consider himself to be a disruptor. "I think that, in order to be a disruptor, you have to not care, or not hear the noise of people distracting you or disregarding your passion. I've always surrounded myself with people that were much, much, much more successful than me; [they] never gave a shit about what people thought, and I learned from them."
Whatever he's doing, it's working. He's making the films he wants to make (including his beloved genre of documentaries—of which he's produced several about filmmakers that inspire him, like Peter Bogdanovich or Sidney Lumet), has published books and music, and takes professional photographs for the fun of it. He's edited magazines and written op-eds on topics that also inspire him. It all boils down to the same thing for Ratner: story-telling.
"My focus has always been on a great story. I read something and, if it speaks to me and I feel it, I do it. People always ask me why I do this, and [the answer] is because I love story-telling. I get just as excited taking a photograph as I do telling a story or making a movie."
Even if he didn't start out seeking retribution or rewards, he's getting them: this year, Ratner will receive his own star on the storied Hollywood Walk of Fame. And yes, damn it, that's validation.
"I had this desire to just make movies, to tell stories. When I was a kid sitting around the table with my whole family, we all took turns telling each other about our days. My grandfather told us stories about growing up in Cuba and the Dominican Republic. Everybody was sharing. That's how we communicated, through stories. I think it [is] part of Jewish culture, really."
He pauses a moment and, with the guileless grin of a man who's perfectly and utterly content, says, "I can't imagine doing something else. I can't imagine any other job I would have."
Subscribe to discover the best kept secrets in your city