Need last minute reservations for this weekend's holiday celebrations? We've got you covered. We've rounded up our top picks of where to spend your holidays in the 305. From brunch, lunch and dinner to a plethora of five-star global cuisines, you and your loved ones will be dining in style and enjoy a very merry holiday weekend.
WHERE TO GO ON CHRISTMAS EVE:
PAO BY PAUL QUI
Photo Credit: Juan Fernando Ayora
Few things compare to walking into the grand entrance of the lavish Faena Hotel in Miami Beach. Decked out in gold and shades of red, and now with touches of holiday lighting and decor, Faena is the perfect spot to indulge in all the delicacies of the holiday season: fine dining, exquisite drinks and an unbeatable, stately atmosphere. Although it may not be the traditional Christmas Eve cuisine that you're used to, the gourmet epicurean experience at the hotels' Pao by Paul Qui is truly special. From 6-12PM, enjoy a Filipino-inspired "Noche Buena" feast including a four-course, family-style menu with luxurious dishes such as the Potato Gnocchi with blood sausage and crispy pig ears or the Wild Mushroom Rice served with a choice of duck breast, short rib asada or the daily catch.
JAYA AT THE SETAI
The iconic Setai Hotel is always a great choice to spend the holidays with family. With classically elegant decor and a prominent location in the heart of South Beach, the hotel's new haute eatery Jaya at the Setai is a must-try, serving up Asian Fusion and Indian dishes that are just as beautiful and delicious as the space itself. On Christmas Eve, the restaurant will offer a gourmet four-course menu from 7-10PM priced at $125 per person, $63 for children. Menu standouts include their decadent Truffle Dumplings steamed with scallops, an Asian-style Christmas Turkey and a 30-day Dry Aged Boneless Ribeye.
SARSAPARILLA CLUB
Top Chef Jeff McInnis and Janine Booth's new South Beach eatery has been a favorite among the Miami crowd since its 2016 opening, offering classic American cuisine with a Thai twist and serving up favorites like the Green Curry Fried Chicken and the Beef and Short Rib Dumplings. On Christmas Eve, guests will get to taste a special three-course prix-fixe holiday menu at $49/person, highlighting festive specialty dishes like the Butternut Squash Soup, Santa Claus Salad and the Vegan Cauliflower Steak. And of course, a sweet treat will be presented from the restaurant's signature dim sum dessert cart to cap off the meal.
BAGATELLE MIAMI BEACH 
Miami Beach's favorite brunch spot will be serving a special Christmas-themed dinner on Christmas Eve into the wee hours of the morning to celebrate Christmas Day. Starting at 7 PM and going strong into the night until 2 AM, Bagatelle will be rocking around the Christmas tree with holiday jingles and festive dishes to keep guests jolly throughout the evening. Savory dinner specials include the Noisette De Chevreuil, Juniper Seared Venaison Loin, Carmelized sweet potato, black trumpet mushrooms, turnips, and brussel sprouts with a red currant venaison jus.
WHERE TO GO ON CHRISTMAS DAY: 
ZUMA 
Miami's famed brunch spot is celebrating Christmas Day in style with a luxurious holiday brunch. Zuma will have the traditional, shared plate izakaya dining but will feature a special festive twist; from the moment guests step into the door until the minute they leave, Zuma ensures that their holiday is filled with all the rich dishes their hearts desire. A welcome cocktail will be served upon entry, leading to a savory selection of starters such as seasonal oysters with ponzu and serrano. Zuma's classic, signature or premium dishes will be available to order as a main course, followed by the extravagant dessert platter, brimming with house-made treats, sorbets and exotic fruits on a beautiful, colorful platter.
LOS FUEGOS BY FRANCIS MALLMANN 
Photo Credit: Nik Koenig
If you didn't get your fix of Faena on Christmas Eve, be sure to return for a special Christmas Day feast at famed Chef Francis Mallmann's Los Fuegos. The classic Argentinian restaurant will bring a taste of South America to your holiday celebrations. From 6-11PM and $175/person, the restaurant will serve up a wonderful variety of flavorful dishes with highlights such as the Lamb a la cruz, created with slow braising traditional Argentine preparation over a pomegranate preolata sauce or the Salt-Crusted Salmon with basil and caper aioli.
THE DUTCH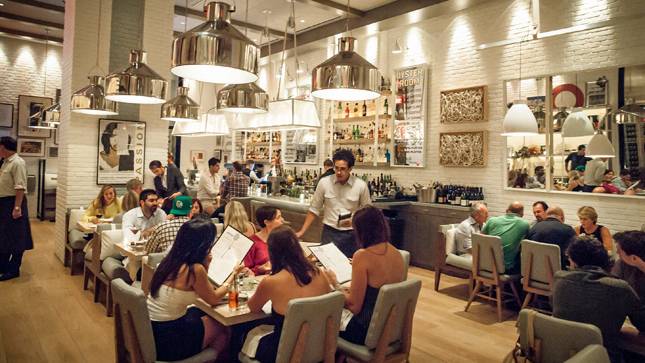 Photo Credit: Noah Fecks
For a classic Christmas in Miami, be sure to check out dinner at The Dutch located in the posh W South Beach Hotel. At this Andrew Carmellini Miami outpost, the restaurant is putting a local twist on the evening by creating a special Noche Buena menu, which includes a special Caja China Pig Roast along with other authentic Latin dishes like $8 Coquitos and smokey barbeque specialties. For $50/person, the night includes drink specials with dinner as well as live music curated by DJ Bre.
MR. CHOW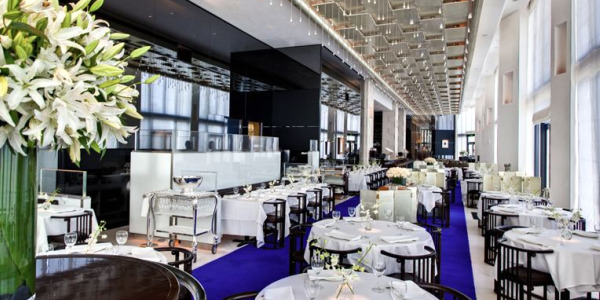 Also located at the hip W Hotel is the ever-famous MR CHOW restaurant. The classic Miami haute spot is both a chic and delicious way to spend the holiday, steering away from the classic Christmas ham and opting for a mouth-watering Beijing Duck. The restaurant's holiday Semi Prix-Fixe menu includes two courses family-style for $54/person, which comes with signature dishes such as the Glazed Prawns with Walnuts, Chicken Satay and Little Dragon Soup Dumplings. As you sit back and relax, you can also enjoy MR CHOW'S legendary shows, including the sole fileting and the MR CHOW noodle show and carving of the Beijing duck.