When it comes to one's kitchen, performance and name recognition are at the top of our list. These Kitchenworks appliances come fully loaded with the ability to not only get the job rightfully done but look good while doing so. Compacted with quality measurements and smart home technology, these favorites are just as reliable as they are valuable.
Miele Futura Lumen Dishwasher
Miele's Lumen Dishwasher comes with specialized wash programs to give you a variety of unlimited options, even if 'normal mode' is the typical cycle for you. It washes your dirty dishes incredibly quiet and amazingly clean because it comes with a Perfect GlassCare option. This option monitors the rinse water's mineral content, cycle intensity and temperature all in order to safely wash glass. The Miele Futura Lumen Dishwasher is the only dishwasher on the market that has been certified by the top crystal glassware company, Riedel. It is also known for innovation because this dishwasher has an auto opening drying system in which the door automatically opens at the end of a cycle in order to allow air to escape and circulating so that everything dries perfectly even. The Miele Futura Lumen is priced between $1,699 to &1,799 depending upon the preferred finish. Its ranked two on our list because it continues to meet the high demands of functionality and appearance for our customers.
2. Viking 7 Series Gas Range
If you thought the performance of Viking's 3 and 5 series was exceptional, take a look at the Viking 7 series. It offers a new level of design and cooking beyond the performance of any other competition. Firstly, its flame ports prevent spillovers from baking on, which automatically makes cleanup easy along with its sealed basin. It comes with a new ViChrome Griddle that is buffed to mirror a clean shine while providing consistent cooking heat across the entire surface for your meal. It also comes with Softlit LED lights and a Digital Meat thermometer, allowing the consumer to monitor his or her food from up to 200 feet away via Bluetooth – apple or android. Viking now allows for their state of the art commercial cooking technology to be available for your very own home. The 7 Series Gas Range can be yours for a starting price of $7,959.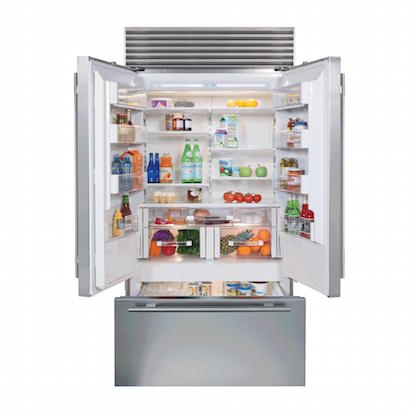 3. Sub-Zero 42" French-Door Refrigerator
The Sub-Zero has been noted the longest lasting refrigerator on the market for the past 27 years. The new 42" French Door model permits for more usable space and storage then ever before making it bigger and better. It can come with a panel ready design that allows it to blend into the décor of any room with custom cabinetry panels, or in the glorious and original stainless steel we all know and love. The air purification system provided by the Sub-Zero 42" French-Door Refrigerator is shared only with NASA'S space station, which scrubs the air of any toxins, odors, gases and fights spoilage. This is possible due to its microprocessor controls that effectively guarantee the uttermost performance as the magnetic door seal locks in cold air and low temperature. Another amazing feature is that of its high-humidity storage zones that were strategically placed for crispers as well as deli drawers. These features are all meant to deliver the best quality refrigeration possible for any and every household. This specific refrigerator is listed at $10,765 and is meant to last. On average, a Sub-Zero refrigerator can be counted on for 20 years and nothing compliments the thought of an investment like longevity.
4. Bertazzoni Induction Range
This new comer has certainly made a splash into the Kitchen appliance world. The Bertazzoni Induction Range is priced exceptionally competitive against Viking and Miele, making it one of Kitchenwork's hottest sellers. With its brushed stainless steel knobs, the cooktop includes four induction heating zones along with a booster feature, a pan detection system and a residual heat indicator in place for each zone so one knows exactly where not to place their fingers when heated but not visible. Moreover, the pyrolytic cunning oven linings require no cleaning agents and the quadruple- glass door minimizes any heat loss. These induction ranges are also available in a variety range of colors, using the same paint as the luxurious Ferrari an Lamborghini factories. This new comer is a breathing fresh air into our costumer's Kitchens with a pricing starting at $3,299. Trust us, no other high-end competition induction range will even come close to the cost savings of the Bertazzoni Induction Range.
5. Wolf Induction Cooktop
The Wolf Induction Cooktop is not only one of the best cooktops currently on the market; it's also one of the most reasonably priced for the power the consumer is getting. This cooktop differentiates from others because it uses numerous, smaller and more effective coils on each cooking element unlike those who use one large coil for each element. The use of these particular coils results in more even cooking and simmering abilities. Also, this cooktop is easier to operate and clean compared to competition due to its design model – the cooktop itself does not heat up because the energy is transferred directly to the cookware, which in return causes the pan to heat up. In return, almost no heat is neither wasted nor lost into the air during the cooking process. Ultimately, this induction cooktop is safe and efficient for homeowners. One can make this number one ranked appliance their very own for the fair price of $2,795.
Kitchenworks is located at 1808 E. Sunrise Blvd. Fort Lauderdale, FL 33304  |   (954) 764-1482
Subscribe to discover the best kept secrets in your city