KEN FULK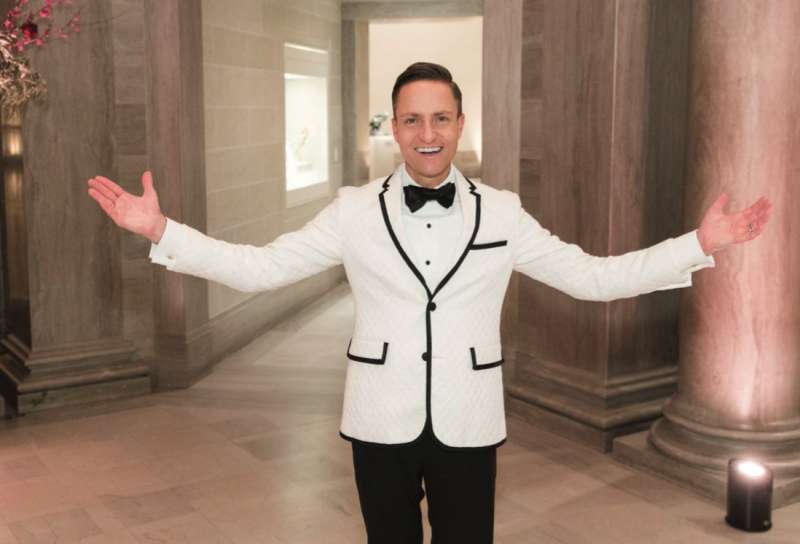 Photo Credit: Drew Altizer
The Battery. The Harrison. The Cavalier. Many of Ken Fulk's best- known projects have straightforward names—the antithesis of the spectacular style he gives them. From zebra-covered lounges to bull's heads to tufted, red-leather banquettes, Fulk doesn't shy away from print, taxidermy, color, and texture. He's currently San Francisco's reigning golden prince of interior design and the area's most sought-after event planner. To learn more about Fulk and his upcoming book, see Haute Living's profile.
JENNY BOYLE
Photo Credit: JBI Designs
Jenny Boyle is the founder of JBI Designs, a firm devoted to creating chic and stunning spaces. She strives to find balance—a state she describes as "elements that are equal or in correct proportions"—in all of her spaces. She sources artwork from around the globe and does not shy away from bold, eye-catching pieces. In one recently finished space used for entertaining, she created custom celestial light fixtures, hid Murphy beds behind oversize pieces of art, and placed a fully grown tree in the middle of a living room. There is a lightheartedness to her spaces that illustrates she doesn't take herself too seriously. A flat-screen television is placed on an easel, a large sectional sofa is covered in colorful velvet, and a pool table can be transformed into a conference table if need be. Boyle is also incredibly organized and easy to get along with—two qualities that are welcome in every design relationship.
WILL WICK
Photo Credit: Douglas Friedman
From wineries to menswear boutiques, the tall, dark, and handsome Will Wick specializes in masculine and modern interiors that incorporate natural elements. Wick is often inspired by his travels—from Paris to Belgium to Brazil, where he is especially fond of architect Oscar Niemeyer's work. Wick, who describes his style as "classic East Coast meets European chic," deals in antiques at Battersea, his Design Center showroom. His wife, Jennifer Kelly Wick, also a designer, is his secret weapon. She keeps him informed of key fashion trends, which Wick often looks to for motivation. His style is bold and timeless and he often employs uncommon decorative elements.
MARTHA ANGUS
Photo Credit: Brad Knipstein
Martha Angus has always been a trendsetter—she was at the opening night of Studio 54. Since then, she has traveled far and today is the grand dame of the San Francisco interior design community. She has more than 20 years of experience in the industry and has not only made her mark on the Bay Area, but, having styled homes for Ralph Lauren and the Lauder family, she's a well-known fixture on the East Coast, too. She studied painting as a fine arts graduate of Carnegie Mellon University, and her passion for painting has not waned over the years. Most of her designs incorporate some sort of statement or colorful paintings, and she embraces the widespread use of color in a style that can be described as playful, fun, and livable. She has a popular design blog where she shares everything from the stores she visits on travels through Morocco to her favorite new cocktail mixers.
When Jessie Black moved to San Francisco three years ago, she had never been to the city before. However, the native Australian knew that her growing cashmere and thousand-thread-count Egyptian sheet line could thrive in a chilly city like SF. After stalking a construction site on Sacramento Street, the owners agreed to let her take over the lease. Since then, her namesake shop has become a destination for anyone looking to add textural depth to a space. Her chic neutral aesthetic is a breath of fresh air and the lush fabrics she uses—knits, fur, velvet, linen—are inviting and comfortable. So many clients were asking Black for personal help to decorate their homes that she launched an interior design atelier. Today, you can shop her boutique for plush Italian pillows and then ask Black to teach you how to arrange them perfectly alongside a French throw on your new chaise lounge.
GRANT K. GIBSON
Grant K. Gibson focuses on designing interiors for the people who inhabit them. Gibson creates classic, well-edited spaces that are functional and beautiful at the same time. From a young age, he scoured flea markets for vintage finds, and these days, he loves finding inspiration in the markets of Paris. His designs are fresh and whimsical with a nod to the past. Gibson is the type of guy who appreciates a good pool or mountain cabin and doesn't mind getting down and dirty. When he moved to San Francisco, he renovated his Presidio Heights apartment in exchange for two months of free rent, a story that was written up in the New York Times. Gibson is also a blogger with a large following who shares his tips at grantkgibson.com for everything from adding pops of color in a room to tips for cooking up a delicious carrot ginger soup.
CATHERINE KWONG
Photo Credit: Bess Friday
Catherine Kwong is celebrated in the design world for her glamorous aesthetic. Kwong worked with design legends Paul Vincent Wiseman and Bill Sofield before launching her namesake firm in 2011. She specializes in modern architecture, custom detailing, and elegantly tailored interiors. When it comes to color, she practices restraint, but she doesn't shy away from the oomph of metallics and sumptuous fabrics. Kwong has a strong eye for details—think hand-painted wallpaper, vintage drawer hardware, and dressmaker window treatments—and is often inspired by the fashion industry. The dream closet she designed for the 2012 San Francisco Decorator Showcase was an Internet sensation and the envy of every fashion blogger.
JAY JEFFERS
When sophisticated Bay Area denizens are in need of a cool, masculine mix of new eclectic pieces and antique treasures, they turn to Jay Jeffers. New to his many spectacular projects, he has recently completed several custom homes for The Pacific, a luxurious new condominium complex in Pacific Heights. He has a special relationship with San Francisco's Dolby Chadwick Gallery and often infuses his spaces with art from the gallery and commissioned pieces. To see his work up close and personal, head to Wildhawk, the PlumpJack Group's newest bar in the Mission, which Jeffers expertly outfitted with emerald green velvet chairs, zebra-print stools, and black-and-white oral wallpaper. Another place to take in the Jeffers brand? The Store, Jeffers' Tenderloin boutique, which is filled with sophisticated bar accessories, interesting wall decor, and plush throws.
Kendall Wilkinson is a San Francisco native who studied architecture and antiques in France. She founded her company 24 years ago, has participated in many San Francisco Decorator Showcases, and relishes the entire design process from space planning to custom furniture design. She's a champion of sustainability and green living and has an expert capacity to combine traditional elements with contemporary design. She loves antiques and would rather reinvent a dated item than throw it away, and, instead of keeping everything in the same genre, she prefers to juxtapose styles, placing, say, an 18th-century buffet near a modern lucite table. Her clients include industry leaders in retail, hospitality, nance, and tech. She has a signature furniture line, on display at her Sacramento Street studio, and this spring she released her first collection of indoor-outdoor fabrics featuring batiks, tiger prints, and watercolor stripes.
East Bay–based Lauren Geremia, the founder of Geremia Design, is a darling of the tech scene, and she has designed the offices of stellar startups like Instagram, Dropbox, Hightail, and Lumosity. From there, she moved on to restaurants and bars like The Treasury and Split Bread and residences in Palo Alto, Napa, and Berkeley. Her process is incredibly personal; she enjoys exploring the psychology of a client and frequently taps into her own fine arts background. The resulting spaces are filled with pieces of art, fabrics, and accessories that influence the client on an emotional level. Her goal is to make people feel comfortable, inspired, and at home in all of her interiors, be it a one- bedroom rental in the Mission or the large offices of a burgeoning company.
Subscribe to discover the best kept secrets in your city