The flight from Sydney to Los Angeles is 15 hours. This endurance test of a trip across the Pacific isn't exactly comfortable, but it's one that actor Jai Courtney got used to, taking it often on his journey from relative obscurity in Sydney, Australia, to global stardom in L.A. The 30-year-old, a burly figure you'd recognize if you've been to a movie theater in the past five years, muscled his way from Australia's tiny television and film scene to the big leagues in Hollywood. These days, he's a bona-fide action star who, since 2012, has brought his square-jawed, guy's-guy mystique to major roles in some of pop culture's most prized franchises, from Divergent to A Good Day to Die Hard.
The path to L.A., of course, wasn't a straight line. Courtney spent years flying back and forth between Australia and SoCal to break into Hollywood's walled garden. That persistence eventually turned the easygoing everyman into a bankable star and a perennial figure in blockbuster films. This year, Courtney is playing a major role in Warner Bros.'s Suicide Squad, a film based on DC Comics characters and stories that hits theaters in August. The film puts Batman's curious roster of supervillains, played by the likes of Courtney, Margot Robbie, Jared Leto, Will Smith, Joel Kinnaman, and more front and center on a nearly impossible do-or-die mission.
To flesh out his role, Courtney could draw on plenty of real-life practice with long-shot struggles. It took years of persistence before his big break in the United States, which came by way of the critically acclaimed Spartacus: Blood and Sand, a 2010 American TV series that reintroduced modern audiences to the iconic gladiator story in much the same way that Stanley Kubrick and Kirk Douglas had done in their 1960 classic. Later, Courtney snagged a starring role opposite Game of Thrones' Emilia Clark and action star Arnold Schwarzenegger in another antihero franchise: 2015's Terminator: Genisys, a so-called "pseudo remake" of James Cameron's lauded sci-fi-horror series.
In Suicide Squad, Courtney inhabits his biggest role to date, that of Captain Boomerang, an Australian lowlife who is conscripted to fight for the greater good with similarly unscrupulous characters. Boomerang isn't the best-known comic book figure in the film, but the character has become a fan favorite, thanks to trailers that illustrate Courtney's ability to mesh menace with great comic timing. "He's essentially a piece of sh–," Courtney says, chuckling. "He's a jewel thief, and he's sort of a skeevy, conniving, backstabbing sort of dude. He's cowardly in one sense, but also sort of a madman."
Courtney's ability to bring Captain Boomerang to life on the silver screen springs from a lifelong infatuation with acting. As a child, he was drawn to the arts at school. "Even as young as 10, I got involved with little drama groups that were doing play building and devising work for kids who were talented in that area," he recalls. "But at that age, I was never a focused on a profession; it was just something I enjoyed, like playing sports. That enthusiasm developed as I got a bit older and I remained a part of these ensembles."
As a young man, Courtney realized that acting was the one passion that still called out to him, and he decided to pursue it full-time. "Out of high school, I guess I didn't have a passion for anything else. I knew I had to channel that," he says. "After working a sh—y job for six to eight months, I decided to really pour my time and energy into [attending a] full-time acting school, so I did and I was fortunate enough to get into the West End Australia Academy of the Performing Arts."
After leaving school in 2007, the actor appeared in a handful of commercials and found small-time TV work before landing a prominent role in the Starz series Spartacus: Blood and Sand. In the drama, Courtney played Varro, a valiant gladiator who becomes a friend and confidant to Spartacus, played by the late Andy Whitfield. For Courtney, staring in such a large production at a major American cable network was a transformative experience, one that opened his eyes to larger possibilities.
"[Spartacus] was really, for me, the closest thing to a break. [Shot in New Zealand], it offered me the chance to get out of Sydney. All of a sudden, I stared to learn and feed off of other people, off of other industry professionals. The size and scale of that production totally blew my mind. It was cooler than anything I had ever dreamed being a part of. I started to see what was possible and gained a bit of knowledge about how you get to L.A., how the f— you turn this thing into a career in film."
With that first taste of success on the world stage, Courtney traded the sunny skies of Sydney for even sunnier Los Angeles and brighter opportunities. But there were more dues to pay, and success wasn't immediate. Courtney spent a few years auditioning in L.A. for months at a time before retreating back across the Pacific. "I started going back and forth for a couple years. And I was jobless. There were a lot of nos, and I'd go in and out every three months [which is what immigration allowed], audition a bit, and go back home again."
Courtney would finally find a follow-up role as a main antagonist in the 2012 Tom Cruise actioner Jack Reacher, but the experience was humbling. Thankfully, all those years battling Hollywood's gatekeepers for another chance at success didn't sour him on his new home in the City of Angels. "I like it out here. [For me], it was a different place when it wasn't home and I was going back and forth; it was a tough place to get to know—especially when those trips are built around your dreams and aspirations, and you're not necessarily able to achieve them as easily as you hoped.Obviously, there's an emotional [price] that comes with each of those trips and having to go home empty-handed. It was tough for awhile to like [L.A.], but once I moved here and found my community and some really important relationships—and allowed those to strengthen—I grew fond of this city, and I dig it now."
Courtney's growing love for L.A. isn't simply tied to the city's status as the film capital of the world. It goes well beyond that. "What L.A.'s about isn't what people think it's about," the actor insists. "People assume that [life here] is built around the film industry and that you come here and that's all you live and breathe. They have no idea what they're talking about."
Courtney has discovered the real pleasures of L.A. lie in the city's less-trodden paths away from the exclusive haunts frequented by people in the entertainment industry. "The best thing about L.A. is really its cultural diversity, the small communities everywhere, the amazing food, and the different people and characters you meet," he says.
"It's a lot cooler, I think, than it gets credit for. I've become so fond of it in recent years. And a lot of that has nothing to do with what I do for a living".
The actor has also picked up a few hobbies along the way. Like many guys, he has a weakness for big toys. "I've been into motorcycle riding for a few years now, and I have some old bikes that have been done up and customized, which I'm into," Courtney says excitedly. "The bikes are a big thing of late."
Courtney also has a penchant for guitars and music, though don't expect an album to drop anytime soon. "I've always played a bit of music, not seriously on the level of creating original stuff, but I never have a guitar too far away. It's just been part of my life for a long, long time.
"For me, it's all about playtime," he explains. "It stems from being a kid who liked to dress up a lot and liked exploring his imagination. It didn't take much for me to feel like I was in character at 4 years old. I could paint a mustache on with some eyeliner…and have fun for hours."
That same drive to have fun when he's acting is what propels Courtney's performance in Suicide Squad. Playing Captain Boomerang, who is less a villainous mastermind than a simple schmuck, was a chance the actor relished. After all, being the bad guy is always more fun. "It wasn't hard at all. It was great, and it was probably a more comfortable and creative space for me to play in than those other roles [such as soldier Kyle Reese in Terminator: Genisys] and do something that was a little less straight," Courtney adds with a grin.
But the actor wants Boomerang's appeal to go well beyond the surface. He was able to go through the comic panels of the source material and perform some deep character work. "It was great to be able to play a character that offered some comic relief, but he has an emotional center as well. It was good not to worry about finding the redeeming qualities in someone. What he stands for is completely selfish. He's out to cover his own ass before anyone else's, but in that, there's something endearing about him."
Being a proud son of Australia, the actor was also able to slyly add some authentic elements to the character and use his natural accent—a rarity for Aussies in Hollywood—all of which gave the character an extra feel of authenticity. "There were some colloquialisms that I kind of wanted to work in that perhaps weren't in the script because David [Ayer, the film's director] isn't Australian."
Equally exciting for Courtney was physically embodying the character. The film's version of Captain Boomerang is a hulking figure, and Courtney was able to use his own prodigious size and strength to his advantage. "It's the first time I've been asked to get bigger than normal, which is fun for me because I'm a big guy naturally. It's normally a struggle. I'm always trying to drop weight and trying to stay lean, but I finally got to eat and lift weights, which is great!"
His diet and exercise regimens weren't for the faint of heart. "I did a lot of Olympic lifting and heavy circuit work," Courtney says. "I was on a crazy nutritional regimen that included a lot of flesh, a lot of protein. It was one of those things that was exhausting at first, for example, getting up and eating oatmeal, chicken breasts, and six eggs the very first thing in the morning."
Overall, the experience was worth it. "It was cool to experiment with that and go to that end of the spectrum. I got big. I think I got up to around 230 pounds," he says.
Fortunately for Courtney, he wasn't in the trenches alone. While filming, the actor built a special bond with his castmates, and despite filming with a massive ensemble of hugely successful actors, nearly everyone's personalities meshed well. "We're really, really tight," he enthuses. "There's a text thread with all of us that's been running for f—— eight months. It's a good little crew. We all love each other."
He developed an especially strong connection with actors Jay Hernandez (who plays El Diablo) and Joel Kinnaman (who plays Rick Flag). "Jay and Joel and I bonded really quickly, but it didn't stop there. I have enormous respect for all of them as artists. I really love them as friends."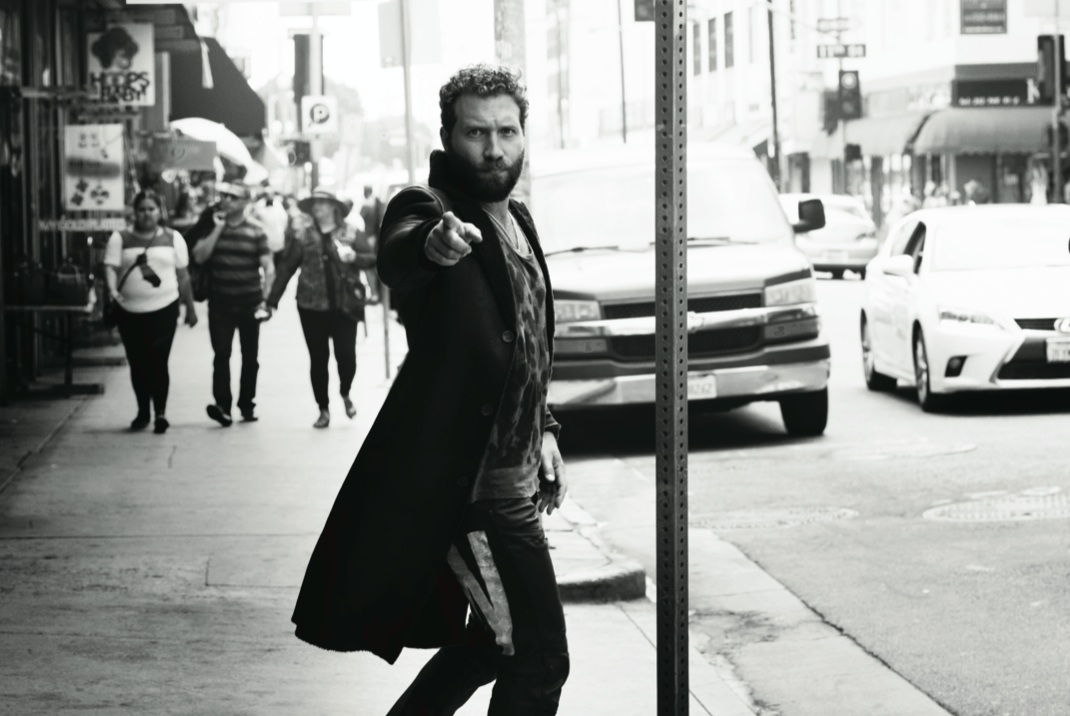 Courtney's warm embrace, of course, extended to Jared Leto, a skilled method actor who kept himself at a remove in order to remain in character. In the film, Leto plays the Joker, a diabolical Batman villain previously played by Hollywood legends like Cesar Romero, Jack Nicholson, and the late Heath Ledger. It's a performance that needed to come from a dark, demented place, and Leto couldn't do the character justice if he was socializing normally with the cast. "Because of what he was doing with his character, he knew that he would have to exclude himself from what was becoming this kind of group atmosphere," Courtney reasons.
There has been an avalanche of stories about the on-set antics Leto engaged in to cope with the heavy demands of his character. One way Letro tried to connect with cast members was through disturbing little gifts, some of which were appreciated more than others. One present to Margot Robbie (who plays Harley Quinn, the Joker's love interest in the film) became particularly notorious. "[Leto] sent over a gift for Margo and a love letter addressed from the Joker to Harley Quinn. She opened up the box and there was a live black rat inside, which obviously freaked her out. [The animal] actually became her pet and stuck around for awhile," says Courtney. "There were dead pigs full of bullets, interesting video messages, a lot of sex toys. The fun didn't stop there; it continued throughout. It was all tied to what he was doing with the character, but it was also a way of reaching out and letting us know that even though he was preparing in his own way, it wasn't at all out of any sort of exclusivity or being above the rehearsal process."
Overall, the shoot was a largely pleasant one, and the actors brought the best out of each other. "You do have a big job to do and you're there to work and get the best out of each other. It could get quite intense at times, but we all had a ball," he remembers. "We were shooting for five months by the end of it, and when you've got a big group of brothers and sisters, if you like, it's easier to get through those tougher times."
So what's next for Jai Courtney? The same persistence that pushed him onto a plane to L.A. so many times is also pushing him to take on diverse roles. After spending several months in Toronto shooting Suicide Squad, Courtney slimmed way down to play a WWII soldier opposite Lily James and Christopher Plummer in a small period drama called The Kaiser's Last Kiss. "I think the dream of actors is that we don't ever box ourselves into something explicit. But I've been working for a few years now, and I've worked on some great stuff and it's nice to shake it up a little."
He's also no longer worried about being typecast. "I remember early on playing that cold, more villainous character. [In Jack Reacher,] I was really concerned about the next thing being more heroic because I didn't want to be typecast. But I think the more you learn about the industry and yourself and your abilities, you sort of let go of that and it just becomes about working on cool stuff and with interesting people—you know, with directors you admire, filmmakers you want to explore material with. I'm less concerned about pigeonholing myself in any particular way, and I hope to keep doing that, keep shaking it up, keep learning from the people around me and keep learning as a performer."
He's also open to returning to Warner Bros.'s Batman franchise, that is, if his character manages to survive the perils of Suicide Squad. "If Captain Boomerang sticks around with this property, then, yeah, I'd love to do a few more. That would be awesome. I just had so much fun with this character and with this group of characters around him, this cast. Yeah, I think we'd all be thrilled," he enthuses. "But no one wants to get ahead of themselves. It's a brand-new thing and hasn't even dropped yet. We all have high hopes and a lot of belief in its potential. Yeah, I hope I don't get killed off!"
Ultimately, Jai Courtney hopes to remain uncomfortable, which, for him, is a good thing. His discomfort and incredible persistence in the face of daunting odds pushed him to L.A. at the start of his career. It pushed him into some of the biggest franchises in the pop culture zeitgeist, and it netted him a role in the biggest film of 2016. It's also pushing him to be the best actor he can be. "I think when you get comfortable as an actor, that's a really dangerous space, so I just avoid that if I can," he says. Clearly, Courtney's plan is working wonders.
Subscribe to discover the best kept secrets in your city