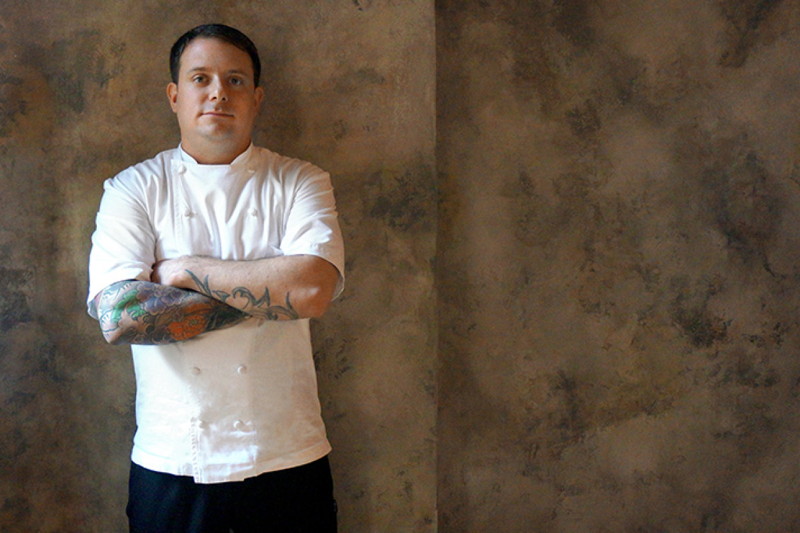 Chef Joseph Abbruzzese helms the new restaurant at the sleek, revamped Roxy Hotel in Tribeca (formerly the Tribeca Grand), which is now as much hotel as nightlife destination thanks to the in-house boite, Paul's Cocktail Lounge (a partnership with nightlife guru Paul Sevigny) and The Django Bar and Jazz Club. That's one reason Tribeca scenesters are making Abbruzzese's late-night eatery a must-stop; the other is his well curated, locally sourced and organic menu. Abbruzzese comes to the Roxy with a bangin' resume–he was previously at the Breslin and has spent time at other top-toque spots like Marea and Gilt.
Where are you from?
Philly.
Did you always want to be a chef?
I  had a passion for food from the time I was young, so I was naturally interested in pursuing a career in the field.
Any mentors/chefs whose work you particularly admire? What did you learn from them?
I've learned many skills from all the chefs I worked for, but I really admire the work of Sean Brock.

How did you get your gig at The Roxy?
I was head-hunted. Working at The Roxy was an offer I could not refuse! 
Who is your clientele? Is it different from the Breslin?
We have a great mix of both US and international guests staying with us, as well as local New Yorkers. The locals tend to pop in during the week to grab a quick bite after work. We also have families join us for our weekend brunch and film screening series.     
Compare being a chef at an uptown spot like Marea versus The Roxy. How do guest tastes differ? Are diners looking for different dining experiences?
The vibe is definitely more casual down here than it was at Marea. For those popping in for a quick bite and a cocktail, our sharing plates or appetizers are popular. For something a little more hearty, we have a choice between American classics and more refined dishes like our pan-seared roast pork chop with mostarda broccolini and Anson mills grits, or Black Sea Bass with heirloom bean and sour tomato broth. 

Since joining The Roxy, how have you changed the menu?
I've expanded our offerings and elevated the quality of the dishes as well. Our new late-night menu is proving to be popular since there aren't really any decent restaurants open in the early hours serving great food.
The description of your menu says "modern," and "locally sourced." What are some of your most modern dishes and what new techniques and/or food combinations give them an edge?
Our Sous Vide 'Pigs in a Blanket' appetizer dish. We craft these over the course of three days. The first part of the process is curing the meat over two days, followed by rolling the "pigs" on day three into a homemade dough. The finishing touch is a sprinkling of caraway and nigella seeds and serving appetizers with a generous side of whipped Dijon mustard. Delicious!
What's new for spring and summer?
We just launched a new late-night menu that's available to hotel guests and locals wanting to grab a bite between 11PM  and 6AM. The menu features American favorites like Chicken & Waffles, Shrimp & Grits and a grilled Four Cheese Sandwich. Our summer menu is currently in the works, but it will include some of our classics along with lighter dishes using seasonal ingredients. 
What's your favorite dish on the menu?
Skirt Steak dish served with glazed potatoes and chermoula sauce. 
Which restaurants do you like to go to besides The Roxy?
Kenka on St Marks is a great spot for Japanese. I'm also a big fan of Bareburger, which uses organic ingredients, has lots of options to choose from, and is kid friendly.
When and what do you eat when you're working?
I never have time to sit and eat! I tend to survive off grapes and blueberries, along with tasting everything we make.
What do you like to cook when you're not working?
I mostly cook for my kids, but I enjoy making fresh pasta and using local market vegetables in dishes.
Favorite cocktail:
Anything with gin!
Toughest dish for any chef to get right:
To get the proper temperatures on meat. It's quite an art and is fundamental to the end result. 
How long is your day?
Between 10-14 hours.
Secrets of your success?
It's a secret… 
Subscribe to discover the best kept secrets in your city