You know that awkward moment between winter and spring when you're just not sure what you're supposed to wear? It's like you want to go full spring (because who likes winter fashion, honestly?) but it's still a bit too chilly and you're not sure you want to risk freezing. Well, we feel you, which is why we've made a haute roundup of perfect hats that will easily go from season to season. Indulge in the beauty of these designer head pieces and pamper yourself with a luxe shopping spree.
Helen Kaminski "Lilith" Hat

This fur felt wide brim Australian design is the ideal transition piece to bring your look from winter to spring. Designed in the color of the year, you can't go wrong with this Kaminski beauty.
Burberry "Fur Pom Pom" Beanie in Ivory
Everyone needs a white pom pom beanie. It's a fact, so why not make it Burberry?
Janessa Leoné "George" Hat
If you're a classic beauty with an eye for timeless style, this sophisticated piece is made for you.
Eugenia Kim "Bianca" Fedora
In grey marble wool, this felt wide-brim fedora with a hand-applied silver leaf band is like no hat we have ever seen. One of our favorites from Eugenia Kim's latest collection, this fedora is the ultimate cool girl's must-have.
Kate Spade "Embellished Oversized" Cloche
Party girls or street glamazons, here's the shimmering elegance you've been searching for.
Melissa Odabash "Fedora" in White
It looks like a summer hat, we know, that's why we love it. Who says we have to stick to strike seasonal trends? This winter's been unnaturally warm anyways, so we think this all-white beauty is a gorgeous choice for a winter to spring accessory. If you're an all-black kind of gal or a floral-loving princess, this hat will look fab with your look, no matter the weather.
Eugenia Kim "Coco" Beret
This brushed wool felt blocked beret with a yellow raccoon pom is Broadway splendor in a headpiece. We couldn't help but include another Kim design, it's just too amazing. 

Rag & Bone "Abbott" Fedora in Natural
In a "dirty" tan hue, this sombre hat is quietly chic, perfect for a SoHo-style fashionista.
Club Monaco "Kareema" Embellished Hat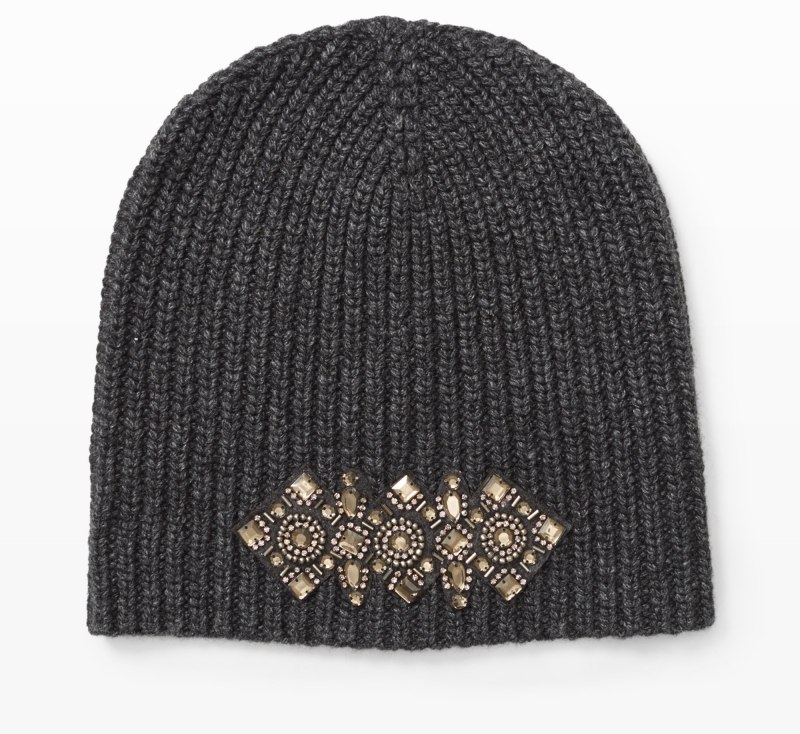 For the skater-girl with glam, this luxury beanie is a stunning mix of high-end fashion and casual style