'Dancers' by Allen Jones Below the CLIMATE RIBBON - CREDIT WORLD RED EYE
Amanda Harris, Ken Cooney, & Maile Aguila CREDIT WORLD RED EYE
Alison Pickett, Bernardo Fort-Brescia, Hugh Dutton, Allen Jones, & Stephen Owens CREDIT WORLD RED EYE
BRICKELL CITY CENTRE ILLUMINATES: ART BASEL 2015
Rosi Garibay, Dara Smith, Amanda Harris, Danie Gomez Ortigoza
Elijah Wood & Zach Cowie of Wooden Wisdom 2 CREDIT WORLD RED EYE
Gonzalo Cortabarria, Gita Shamdasani, Aimee Owens, & Stephan Owens
Gonzalo Cortabarria, Gita Shamdasani, Aimee Owens, & Stephan Owens
BRICKELL CITY CENTRE ILLUMINATES: ART BASEL 2015
Jose Antonio Valencia, Andrea Angioli, Alessia Moccia, Pepe Carmona
Joshua Roth, Clare Laverty, & Allese Thomson
Joshua Roth, Clare Laverty, & Allese Thomson
BRICKELL CITY CENTRE ILLUMINATES: ART BASEL 2015
Luis Bosch, Fadia Bassi, Carlos Miranda
Atmosphere Photo 4 - CREDIT WORLD RED EYE
Atmosphere Photo 5 CREDIT WORLD RED EYE
Stephen Owens, Jeff Benson, Clare Laverty, & Chris Gandolfo
Stephen Owens, Jeff Benson, Clare Laverty, & Chris Gandolfo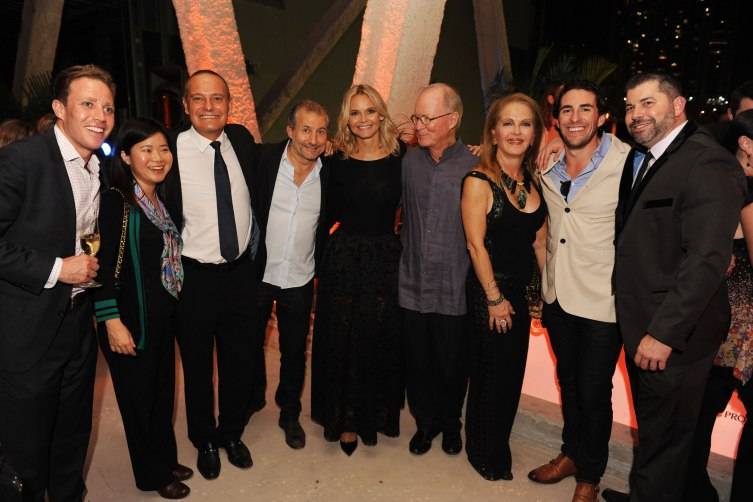 Swire Group Photo 2 - Names in Word Doc
Edward Owens, Linda Chu, Laurent Fraticelli, Clare Laverty, Stephen Owens, Gonzalo Cortabarria, Maile Aguila, & Efren Ales
Zach Cowie & Elijah Wood of Wooden Wisdom DJing with Stephen Owens CREDIT WORLD RED EYE
The Brickell "Illuminate the Night" event on Dec. 3 entertained more than 400 guests at a party under the stars with music by DJ duo Elijah Wood and Zach Cowie, known as Wooden Wisdom. All beautifully adorned by a 6-ton, 20-foot tall pop art statue by Allen Jones and the massive CLIMATE RIBBON™.
The evening began with an art and design dialogue with designer Hugh Dutton, pop artist Allen Jones, architect Bernardo Fort-Brescia and Swire's art consultant Alison Pickett. They discussed topics like the marriage of art, design, function and relationships. Followed by a cocktail and dance party under the stars.
Guest also got see the first time illumination of the CLIMATE RIBBON™, a $30 million art and science installation that spans 150 square feet and connects three block of Brickell City Centre built by Swire Properties Inc. The elevated trellis in the piece were made of steel, fabric and glass, and functions as an environmental management system for future shoppers, residents, hotel guests and office tenants of the 9.1-acre site. Both Dutton and Fort-Brescia were essential in creating this piece and making its design sustainable.
For the occasion Jones unveiled his pop art sculpture titled "Dancers", an abstract sculpture that depicts an interlocked, tangoing couple. A sleek oeuvre that greeted guests at the entrance of the site with its wavelike sways and curves that complemented the wave like movement of the CLIMATE RIBBON™ directly above it. The work has been shown at the renowned Royal Academy of London as recently as 2014 during the artist's retrospective.
Swire Properties Inc. is one of South Florida's leading international developers of urban real estate. They actively support and celebrate art, sustainability and the community.
"Swire Properties has supported the integration of art in the public sphere for over four decades, and has sponsored Art Basel Hong Kong since its inception," said Stephen Owens, president of Swire Properties, Inc. "As Brickell City Centre nears completion, it was an honor to have the opportunity to finally showcase the project during the world's largest art fair in our city."